Jul 14, 2010 — by Eric Brown — from the LinuxDevices Archive — views
Sprint Nextel is mulling over changing its 4G strategy, adding LTE to its existing WiMAX service and paving the way for a merger with T-Mobile, according to the Financial Times. Meanwhile, Sprint has sold over 300,000 of HTC's 4G-ready, Android-based Evo 4G phone, but is having trouble meeting demand due to shortages of 4.3-inch displays, says eWEEK.
Sprint CEO Dan Hesse is said to have told the Financial Times (FT) that Sprint is considering rolling out LTE (Long Term Evolution) 4G cellular technology alongside its current WiMAX-based 4G network.
"We have spectrum resources where we could add LTE if we choose to do that, on top of the WiMAX network," Hesse was quoted as saying. "The beauty of having a lot of spectrum is we have a lot of flexibility."
Will Deutsche Telekom test merger waters once again?
A Sprint move to LTE might reignite interest by Deutsche Telekom, the parent company of T-Mobile USA, in merging T-Mobile with Sprint, says the story. Deutsche Telekom had previously considered purchasing Sprint and merging it with T-Mobile to better compete with AT&T and Verizon Wireless, but reportedly decided against it due to 4G standards incompatibility, says the story.
While Sprint has moved ahead in deploying the first U.S. 4G network based on a WiMAX network — owned by Clearwire, the US mobile network operator in which Sprint is the largest shareholder — T-Mobile is planning to eventually transition to LTE, adds the FT.
As noted in a Michelle Maisto story in our sister publication, eWEEK, Clearwire recently expanded its WiMAX service to the Washington, D.C. and Kansas City areas, and expects to cover more than 120 million people by the end of 2010. In May, Clearwire announced that its 4G service was available in 32 markets covering 41 million people.
Yet in that same announcement Clearwire suggested that it might transition to LTE as well. According to FT, Clearwire would likely use parts from Huawei Technologies, Motorola, and Samsung for an LTE roll-out.
Verizon Wireless and AT&T, meanwhile, both plan to develop 4G networks using the similar, but somewhat incompatible LTE technology, says eWEEK. Verizon plans to start deployments in the fourth quarter, and AT&T will launch in 2011.
No room for four U.S. mobile operators?
It's difficult to say whether Sprint's and Clearwire's interest in moving to LTE is based more on technology or in setting up what may become a necessary merger with T-Mobile. "Clearly, the U.S. market cannot support four competitive national operators," eWEEK quotes Technology Business Research Analyst Ken Hyers as saying.
"T-Mobile currently has the fastest 3G wireless network in the market, but its coverage is smaller than any other major operator, and like Sprint it continues to lose postpaid customers to AT&T and Verizon Wireless," Hyers continues. "A tie-up between the two smaller nationwide operators would allow them to share spectrum and network-buildout costs, while continuing to operate independently."
Based on the IEEE 802.16 standard, WiMAX made an early entry into the 4G networking arena. The Intel-backed technology is touted as providing download speeds of 4 to 6Mbps, "with bursts over 10Mbps." However, over the last year the trend toward the similar LTE technology has been strong. According to Clearwire in May, there is an "80 percent similarity" between WiMAX and LTE, enabling a fairly straightforward transition.
Evo 4G sales hampered by display shortage
As we reported in early June, OLED (organic light emitting display) touchscreens manufactured by Samsung are in short supply these days, causing shortages of some Samsung phones, as well as with HTC's Android-based, OLED-ready Droid Incredible which has experienced spotty availability on Verizon.
Yet the display shortage is not apparently linke

d solely to OLED technology, but also to conventional displays with larger screen sizes. In particular, the 4.3-inch touchscreen used on the Android-based HTC Evo 4G (pictured), the first phone to run on Sprint's 4G network, is said to be in short supply.
According to a Wall Street Journal story, after overcoming intermittent shortages to sell some 300,000 Evo 4Gs since it went on sale in early June, Sprint now reports on its website that the phone is delayed without a ship date. As reported in another Maisto story on eWEEK the Evo 4G site reads, "Sorry, this device is so hot we can't keep it on our virtual shelves. Check back later–more are on their way!"
Despite a strong start, the Evo 4G sales — and Sprint's 4G subscriptions — could have been much higher without the delays, suggest both reports. The WSJ quotes Sprint CEO Dan Hesse as saying, referring to its 4G roll-out, "We thought we would have more of a head start than we'll end up having."
Due to the shortages of the Samsung-manufactured 4.3-inch displays, HTC has signed up Sony to augment manufacturing, but its factory won't be ready until 2012, according to eWEEK. Meanwhile, Samsung is building a new factory to increase supply.
The shortages are due in part to the recession, Sprint's Hesse told the WSJ. In 2009 "high-tech capacity was taken offline, and now it needs to be brought back up," Hesse was quoted as saying. Meanwhile, 4G radios are also said to be in short supply, although the problem is not yet noticeable due to the more extreme touchscreen shortages.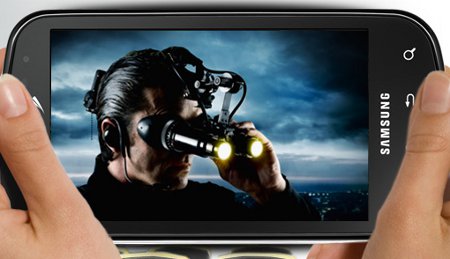 Sprint's Samsung Evo 4G
As noted by
eWEEK,
the Evo 4G shortages are a major problem for Sprint, which is already taking orders for a 4G follow-up, the Android-based
Samsung Evo 4G
(pictured above), a keyboard- and 4G-enabled version of Samsung's Galaxy S smartphone. The phone offers a Samsung-manufactured 4-inch Super AMOLED display, which also appears to be in hard to come by.
During Sprint's first fiscal quarter of 2010, which concluded in April before the launch of the Evo 4G, the company posted a loss of $865 million on revenue of $8.1 billion, says eWEEK. The carrier lost 75,000 subscribers during the quarter, although this was said to be an improvement on the losses in previous quarters.
Droid X to clean up on shortages, iPhone antenna woes?
With shortages this summer of the Evo 4G, Droid Incredible, and some Samsung Android phones, the road is well paved for Verizon and Motorola to repeat their Motorola Droid success with the new Droid X.
The Droid X, which goes on sale tomorrow, and does not appear to be as vulnerable to display shortages, is also likely to benefit from the iPhone 4's antenna problems. Apple received more bad news this week when Consumer Reports published a review saying it could not recommend the smartphone due to its reception problems.
Availability
The Financial Times story on Sprint's possible LTE plans may be found here. The eWEEK story on the potential LTE expansion should be here.
The Wall Street Journal story on the Evo 4G's display shortage should be here, and the eWEEK follow-up should be here.
An eWEEK story on the Consumer Reports review of the iPhone 4 may be found here, and an earlier story on the phone's antenna problems should be here.
---
This article was originally published on LinuxDevices.com and has been donated to the open source community by QuinStreet Inc. Please visit LinuxToday.com for up-to-date news and articles about Linux and open source.