Jul 21, 2009 — by Eric Brown — from the LinuxDevices Archive — 27 views

Vietnamese Linux technology firm Hacao has released a netbook and a new bilingual (English/Vietnamese) release of its Hacao Linux 2009 CE distro. The Hacao Netbook is a rebranded version of MSI's Intel Atom-based Wind, featuring a 10-inch screen and 160GB of storage.
Introduced last weekend at the Vietnam Computer Electronics World Expo 2009, the Hacao Netbook is a branded version of the Pico netbook from Singapore-based Axioo, which is in turn a modified, Bluetooth-less version of the MSI Wind.


Hacao Classmate PC
(Click for details)
In 2007, Hacao introduced a Vietnam-localized version of the Intel Classmate PC educational mini-laptop, making it one of the earliest netbooks on the market. Like the first Classmate PC, the pre-Atomic age Hacao Classmate PC (pictured at right), was based on a 900MHz Celeron and featured a 7-inch display. It was adopted by the Vietnamese government for use in Vietnam's schools, along with the Hacao Linux distro, the company said at the time.
The Hacao Netbook has a broader focus than the Hacao Classmate PC, with Hacao citing business and consumer use in additional to educational applications. Hacao offered relatively few additional details on the new netbook. Assuming, however, that the company has not changed the design much from the Pico, the 1.6GHz Intel Atom is presumably the N270 model. The Hacao Netbook is backed up with 1GB of RAM, and offers WiFi, Ethernet, and a camera.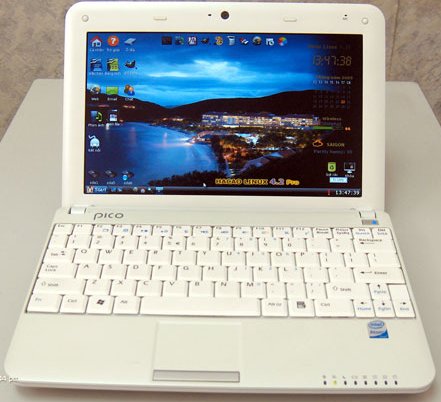 Hacao Netbook
Other standard features of the MSI Wind/Axioo Pico not listed in the spec sheet below include three USB ports, a flash memory card reader, and a dial-up modem. The biggest difference is the price. Whereas the Windows-based Pico sells for over $500, the Hacao Netbook is available for only $240 U.S.
Specifications listed by Hacao for the Hacao Netbook include:
Processor — Intel Atom 1.6GHz
Memory — 1GB DDR2
Display — 10-inch WXGA screen; VGA port
Storage — 160GB SATA hard disk drive
Networking — 10/100 Ethernet
WiFi — Type not specified
Camera — 1.3-megapixel
Weight — 2.6 lbs. (1.2 kg)
Operating system — Hacao Linux 2009 CE
Hacao Linux 2009 CE
Hacao Linux 2009 CE is billed as a major upgrade to Hacao 4.21 Pro. Like the Hacao Linux 2.16 version that ran on the original Hacao Classmate PC, Hacao Linux 2009 CE is based on Puppy Linux, but at 321MB, has a much larger footprint.

Hacao Linux 2009 CE main screen
(Click to enlarge)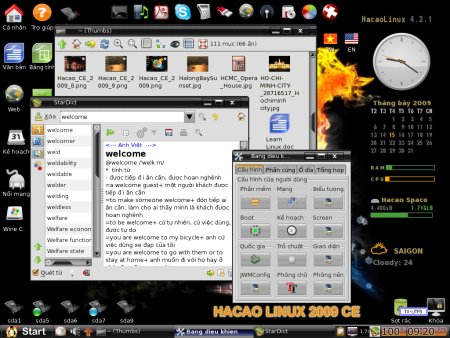 Hacao Linux 2009 CE configuration menus
(Click to enlarge)
The principal additions appear to be a more fully integrated bilingual framework, with a one-click switch between Vietnamese and English versions. Full unicode support is offered for both languages in applications including OpenOffice (with spell-checker), Skype video, Yahoo Chat, Gimp, Wine, and Stardict, says Hacao. Other touted features include easy connections to Windows networks, improved support for WiFi, and enhanced web browsing, chat, and video calling features.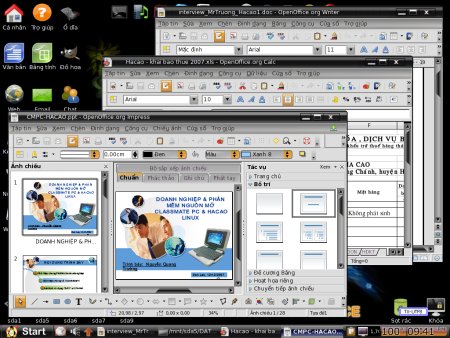 Hacao Linux 2009 CE OpenOffice screens
(Click to enlarge)
Availability
The Hacao Netbook appears to be available now for $240 U.S. More information on the netbook may be found at this Hacao web page. More on the Axioo Pico should be here.
The 321MB Hacao Linux 2009 CE distribution is available for free download at a Puppy Linux mirror site, which requires the username "puppy" and the password "linux" for entry, here. More information on the distro may be found here.
---

This article was originally published on LinuxDevices.com and has been donated to the open source community by QuinStreet Inc. Please visit LinuxToday.com for up-to-date news and articles about Linux and open source.