Jun 16, 2007 — by LinuxDevices Staff — from the LinuxDevices Archive — 28 views
VirtualLogix has started shipping version 2.0 of its virtualization platform for telecom. VLX for Network Infrastructure (VLX-NI) 2.0 adds high-availability features, support for mixing legacy 32-bit and new 64-bit OSes on Intel's 64-bit EMT64 architecture, and the capability to run unmodified legacy OSes on processors with Intel Virtualization Technology.
Mark Milligan, VP of marketing, identified four key improvements in VLX-NI 2.0:
Greater tolerance of software faults. Miligan explained, "It used to be that hardware redundancy was the main thing. Increasingly, the failures are in software. VLX-NI lets you do some nice things to preserve redundancy in the face of failure." Specific new features aimed at software fault tolerance include dynamically controlling OS partitions, starting guest OSes, updating guest OSes, and fast reboots, Miligan said. "If an OS fails, you can start another instance on a different core, then reboot the primary, which then can become the backup," he said.
Multiple, unmodified legacy 32-bit OSes can run "in parallel" or be combined with newer 64-bit OSes on Intel processors based on the EMT64 architecture, with the entire system "able to benefit" from the 64-bit architecture's larger address space and multiple cores, VirtualLogix said.
Tested and validated support for Intel's NetStructure MPCBL0050, described as Intel's first ATCA board based on the "Core" micro-architecture (architecture diagram). The powerful blade boasts two dual-core, low-voltage Xeon processors clocked at 2.33GHz. "The MPCBL0050 lets you take eight boards down to one," Miligan said, noting that VLX-NI 2.0 is also being tested on multicore RadiSys and Kontron boards.


Intel NetStructure MPCBL0050
(Click to enlarge)

More complete support for Intel VT means that guest OSes need not be modified at all to run on VLX — saving companies from re-validating legacy stacks. Miligan explained, "Before, we had to make some small changes to the guest OS, such as trapping interrupts. They were small changes, but they were non-zero."
NXTComm demo
VirtualLogix will unveil VLX-NI 2.0 at the NXTComm trade show this week in Chicago, where it is demonstrating the product in an interesting "Home Location Register" (HLR) simulation. HLRs — the primary database used by mobile operators to track user information — are generally hosted across clusters of powerful, discrete servers; however, the VirtualLogix demo simulates an HLR running a single Intel NetStructure MPCBL0050.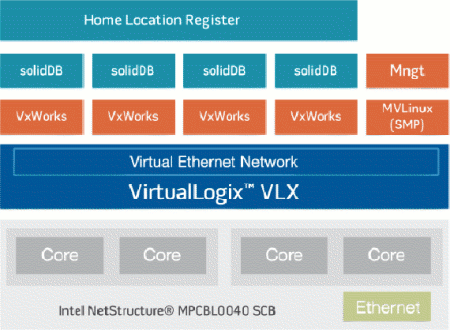 VirtualLogix's HLR demo
In VirtualLogix's demo, each Xeon core hosts an instance of VxWorks running an HLR app built around SolidDB. IPC (inter-process communication) is routed over VLX-NI's virtual Ethernet network. Meanwhile, each core also runs a 4-way SMP (symmetrical multi-processing) instance of MontaVista Linux, which governs the blade's physical Ethernet interfaces, among other management duties.
Availability
VLX-NI 2.0 is available immediately, with pricing "very dependent on volume," Milligan said. Customers typically pay an upfront development fee, along with per-unit deployment fees. VLX-NI 2.0 has been tested with MontaVista Linux Carrier Grade Edition 4.1, Red Hat Enterprise Linux 4.4 and 5.0, and VxWorks 6.2, according to the company.
---

This article was originally published on LinuxDevices.com and has been donated to the open source community by QuinStreet Inc. Please visit LinuxToday.com for up-to-date news and articles about Linux and open source.