Feb 22, 2010 — by Eric Brown — from the LinuxDevices Archive — 6 views
VirtualLogix announced an Android-optimized version of its virtualization software for handsets, plus related design wins with ST Ericsson and Infineon. VLX MH 4.0 makes it easier for mobile silicon vendors and OEMs to design smartphone functionality into lower-cost, single-core, ARM-based phones, says the company.
VLX MH (mobile handsets) 4.0 supports all ARM processors, as well as proprietary real-time operating systems, which can be used in conjunction with Android, says VirtualLogix. VLX MH 4.0 ships with a fully virtualized version of Android, enabling handset developers to isolate the OS from the mobile handset's peripheral devices, accelerators, and codecs, says the company.
The virtualized Android for VLX is said to remove direct hardware dependencies, making it easier to integrate on hardware platforms and to upgrade to new releases of Android. Time savings are said to be enabled by removing the burden of re-integrating all hardware differentiators that are built into mobile handset platforms.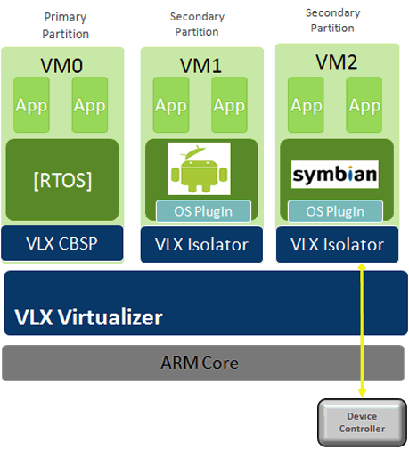 VLX for ARM architecture
Aside from announcing the new Android support, VirtualLogix did not cite other new features in VLX MH 4.0. The technology is a subset of the company's VLX for ARM product, which is said to support Linux, Android, and Symbian on ARM9, ARM11, and Cortex A8/A9 processors (see diagram above). The virtualization software isolates proprietary core functionality, management, and security operations from open source software, thereby providing "protection from open source licensing requirements and potential malware," says the company. (For many vendors, apparently, GPL is just another form of malware.)
VLX for ARM is said to offer device management functions including OS monitoring and automatic restart, enabling the system to be repaired or restored independently of the rich OS. The software is also said to enable the use of trusted services such as security agents, access control, and authentication, independently of the rich OS.
Infineon looks to reuse legacy middleware
Infineon Technologies AG has agreed to incorporate VLX MH into multimedia chipsets for mobile phones, says VirtualLogix. VLX virtualization will enable the company and its customers to reuse Infineon's dual-mode cellular protocol stack almost entirely unchanged, says the company. Teams from Infineon and VirtualLogix are said to have successfully integrated and tested VLX MH software with an Infineon mobile handset reference platform.
VirtualLogix did not list which operating systems were involved. In 2007, Infineon demonstrated a prototype of a single-core MP-Elite handset based on a mobile phone SoC (system-on-chip) from Infineon. The MP-Elite ran FSMLabs's RTLinux real-time Linux variant, as well as a cellular protocol stack from Infineon spin-off Comneon.
ST-Ericsson preps ARM9 Android handset
The new product win with ST-Ericsson calls for the mobile chipmaker to use VLX MH to manufacture a "new low-cost Android-ready smartphone platform," says VirtualLogix. Last year, the companies jointly demonstrated VLX running Android and a baseband RTOS on an ST-Ericsson reference design with a single ARM9 core. In their latest announcement, VirtualLogix offered no more details on the design, previously said to run both Android and a cellular baseband on a single ARM926-based SoC virtualized by the VLX stack.
The processor in question may well be the U6715, which ST-Ericsson announced just prior to this year's Mobile World Congress. Aimed at low-cost smartphones running Android or Linux, the touch-enabled U6715 combines a 468MHz ARM926EJ-S core with a multimedia accelerator, plus telecom and audio DSPs. The SoC is said to support WiFi and a five-megapixel camera, and can deliver seven hours of HSDPA 3G talk time.
The first commercial products based on the U6715 are expected in the first half of this year, St-Ericsson says. The chipmaker also recently cut a virtualization deal with OK Labs, but that one is focused on high-end ARM Cortex-A9 phones running Linux, Android, or Symbian.
VLX background
Unlike "enterprise" virtualization products such as VMWare, which abstract all physical hardware for easier installation and configuration, VLX lets guest OSes access physical hardware subsystems directly, for faster performance, VirtualLogix says. The company says that despite this direct physical access, hardware developers can securely isolate critical applications. Other touted benefits include reduced materials cost, contained software failures, and software license segregation, according to the company.
VirtualLogix has been demonstrating single-core mobile phone reference designs based on NXP hardware designs for several years. For example, VLX-MH played a key role in the sub-$100, Linux-based PurpleMagic design that Purple Labs created atop NXP's Nexperia Cellular System Solution 7210 hardware design. Subsequently, Philips spinoff NXP and STMicroelectronics (ST) created an ST-NXP joint venture that was then merged with Ericsson.
VLX-MH 3.0 arrived with new security features in 2006, in conjunction with Jaluna changing its name to VirtualLogix. VLX MH, which has now apparently lost its hyphen, grew out of the company's OSWare 2.0 for ARM product, which was previously used in a Philips mobile phone reference design.
Other versions of VLX have included VLX-DM (digital media) and VLX-NI (network infrastructure), which was also offered in a High-Availability (HA) version. In 2008, the company announced a MID (mobile Internet device) version. VirtualLogix no longer lists any information on these variants, however, and now differentiates VLX primarily between its ARM and Intel versions, both of which are said to target mobile devices.
VirtualLogix was besieged by financial difficulties in 2008, but has apparently righted itself while also, apparently, simplifying its product portfolio. Last month, the company announced a new round of financing.
Stated Glenda Dorchak, vice chairman and CEO, VirtualLogix, "With this newest generation of VLX for ARM, VirtualLogix has increased the ability for developers to quickly adapt the latest generation of mobile silicon platforms and accelerate production of consumer mobile products with differentiation, advanced functionality and lower costs."
Stated Stefan Wolff, VP of the Wireless Solutions Division and GM of the Smartphone and RF business, at Infineon, "The VirtualLogix technology, in combination with the market leading ability of Infineon to provide cost leadership for mobile media platforms, is bringing smartphone functionality to mass markets."
Availability
VLX MH 4.0 appears to be available now for the OEM market. More information may be found here.
---
This article was originally published on LinuxDevices.com and has been donated to the open source community by QuinStreet Inc. Please visit LinuxToday.com for up-to-date news and articles about Linux and open source.