May 18, 2011 — by Eric Brown — from the LinuxDevices Archive — 194 views
Black Diamond Advanced Technology announced a wearable, rugged computer system designed to integrate into a warfighter's uniform and equipment. The Modular Tactical System (MTS) features an Intel Atom processor with up to 2GB of RAM and 128GB of SSD storage, plus modular computer, display, and I/O components incorporated into a compact plate carrier system, says the company.
With the profusion of field technology available to the U.S. military "warfighter," and the MOdular Lightweight Load-carrying Equipment (MOLLE) uniform design, the modern soldier appears more Borg-like than ever. Now, a modular, wearable Atom-based computer can be added to the mix.
Operationally tested in Afghanistan, the Modular Tactical System (MTS) is now available as a commercial-off-the-shelf (COTS) system running Linux or Windows XP/7. The computer is optimized for dismounted C4ISR (command, control, communications, computers, intelligence, surveillance, reconnaissance) applications, says Black Diamond.
As the name implies, the Modular Tactical System takes a modular approach, "deconstructing the computer and communications system to fully integrate it into the warfighter's uniform and common equipment," says the company. The design is said to modify elements including the armor plate-carrier, "while maintaining the integrity of critical elements."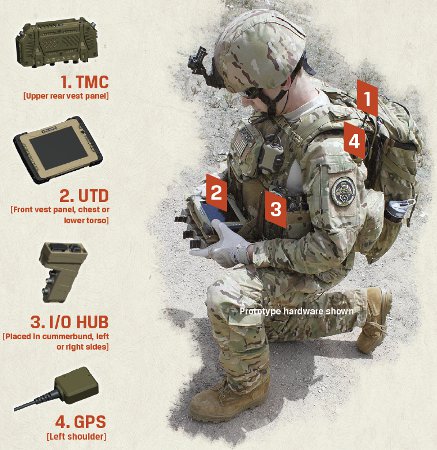 Major components of Black Diamond MTS


(Click to enlarge)
The MTS design is intended to let warfighters quickly flip from communications and computer access to combat mode within seconds, without compromising ballistics protection. "A warfighter never needs to stop, put down gear and lose time in a stationary position while powering up or repacking equipment," says Black Diamond.
In non-combat situations, the MTS can also be employed in bag or vehicle configurations, says the company.
The MTS interoperates with common battlefield equipment, and is adaptable for specialized missions requiring application-specific equipment. The system is designed for many types of personnel, including, but not limited to, JTACs (joint terminal attack controllers), TACPs (tactical air control parties), and forward observers, says the company.
MTS UTD display unit (left), TMC computer (middle), and what appears to be a second view of UTD (right)


(Click to enlarge)
In the typical vest-based configuration, the central component of the system — called the Tactical Mission Controller (TMC) — is carried on the rear of the plate-carrier. Incorporating the main computer, peripheral controller, and power manager, the TMC is secured via cables routed through an interchangeable cummerbund that integrates body armor, says Black Diamond. It is then secured to a standard or custom plate-carrier.
The TMC incorporates an Intel Atom 1.1GHz or 1.6GHz, says Black Diamond. According to a review of the MTS by Rugged PC Review (see link at end), these are the original Z510 and Z530 Atom models, respectively. The 7.0 x 3.5 x 1.5 inch unit weighs 1.5 pounds, and offers security features including TPM, tamper detection, and a "Zeroize" button that wipes data, the review says.
The TMC offers up to 2GB memory, and provides either a 64GB or 128GB solid state disk, says Black Diamond. An SD slot is also available for expansion. Dual military radio display ports are also provided, and a GPS module extends from the TMC on the left shoulder, says the company.
The removable, 1.5-pound Universal Tactical Display (UTD) flips down from a front pocket to provide access to a 6.5-inch XGA resistive touchscreen, said to be sunlight-viewable and compatible with night vision goggles (NVGs). Input buttons and an optical mouse are also provided.
A third unit called the Tactical Hub is routed along the cummerbund to provide access to I/O ports to peripherals such as rangefinders, says the company. I/O is said to include an Ethernet port, serial port, three USB 2.0 ports, audio I/O, and a video downlink (VDL).
Power is derived from "a wide range of existing military batteries already carried by the soldier." Alternative power sources such as fuel cells, solar panels, and vehicle chargers are also said to be supported.
The MTS supports operating temperatures from -22 to 140 deg. F, says Black Diamond. The computer is also said to be resistant to drops, vibration, water, dust, and other hazards.
Features and specifications listed for the Modular Tactical System (MTS) include:
Processor — Intel Atom 1.1GHz or 1.6GHz
Memory — 1GB or 2GB
Storage/expansion — removable 64GB or 128GB SSD; SD card slot for up to 32GB
Display:

6.5-inch XGA (1024 x 768)
5-wire resistive touch with passive stylus
sunlight viewable
NVG compatible
MIL-STD-3009 NVIS radiance compliance

Input:

5 x programmable buttons
dedicated onscreen keyboard button
optical mouse with left/right click

Wireless:

SIRFstarIII or DAGR GPS
2 x military radio (AN/PRC 148, 117G, 117F, 152; Micro Light)

Networking — Ethernet
Other I/O:

video down link (VDL)
hands-free display port
3 x USB
RS-232
audio out; mic in

Software — LaunchPad, StatCon; AppConfig
Power:

9-35 VDC input
MIL-STD 1275 compliant
battery support (LI-80, LI-145, BA-5590, BA-2590)
alternative power (fuel cells, solar, AC, vehicle)

Operating temperature — -22 to 140 deg. F (-30 to 60 deg. C)
Ruggedization:

withstands 48-inch drop to gravel
IP67 sealed
MIL-STD-810G (temp., immersion, altitude, shock, vibration, salt fog, humidity, explosive atmosphere, dust, sand)
MIL-STD-4561F (RE102)

Operating system — Linux, Windows XP, Windows 7
In January, 2010, Black Diamond announced it has been awarded a patent for FPGA-related technology found in its rugged, Linux-ready SwitchBack UMPC (ultra mobile PC) military field computer (pictured). In the patented SwitchBack architecture, a Xilinx Virtex 5 FPGA controls the Celeron CPU via a PCI-Express channel, enabling the device to be easily reprogrammed, according to the company.
As Rugged PC Review points out, the new MTS can't match the compute power of the SwitchBack, but it's a far better fit for the typical warfighter. The MTS system "distributes weight, provides great configuration flexibility, and keeps hands free," writes Conrad Blickenstorfer. "And the use of COTS technology and components keeps costs down."
On the other hand, the modular approach "introduces considerable complexity and multiple points of failure," he adds. In addition, "there is also the question whether or not such systems would not be better off being built on smartphone/Android platforms as opposed to more conventional mobile computing technology," adds Blickenstorfer.
Stated Justin Dyster, Black Diamond's vice president of engineering, "By offering the MTS as a COTS system, we're eliminating the cost and developmental delay for applications that may be too small for a full-blown development program and are too complex to employ basic soldier system computers."
Availability
Pricing or availability for the Modular Tactical System (MTS) was not available, but the device appears to be available now. More information may be found at Black Diamond's website.
The Rugged PC Review story on the MTS may be found here.
---
This article was originally published on LinuxDevices.com and has been donated to the open source community by QuinStreet Inc. Please visit LinuxToday.com for up-to-date news and articles about Linux and open source.