Mar 6, 2008 — by Eric Brown — from the LinuxDevices Archive — 2 views
[Updated Mar. 7] — Wind River's 4Q 2008 earnings showed expected revenue growth to $84.3 million and a net loss of $2 million. However, Linux bookings were up 66 percent, with Linux expected to deliver over $50 million in fiscal 2009, about 14 percent of the projected $365 million total.
Overall fiscal year 2008 revenues were $328.6 million, up 15 percent from $285.3 million for fiscal year 2007. The $84.3 million revenues for the quarter ending January 31st were on the low side of the Linux tools company's own downgraded projection of $84-$86 million issued during its last earnings report. Yet, the figure was up 11 percent compared to 4Q 2007 when $76.1 million was reported, and was said to represent the company's top quarterly revenue figure in seven years. The company claims to have outperformed guidance for three quarters in a row.
Other financial news included deferred revenues increasing 6 percent year-over-year, and 16 percent sequentially to $134.6 million — evidence that services and subscriptions account for an increasing share of the company's income, CEO Ken Klein said in an earnings call.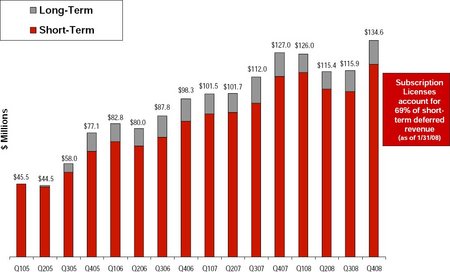 Deferred earnings, or income collected before being earned
(Source: Wind River. Click to enlarge)
Meanwhile, GAAP net loss per share was said to be $(0.02) and non-GAAP net income per share $0.09. Non-GAAP net income for 4Q 08 was $8.1 million, compared to $8.7 million for 4Q 07. Non-GAAP net income per diluted share was $0.09, compared to $0.10 the year before.
In his earnings presentation, Klein explained the annual net loss as the result of increased investment in new areas such as mobile phones and automotive infotainment, which are only beginning to bring in the kind of revenues Wind River expects to emerge in the coming year. CFO Ian Halifax, meanwhile, announced expectations "to exit Q4 2009 with operating margins in excess of 15 percent of revenues."
A royalty-based deal with Motorola?
Klein was particularly upbeat about the fast-growing Linux market, especially in the mobile phone market and automotive devices. In these markets, he suggested that the looming threat of recession was actually helping drive business to Wind River, commenting, "In the Linux market, we're taking wins away from the roll-your-own market. These are customers that just don't have the engineers to sit around hand-crafting device software platforms. They have to purchase them."
With the company's prominent role in both the LiMo Foundation and Google Android mobile phone specs, Klein says it is beginning to secure royalty-based contracts. "At this year's Mobile World Congress, we demonstrated five Google Android based reference designs," boasted Klein. "In Q4, we had the first Android win with the largest U.S. handset manufacturer. That's a deal with a per-unit fee model."
Later in the Q&A, however, Klein seemed to put the mobile-phone royalty aspect in the future tense: "We fully expect to book Linux deals that pay on a per-unit basis," he said, "We've done it in networking equipment, and we expect to do it in handsets. When we can talk about those deals, we will."
If indeed Wind River is preparing an Android implementation for a Motorola phone hardware platform, that could prove a major blow to rival MontaVista, which has supplied Motorola phones with its Mobilinux distro for over five years. However, whether Wind River has the clout to convince other handset and device vendors to enter royalty-based deals is open to question. There is a long tradition of resistance to per-unit royalties in the Linux market.
For example, in last year's annual LinuxDevices survey, when readers were asked "Would you consider paying per-unit royalties to your embedded Linux OS vendor?" only 8.7 percent answered yes, while 66.8 percent said no. Yet in the same survey, 63.4 percent of readers said they would consider paying for Linux development/support services while only 16 percent said no.
Meanwhile, as in last quarter's earnings presentation, Klein noted special growth in the automotive sector. "Linux is fast becoming the automotive infotainment market's solution of choice," he said. "We partnered with Intel on an automotive grade Linux solution, and we're on target to deliver in Q2. The first customer was BMW. Then we completed a deal with a Tier-1 European company, and we have a customer in Detroit as well."
Klein said the pattern was a familiar one, where Linux was concerned. "We identify and partner with an industry leading manufacture to create a spec for a vertical market product. Our professional services developers then create a vertical industry offering leveraging the work started for a specific customer engagement."
For example, Klein said the company's Platform for Network Equipment, Linux Edition, recently registered against Carrier Grade Linux 4.0, had its roots in a customer engagement with Nortel, but has since gone on to achieve design wins at Nokia, Siemens, Ericsson, and others.
Changing Linux guard
The last month has seen significant changes among the two leading Linux tools and OS vendors. MontaVista recently changed CEOs, and on February 6th, Wind River announced a reorganization into four divisions: VxWorks, Linux, Tools, and Device Management. The company said the regrouping would help it focus on investing in mobile handsets, automotive infotainment, network equipment, and certain aero/defense segments. In the accompanying press release, Wind River had stated: "As a result of the reorganization, certain non-critical, redundant or administrative positions will be eliminated, and staffing of development resources in low-cost geographies will be accelerated."
In the most recent earnings announcement, Halifax provided updates on the layoff situation, which so far appears to be modest. Prior to the reorganization, the company had a headcount of 1,490, including 428 in sales. Post re-org, at the end of February, it counted 1,441 employees. By comparison, in a recent interview with new MontaVista CEO Russell "Rusty" Harris, he said his company had about 250 employees. Wind River has not disclosed how many employees are in its newly formed Linux division.
During the earnings announcement, Halifax and Klein said that during Q4, Wind River contemplated purchasing an unidentified company and as a result, temporarily halted a stock buyback program. Having decided against the purchase, the company will reinstate the buy-back program, apparently slated to expend $50 million in the year ahead. Wind River has cash and cash equivalents of $244.1 million, Halifax said.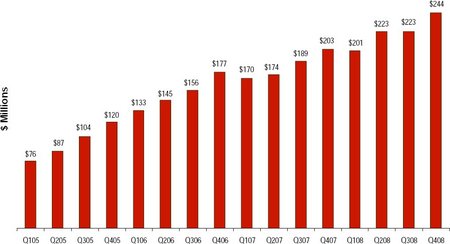 Wind River's growing cash position
(Source: Wind River. Click to enlarge)
Wind River was the top revenue gatherer in the market for embedded OSes and tools until Microsoft overtook that title in 2004. Wind River's stock valuation has been buoyed over the last year by rumors of an IBM acquisition, and later by news of its involvement in Google's Android project. Perhaps just as significant for Wind River was the recent announcement from the LiMo Foundation that it would standardize on Wind River's commercial Linux technology as a "Common Integration Environment" (CIE) for its widely endorsed mobile phone specification. Wind River will also be the key developer of the application developers kit (ADK) that LiMo expects to ship later this year. And, a partnership with Access has boosted Wind River's prospects in the Japanese market.
The webcast for today's earning report is available here.
In related news, a brief interview with Wind River CMO John Bruggeman is available here.
---

This article was originally published on LinuxDevices.com and has been donated to the open source community by QuinStreet Inc. Please visit LinuxToday.com for up-to-date news and articles about Linux and open source.