Dec 13, 2007 — by LinuxDevices Staff — from the LinuxDevices Archive — views
An influential industry group collaborating on a common Linux-based operating system for mobile phones has standardized on a common toolchain. The Linux Mobile Foundation (LiMO) will standardize on Wind River's commercial Linux technology as a "Common Integration Environment" (CIE), Wind River announced.
LiMO will reportedly use Wind River's build and configuration system, mobile-optimized kernel distribution, and tool chain. The standardization will help LiMO achieve its "goal of reducing fragmentation," Wind River said.
LiMO was founded in January of 2007 by many of the companies that to date have achieved the most success with Linux in mobile phones — Motorola, NEC, NTT DoCoMo, Panasonic Mobile Communications, Samsung Electronics, and Vodafone. Wind River joined LiMO this summer, along with eleven other new members. At that time, LiMO's newly hired executive director, Morgan Gillis, hinted that a common C/C++ toolchain was in the works, commenting, "The likelihood that it will be something vendor-neutral is extremely high."
Gillis added, "Within the existing membership pipeline, we have a number of vendor-neutral tools companies [that could] introduce a vendor-neutral toolset specifically for the LiMO platform. It's up to the companies themselves to make the announcement, though."
Wind River competitor MontaVista also joined LiMO last summer, albeit at a lower level than Wind River. MontaVista has in the past supplied its Linux kernel and toolchains to many LiMO members, for use in multiple generations of popular phones. That will likely not change, according to MontaVista Founder and CTO Jim Ready. Ready observed, "An industry group like LiMO is not going to hand anyone an exclusive."
LiMO members will obviously continue to enjoy a choice of which Linux provider's stack and tools to use in building their phones and other products. However, LiMO members collaborating to develop the various middleware components within the LiMO stack will standardize for the sake of convenience on Wind River's toolchain, kernel, and build environment.
Wind River earlier won a similar CIE deal with the U.S. Army's Future Combat System, as well as a similar CIE deal with VII-C, an automotive industry group exploring an ambitious plan to embed computerized safety monitors in traffic lights and roadsides.
Since entering the market in 2005, Wind River has not yet announced any mobile phone design wins for its brand of Linux, to our knowledge. However, the company's profile in the mobile phone market — and its stock price — were recently bouyed considerably by its involvement in Google's Android project.
Commenting on that deal, CMO John Bruggeman last month told LinuxDevices, "[Wind River has] done two dozen or more phone wins in the last twelve months, and you will see those announced in 2008. Some will be LiMO based, some OHA based, some Celunite based, some Access based."
More about LiMO and the Wind River CIE
As an industry group, LiMO works to create actual code that is cross-licensed among members under a "Foundation Public License" (FPL) aimed at setting forth "fair and non-discriminatory terms." Components of the LiMO stack are shown in the diagram below.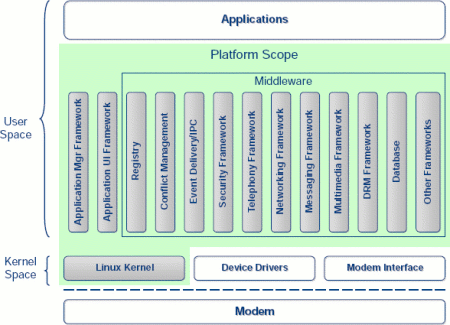 LiMO Platform architecture
(Click to enlarge)
Wind River has invested considerable resources into improving the Eclipse-based platform for use in device development, through extensive strategic code contributions, most within the top-level Device Software Development Project (DSDP) project that it largely founded. Wind River says its tools will enable all LiMO component providers' contributions to be managed "as both independent modules, and an integrated whole."
Other claims for CIE listed by Wind River include:
Allow LiMO to easily manage components developed by the diverse engineering teams of its members
Allow LiMO to easily update or exchange components, allowing OEMs and operators to differentiate their handsets while remaining within the LiMO standard
Allow LiMO to leverage a standard suite of components and applications for multiple projects
Reduce debugging, test, and validation cycle time by minimizing challenges working with multiple versions of merged software
Jason Whitmire, the seasoned mobile phone industry vet who manages Wind River's mobile phone operation, stated, "The selection by the LiMO Foundation to standardize its CIE on components of Wind River technology signifies that Wind River is rapidly becoming the commercial Linux platform of choice in the mobile handset industry."
In other recent news, Access recently announced that it has been tapped to deliver a LiMO-compliant version of its Access Linux Platform (ALP) for consideration as a possible common platform across Linux-based phones from NEC, Panasonic Mobile, and Esteemo. Access will also deliver carrier-specific ALP add-ons, starting of course with one for NTT DoCoMo.
Additionally, formal Linux phone standards body LiPS completed its first specification earlier this week.
---

This article was originally published on LinuxDevices.com and has been donated to the open source community by QuinStreet Inc. Please visit LinuxToday.com for up-to-date news and articles about Linux and open source.