Apr 28, 2006 — by LinuxDevices Staff — from the LinuxDevices Archive — 356 views

[Updated May 12] — Intec Automation is shipping a tiny ColdFire-powered CPU module claimed to be the smallest Linux SBC (single-board computer) with Internet connectivity, a reasonable amount of memory, and "massive control functionality." The WildFireMod measures 1.9 x 1.7 inches (49 x 44mm), and targets… data acquisition systems, communications, electric and internal combustion motor controllers, robotics, automotive, avionics, and industrial control.
(Click for larger view of world's smallest Linux SBC)

WildFire5282
(Click for details)
The WildFireMod is essentially a CPU module version of Intec's previous WildFire5282 SBC (pictured at right). The original WildFire is much larger, at 2.9 x 2.3 inches (74 x 58mm), but offers a porcupine's worth of 0.1-inch ribbon cable pins for real-world I/O attachments. The WildFireMod instead offers surface-mount connectors, and is meant to attach to custom baseboards, which can be easily designed in two layers, Intec says.

SSV DNP/5282
(Click for details)
The move to a CPU module format shaved several millimeters from Intec's WildFire board design. However, there are smaller Linux-capable boards, such as SSV's DNP/5282 (pictured at left), which at 2.2 x 0.9 inches (55 x 22mm) is just over half the WildFire's size. The DNP/5282 is designed to be inserted into a 40-pin DIP (dual-inline pin) IC (integrated circuit) socket, or soldered directly onto a PC board, and has no on-board Ethernet connector.

DigiConnect ME
(Click for details)
Of course, there are lots of contenders for any title as grandiose as "world's smallest" anything, and our Tiny Boards that Run Linux page lists many of them. For example, Gumstix makes several smaller boards, although again they lack Ethernet connectors, while Digi's ConnectME fits inside a case not much larger than an RJ-45 jack, although it cannot compare to the WildFire in resources and I/O.
So is the WildFire the "world's smallest" networked Linux computer with significant resources? Definitely maybe.
The WildFireMod is based on a 64MHz FreeScale ColdFire MCF5282, the same used in the SSV design and Intec's earlier WildFire board. It boasts "massive" amounts of memory, Intec says, including 16MB of RAM, and enough SRAM for datalogging and debugging. An SD card socket, from which Linux can be booted, essentially removes any limitation on the size of the Linux filesystem. SDIO is also supported, for WiFi and Bluetooth, and the WildFireMod offers a respectably full complement of PC I/O, including serial, Ethernet, and CAN (controller area network) interfaces.
Specifications include:
CPU

64 MHz FreeScale ColdFire MCF5282

Memory

512 KB on-chip "fast" flash
64 KB on-chip "fast" SRAM
4 MB flash memory for program storage
16 MB fast SDRAM for program execution

Expansion

SD socket supports 16MB – 1GB cards, or SDIO WiFi/Bluetooth cards
Board-to-board connector #1:

I2C
SPI with 5 SPI chip select signals
16 x Input capture or output compare (also GP I/O)
7 x Edge or level interrupt pins (also GP I/O)
Supports the P&E ICDPPC in-circuit emulator/debug pod
CAN Port with on-board drivers – to 1Mbps
Signals for character based LCDs and signals to interrogate up to 16 contact keypads
Single regulated 5.0 VDC, from carrier board

3.3V CPU power is generated on-board

Board-to-board connector #2:

8 x programmable analog inputs

10-bit, 140KHz sampling rate

2 x 8 GPIOs
3 x UARTs with RS232 level Rx and Tx signals
2 sets of CMOS level Rx and Tx signals for external RS485s

10/100 Ethernet

Timers, RTC, calendar, etc.
CEO Bob Furber stated, "In spite of being so tiny, this controller offers a similar feature set [to that of] our popular WildFire5282, with the added convenience of being a plug-in module. Having so much I/O, this module uses high density board to board connectors for enhanced reliability, rather than more common 0.1-inch headers and ribbon-cable connectors."
Furber added, "It encapsulates all the smarts, memory, connectivity, drivers, and high speed signals. This relieves the developer to concentrate on what he knows best: interfacing switches, relays and sensors to his system."
Availability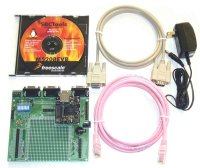 Dev kit
(Click to enlarge)
The WildFireMod is available now, priced at $189. Also available are a $500 standard development kit (pictured at right), and a $700 uClinux development kit that adds an SD card preinstalled with uClinux. More details can be found on Intec's ironically named "SteroidMicros" website.
Corrected May 12 to fix errors in the size of SSV's teensy DNP/5282.
---

This article was originally published on LinuxDevices.com and has been donated to the open source community by QuinStreet Inc. Please visit LinuxToday.com for up-to-date news and articles about Linux and open source.