Dec 11, 2008 — by LinuxDevices Staff — from the LinuxDevices Archive — 56 views
[Updated, Dec. 12] — DMP Electronics has announced a second x86-compatible SoC (system on chip) that's claimed to run Linux using under two Watts. The 32-bit Vortex86MX is said to integrate graphics, audio, and networking on a single chip.
(Click here for a larger view of the Vortex86MX/Xcore86)
Word of the new Vortex86MX came first not from Taiwan-based DMP itself, but from Thailand's NorhTec, which has resold DMP products in the past. In an email, NorhTec President Michael Barnes described the Vortex86MX as a "complete x586 motherboard on a single chip," and called it "the most energy-efficient and cost-effective technology available to run x86 operating systems."
NorhTec will rebrand the Vortex86MX as the Xcore86MX, pictured above, and has established a subsidiary known as Xcore to develop products based on the SoC, according to Barnes. Xcore is currently working on a "PC built on a motherboard the size of a business card," which will boot from microSD storage, he added.
Meanwhile, NorhTec also announced a panel PC it says will sell for as little as $400, based on the Vortex86DX SoC introduced by DMP last month. For more information on the "Touche 5.7," see later in this story.
The new SoC
As mentioned, DMP itself has not yet published information on the Vortex86MX/Xcore86MX SoC, though it recently registered the Vortex86MX.com domain name. However, piecing together information provided by Barnes, and a processor roadmap (below) posted by Brazilian reseller InDevices earlier this year, we're able to say that DMP's Vortex86MX is an enhanced version of the Vortex86DX introduced in November.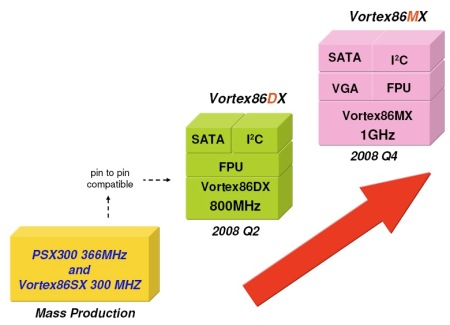 A DMP processor roadmap published earlier this year
Source: InDevices
(Click to enlarge)
According to NorhTec and InDevices, the Vortex86MX is similar to the Vortex86DX, but adds integrated VGA graphics and audio. DMP's newest SoC likely is built on a 90nm process, like the Vortex86DX, and apparently also comes in the same 27 x 27mm package. However, InDevices's roadmap suggests, the pinouts differ, likely because of the graphics output.
Note that since the graphic above was prepared by InDevices, DMP apparently increased the Vortex86DX's clock speed to 1GHz from the 800MHz shown. As for power consumption, the Vortex86DX and newer Vortex86MX both use under two Watts, NorhTec's Barnes confirmed.
Described by DMP as a "second-wave" product, the Vortex86DX is related to the Taiwan-based company's previously released Vortex86SX SoC. While the Vortex86SX was said to use under one Watt at 300MHz, the Vortex86DX uses under two Watts while being clocked at up to 1GHz, claims DMP. In addition, the SoC now not only includes the complete 486SX instruction set, but also adds floating point support and other enhancements, according to the company.
Additional performance enhancements in the Vortex86DX — apparently also carried over to the Vortex86MX/Xcore86MX — were said to include:
256KB of embedded L2 cache (compared to none on the Vortex86SX)

Support for up to 1GB of 333MHz DDR2 RAM (compared to the Vortex86SX's 256MB of 166MHz DDR RAM)

A 2MB flash BIOS (compared to the Vortex86SX's 256KB BIOS)
The DMP SoCs pack extensive northbridge and southbridge functions. On-chip controllers include serial, parallel, USB, GPIO (general purpose I/O lines), watchdog timer, counter, a 10/100Mbps Ethernet controller.
According to NorhTec, while the Vortex86MX/Xcore86MX add VGA and audio, they drop the legacy 16-bit ISA bus found in the previously announced DX versions. A block diagram of the Vortex86MX is not yet available, but a block diagram of the Vortex86DX is shown below.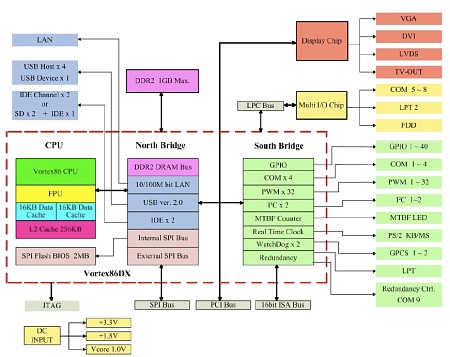 A block diagram of DMP's Vortex86DX, which forms the basis of the new Vortex86MX
(Click to enlarge)
Touted for the Vortex86DX, and possibly carried over to the Vortex86MX/Xcore86DX, is an interesting "embedded redundancy" feature that first made its debut on DMP's earlier SoC. DMP says the feature allows two Vortex86DX CPU boards to be linked via a single cable in a master/slave configuration. In the event of "six different types of unpredictable system crash" — which were not detailed further — it's possible to switch from the master board to the slave board within one microsecond, the company claims.
A new panel PC
NorhTec has announced what appears to be the first device based on the Vortex86DX/Xcore86DX, a panel PC it says will sell for as little as $400. Described as an "ultra-low-cost solution providing touchscreen control for any room in the house," the Touche 5.7 weighs just 13 ounces, sporting a 5.7-inch display with 640 x 480 resolution.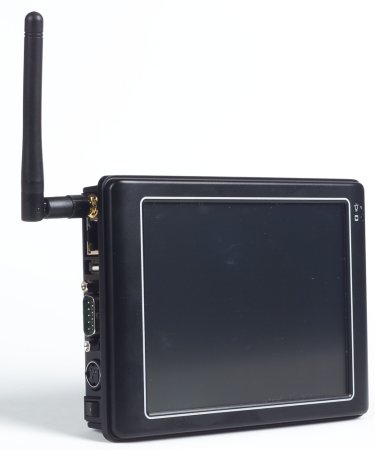 NorhTec's Touche 5.7 panel PC, shown with optional WiFi antenna
(Click to enlarge)
According to NorhTec, the Touche 5.7 has a 1GHz Xcore86DX, 512MB of DDR2 RAM, and a Mini PCI slot that supports an optional wireless LAN card. The device includes both a microSD slot, and a Type I/II CompactFlash slot, accessible from the side, as pictured above.


Ports on the Touche 5.7
(Click to enlarge)
Wired interfaces (above) include 10/100 Ethernet, three USB 2.0 ports, a PS/2 port, and an RS232/422/485 port. Alternatively, an audio line out jack can be ordered instead of the third USB port, the company says.
Features and specifications listed by NorhTec for the Touche 5.7 include:
Processor — 1GHz Xcore86DX

Memory — 512MB of DDR2 RAM (expandability not cited)

Display — 5.7-inch touchscreen display with 640 x 480 resolution, 400-nit brightness, and 300:1 contrast ratio

Networking — 10/100 Ethernet

Other I/O:

3 x USB 2.0

Audio line out (optionally replaces one USB port)

1 x RS232/422/485

1 x PS/2

Expansion:

1 x Mini PCI

1 x microSD

1 x CompactFlash (Type I/II)

Operating temperature — -20 to 70 deg. C

Power requirements — 5VDC
Dimensions — 6 x 4.4 x 1.3 inches (152 x 112 x 1.3 inches)

Weight — 13 ounces (374g)
Further information
According to NorhTec, its Touche 5.7 panel PC is compatible with Linux, Windows XP, Windows XP Embedded, Windows CE. Availability was not cited, but the Touche 5.7 will sell for approximately $400, NorhTec says.
More information on the Touche 5.7 may be found on the NorhTec website, here. Meanwhile, NorhTec adds that the new Vortex86MX/Xcore86MX SoCs are expected to ship in February.
---

This article was originally published on LinuxDevices.com and has been donated to the open source community by QuinStreet Inc. Please visit LinuxToday.com for up-to-date news and articles about Linux and open source.