Nov 3, 2011 — by Eric Brown — from the LinuxDevices Archive — views
Motorola Mobility updated its Xoom tablet with a 10.1-inch Xoom 2 and an 8.2-inch Xoom 2 Media Edition tablet, each running Android 3.2 on a dual-core 1.2GHz processor. The Wi-Fi only devices are debuting in the U.K. and Ireland, and feature 1280 x 800-pixel screens with splashguard coating, while the 10.1-inch model is 10 percent lighter and 33 percent thinner than the original.
The Xoom 2 tablets, details of which have been leaked in recent months, will ship in the U.K. and Ireland in mid November, says Motorola Mobility, although there's no word on an expected U.S. release. Perhaps the company is so battle-scarred from the negative reviews and modest sales of its original Xoom tablet, which was released with a buggy Android 3.0 ("Honeycomb") build, that it decided on a more limited release. If the Xoom 2 tablets have glitches, the company can refine them before they go stateside and around the world.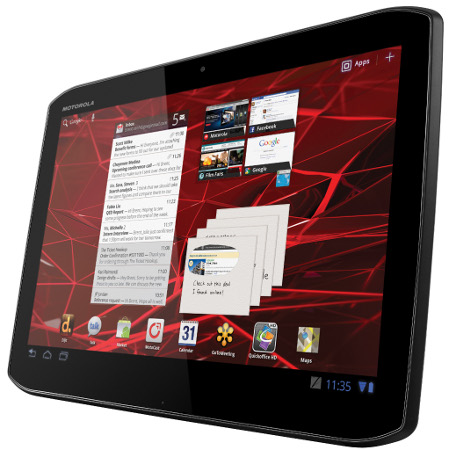 Motorola Xoom 2
(Click to enlarge)
This time, Motorola has a more stable and refined
Android 3.2
version of "Honeycomb" to work with.
According to Pocket-Lint
, the company has confirmed to the publication that the devices will receive an upgrade to
Android 4.0
("Ice Cream Sandwich"), although this will be at least six weeks away.
Like the original Xoom, both Xoom 2 tablets are equipped with a dual-core Cortex-A9 processor, but this time it's clocked to 1.2GHz instead of 1GHz. An Inquirer hands-on review confirms earlier speculation that it's a Texas Instruments OMAP 4., allowing the devices to stream Netflix in HD, and reiterates that Android 4.0 is coming to the tablets at an undetermined time.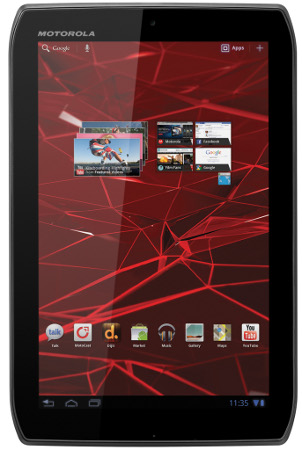 Motorola Xoom 2 Media Edition
(Click to enlarge)
Both tablets are further equipped with 1GB of RAM and 16GB of storage, says Motorola Mobility. Unfortunately, the
Inquirer
found that there's no microSD or SD slot for expansion. Motorola informed the publication that this was because the company is focusing the products on cloud-based storage.
Pricing wasn't listed, but any hopes that Motorola would address earlier concerns about high prices were dashed by the Inquirer, which says the Xoom 2 will sell for 390 Pounds ($625), and the Xoom 2 Media Edition for 360 Pounds ($577). Engadget instead cites a slightly more reasonable 380 Pounds ($609) and 330 Pounds ($529), respectively.
Keep in mind that these are Wi-Fi only tablets for now, without contracts. They cost a pretty penny, considering the price cuts other Android tablets have been making in the run-up to Amazon's $200 Kindle Fire release in mid November.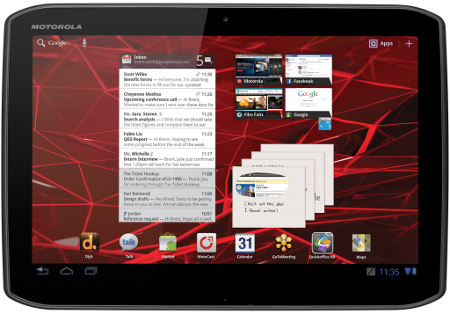 Xoom 2, showing Android 3.2 — Android 4.0 will show up in six weeks or so
(Click to enlarge)
In addition to offering a faster processor, the 10.1-inch Xoom 2 tablet is touted as being 10 percent lighter and 33 percent thinner than the original Xoom. The Xoom 2 weighs 21.1 ounces (599 grams) and measures 10.0 x 6.83 x 0.346 inches (253.9 x 173.6 x 8.8mm), while the 8.2-inch Xoom 2 Media Edition weighs 13.6 ounces (386 grams) and measures 8.5 x 5.47 x 0.354 inches (216 x 139 x 8.99mm).
Those numbers are pretty darn close to the tablet king of svelte: the 20.1-ounce (595 gram), 0.34-inch (8.6mm) Samsung Galaxy Tab 10.1. Clearly between the Xoom 2 tablets and new 0.28-inch (7.1mm) Droid Razr smartphone, thin is in at Motorola Mobility.
Like the original, the Xoom 2 and Xoom 2 Media Edition offer 1280 x 800 pixel capacitive screens with Corning Gorilla Glass, provided in 10.1-inch and 8.2-inch sizes respectively. In addition, the display is brighter and more vibrant than before, offering color enhancement, says Motorola, without providing technical details. The Media Edition model offers a wide, 178-degree viewing angle, says the company.
The new models also add a splashguard coating said to protect against liquid damage. The edges of the table, meanwhile, have been flattened and angled to provide for an easier grip.
Taking a lead from HTC with its stylus option, Motorola has made the Xoom 2 compatible with a new Motorola Stylus option designed for note-taking, hand-writing emails, and sketching. According to the Inquirer, the stylus does not work with the 8.2-inch Media Edition, however.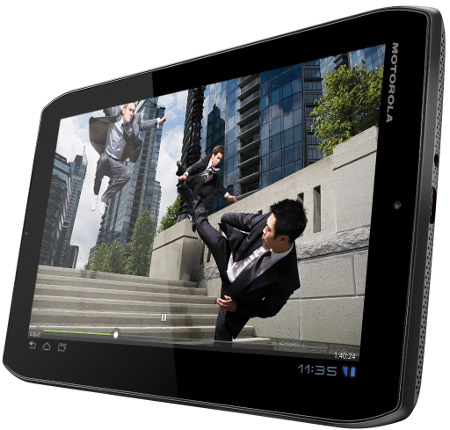 Xoom 2 Media Edition showing HD movie
(Click to enlarge)
The cameras have actually declined compared to the original Xoom. Once again, they supply a five-megapixel rear-facing camera, but the front-facing camera has been diminished from two megapixels to 1.3 megapixels, according to Motorola. The
Inquirer
notes that on the five-megapixel camera, "the shutter speed was particularly sluggish."
Motorola has yet to release detailed spec sheets, but notes that the Xoom 2 offers "USB and Ethernet connectivity," although it's unclear whether this refers to a full-sized USB port or mini-USB. The Inquirer story also notes the presence of a micro-HDMI port on the Xoom 2. The Media Edition, meanwhile, is cited as offering Bluetooth, and it comes with pre-installed QuickOffice, Evernote, and Twonky software, according to Engadget.
The Xoom 2's battery provides more than 10 hours of video playback and one month of standby, claims Motorola. The Media Edition battery supports six hours of web usage and three days of music playback, says the company.
Media Edition doubles as IR remote
The Xoom 2 Media Edition earns its name in part due to its IR receiver and app that enables the tablet to work as a TV remote control, says Motorola. It also features "adaptive virtual surround sound with multiple speakers and booming bass." The 10.1-inch Xoom 2, meanwhile, is said to offer 3D virtual surround sound.
Not surprisingly, considering that Motorola is preparing to be assimilated into the Googleverse, both tablets include Google Mobile Services. These are said to include Google Talk and Google Maps with Navigation, which would suggest that GPS is embedded in the devices.
The tablets also offer a new MotoCast app that debuted on the Droid Razr. MotoCast is said to let users stream music, photos, videos, and documents between the tablets and either a PC or Mac, without requiring media tools, apps, or cords.
The 10.1-inch Xoom 2 supplies business features like VPN support, Active Sync, and data encryption, says Motorola. In addition it ships with Citrix Receiver and Citrix GoToMeeting apps.
Accessories — which are apparently available for both models — include the HD Multimedia Station, which integrates speakers and other peripherals, as well as an HDMI port for connecting up to an HDTV. The HD Multimedia Station also ships standard with a Bluetooth-based keyboard and mouse, says the company.
Xoom 2 and Xoom 2 Media Edition promo video on YouTube
Source: Motorola Mobility
(Click to play)
Availability
The Motorola Xoom 2 and Motorola Xoom 2 Media Edition will be available in the U.K. and Ireland in mid-November, says Motorola Mobility. Both tablets will be available at Carphone Warehouse in the U.K. and Ireland, as well as Best Buy, Dixons, PC World, and Currys in the U.K.
More information and registration for availability notification may be found on the bare-bones Motorola Xoom 2 and Motorola Xoom 2 Media Edition pages, respectively. More information on both may be found in this Motorola Xoom 2 announcement.
---
This article was originally published on LinuxDevices.com and has been donated to the open source community by QuinStreet Inc. Please visit LinuxToday.com for up-to-date news and articles about Linux and open source.