May 17, 2010 — by Eric Brown — from the LinuxDevices Archive — views
A new fast-booting, cloud-oriented, "Peppermint OS" Ubuntu variant has been downloaded 25,000 times in its first week. Meanwhile, the Red Hat Enterprise Linux clone CentOS has been released in version 5.5, adding features such as improved KVM virtualization and expanded WiFi support, and pioneering Linux distro-maker Mandriva is up for sale.
Showing that there is still considerable interest in new Linux distributions, over 25,000 users downloaded the new cloud-ready Peppermint OS distribution in its first week, says the Peppermint team. Peppermint is based on Ubuntu 10.04 ("Lucid Lynx"), and is a fork of Lubuntu 10.04 — an Ubuntu variant that uses the lightweight LXDE desktop as the default. As the Peppermint name suggests, meanwhile, the distro also borrows some features from the Ubuntu-based Linux Mint.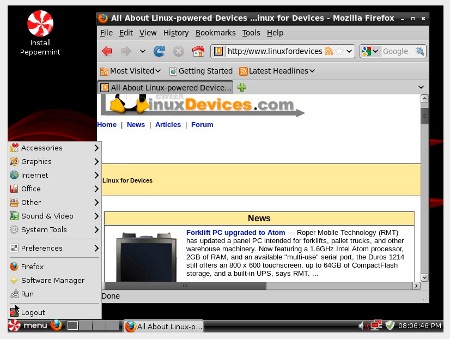 Peppermint OS
(Click to enlarge)
While acting as a full-featured, 30,000-package standalone Linux OS for desktop PCs, Peppermint can also be downloaded for netbooks in a configuration with considerably fewer packages. Those wanting to move to a more cloud-oriented approach, meanwhile, can use a version that's even more scaled down.
Peppermint lets users launch and operate web- and cloud-based applications as if they were desktop apps, says the Peppermint team. Several pre-loaded launchers are supplied, including ones for Pandora, Hulu, and YouTube. Users can then configure the OS to launch other web-based applications, says the team.
Peppermint supports cloud applications by integrating technology closely based on the Seesmic Web Twitter client browser, which itself is based on Mozilla's Prism technology, says the Peppermint team. Prism, which enables web-based apps to run outside a web browser, enables Peppermint OS to "integrate seamlessly with cloud and Web-based applications as if they were installed as software on your system," according to the original announcement on May 10.
The technology is not a direct integration of Seesmic Web, however, says the Peppermint team. "We won't be including the Seesmic desktop app though; we'll be using Mozilla Prism to construct a desktop integrated SSB [Site Specific Browser] for the absolutely brilliant Seesmic Web," says the team.
Peppermint is billed as being fast and fast-booting, both of which are confirmed in one early review by Trent Isaacson on The Linux Critic. Peppermint takes only 25 seconds to boot and fully load its default Firefox web browser, and powers down in as few as five seconds, he reports. Isaacson adds, "Let me be absolutely clear about one thing: Peppermint Linux OS is fast. Really fast."
The review also lauds the distro for being "intuitive and user-friendly," as well as highly stable, even after a crash torture test. Isaacson also notes its excellent support for social networking sites and apps, especially the Seesmic Twitter application.
On the other hand, the review notes that the LXDE desktop's default PCManFM 0.9.5 file manager has problems, as does the default image editor, Aviary's Phoenix. Among other critiques, Isaacson notes that Peppermint uses the Songbird music player, despite the fact that support for the Linux version of Songbird is being discontinued.
In the end, however, Isaacson concludes: "My feelings about using Peppermint are overwhelmingly positive."
CentOS keeps it alive with 5.5
CentOS, which survived the threat of a project fork last summer, is a community Linux distribution targeted at those who need enterprise-class operating system stability without the cost of certification and support involved with Red Hat Enterprise Linux (RHEL). CentOS is said to be 100 percent compatible with RHEL, yet the two distributions are not completely identical — 54 packages available in RHEL 5.5 were said to be modified in order to comply with CentOS' policy of offering only free software. Some 11 packages, meanwhile, were deleted because they were focused on Red Hat Network or other proprietary Red Hat technology.
Whereas the previous version, CentOS 5.4, mimicked RHEL in debuting the KVM (Kernel-based Virtual Machine) hypervisor, which Red Hat is pushing as a replacement for Xen, CentOS 5.5 follows the lead of RHEL 5.5 in introducing memory allocation enhancements for the virtualization technology.
Like RHEL 5.5, which was released in beta form in February, CentOS 5.5 also introduces new storage and WiFi drivers, and supports new AMD, IBM, and Intel processors. In addition to the new run-time memory allocation feature, KVM has been enhanced with PCI passthrough improvements on AMD- and Intel-based systems. PCI passthrough is said to enable visualization and access to a computer's PCI devices as if they were physically attached to the guest operating system.
Another key feature in both CentOS 5.5 and RHEL 5.5 is the introduction of new drivers for storage devices, network devices, and Fibre-Channel adapters. In particular, WiFi support has been improved with updates to new Ralink, Intel, and Atheros WiFi chips. (For more on CentOS 5.5 see the links at the end of the story, as well as our earlier story on RHEL 5.5, here.)
Mandriva up for sale
Even as new Linux distributions are still being born, one pioneering distro may be heading for extinction. According to a DistroWatch report last week, Paris-based Mandriva S.A. which maintains the popular Mandriva Linux distribution, is up for sale. The news was revealed in a post at Mandriva Linux Online, claiming that the company's financial situation has deteriorated dramatically, forcing a sale (see link below). Potential buyers are said to include London-based Lightapp Ltd and Linagora from France.
Availability
The release notes for the initial release of Peppermint OS may be found here. The review in The Linux Critic should be here.
A slide show about Peppermint OS 1.0 posted today on our sister publication, eWEEK, may be found here.
The CentOS 5.5 announcement may be found here, and the release notes should be here.
The Mandriva announcement about being up for sale may be found (in French) here, and the DistroWatch story on the announcement should be here.
---
This article was originally published on LinuxDevices.com and has been donated to the open source community by QuinStreet Inc. Please visit LinuxToday.com for up-to-date news and articles about Linux and open source.