May 3, 2010 — by Eric Brown — from the LinuxDevices Archive — views
Google has acquired a company called BumpTop that offers a 3D multi-touch UI and a card-shuffling motif possibly destined for Android or Chrome OS tablets, says eWEEK. Meanwhile, Twitter has released a Twitter for Android application, and Google is open sourcing the code, according to a second eWEEK story.
The BumpTop acquisition may well prove more notable than other recent software acquisitions by Google (see farther below). Google could see the BumpTop multitouch UI as a way to differentiate its upcoming Chrome OS and/or Android tablets from Apple's iPad and other tablet competitors.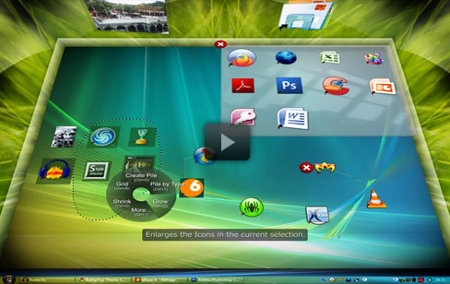 BumpTop
The BumpTop UI stack is available for Windows and Mac desktops, but not for much longer (see image above). The company says it is offering free downloads for several more weeks before the group is completely absorbed by the Google mothership.
BumpTop uses "pile creation techniques" to shuffle and stack documents as if they were cards in a deck, reports Clint Boulton in our sister publication, eWEEK. Multitouch capabilities were added to the UI stack last September, expanding on its earlier pen/stylus support, says the story.
BumpTop would be a natural UI extension for Google-branded tablets based on Android or Chrome OS, both of which have been speculated. It is unclear, however, whether Google would retain BumpTop as a proprietary app or release it as open source Android code.
A Google spokesperson confirmed the purchase for eWEEK, but offered no more details, added Boulton. Over the last year, Google has entered into a shopping spree for small development firms, covering a wide variety of technologies, writes Boulton.
Recent Google pick-ups are said to include, in chronological order:
On2 Technologies (video codecs)
Teracent (display ads)
AppJet (real-time collaboration app)
Aardvark (social search engine)
ReMail (mobile mail app)
DocVerse (collaboration software)
PicNik (web photo editor)
Episodic (video platform)
Plink (visual search)
Agnilux (chips)
LabPixies (game widgets)
Meanwhile, writes Boulton, Google's $750 million bid for mobile ad maker AdMob has yet to be approved. The acquisition may well be struck down by the Federal Trade Commission on antitrust grounds, he adds.
Twitter app to be open sourced
Only a year ago, speculation was rampant that Twitter would be the latest Google acquisition, but that opportunity came and went. Today, Twitter widget access is commonly available on Android phones, however, and now Twitter has released its own Twitter for Android application — but only on Android 2.1 devices — writes Boulton in another eWEEK story.
Google and Twitter are also open sourcing the code for Twitter for Android, enabling developers to use Twitter APIs to create their own specialized versions, says the story.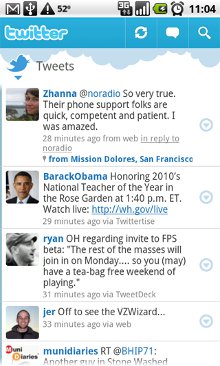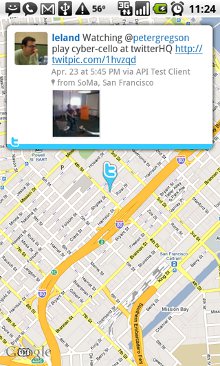 Twitter for Android timeline (left) and geotagging (right)
(Click on either to enlarge)
The new apps enable users to tweet and share links and photos from the Share button, writes Boulton. Other new features are said to include the ability to access their timeline with the homescreen widget, or view a tweet location on a map using Twitter's geotagging tool (see images above). Users can also access tweets in the Google Talk list or from any app that uses Android's QuickContact bar.
As a sign of further fragmentation for Android, Twitter for Android requires

Android 2.1 or higher. At present, this includes only the Motorola Droid, Google Nexus One, and the new HTC Incredible (pictured), for about a quarter of all Android users. Meanwhile, Google is expected to release the Android 2.2 "Froyo" build at Google I/O on May 19, writes Boulton.
While many Android users may be upset that they can't use Twitter's advanced Twitter app, developers of competing Twitter apps may also worry that Twitter is monopolizing the technology, says the story. For example, Seesmic, which builds Twitter apps for BlackBerry and Android, and Twidroid, are "now threatened by Twitter's latest move," writes Boulton.
Availability
The eWEEK story on Google's acquisition of BumpTop may be found here.
The Twitter blog announcing Twitter for Android, complete with a barcode that can be scanned by an Android 2.1 phone to download the app, may be found here. The eWEEK story on the app may be found here.
---
This article was originally published on LinuxDevices.com and has been donated to the open source community by QuinStreet Inc. Please visit LinuxToday.com for up-to-date news and articles about Linux and open source.