Feb 9, 2011 — by Eric Brown — from the LinuxDevices Archive — 3 views
HP announced its first tablet PC running WebOS, using a new dual-core 1.2GHz version of Qualcomm's Snapdragon processor. The HP TouchPad offers a 9.7-inch, XGA multitouch display, up to 32GB of memory, a 1.3-megapixel, front-facing camera, optional 3G and GPS, plus a TouchStone-based technology for exchanging web URLs with select WebOS-based smartphones with a simple tap.
The long-awaited HP TouchPad was recently tipped in Engadget as being a 1.2GHz "Topaz" tablet, and was expected to be followed by a seven-inch "Opal" tablet. HP mentioned nothing about the Opal today, however.
The company did however announce two other WebOS-based phones today led by the 3.58-inch, 1.4GHz HP HP Pre 3, the heir to the Palm Pre 2. There is also a 2.57-inch, 800MHz HP Veer phone, the apparent heir to the low-end Palm Pixi Plus. Both phones will be covered in a subsequent story.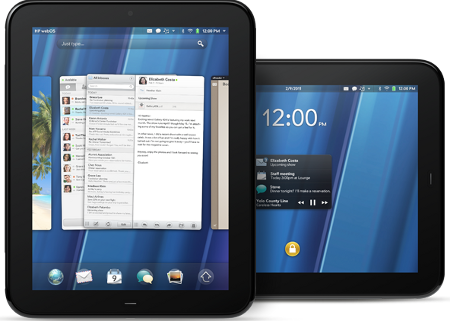 HP TouchPad


(Click to enlarge)
With its prominent use of the HP brand in the names of all these products, the company appears to have made a strategic decision that the well-known Palm brand carries more baggage than it's worth. The computer giant
acquired Palm last year
, primarily for its Linux-based WebOS operating system, which HP vowed to inject into
smartphones, tablets, and printers
. Aside from the Palm Pre 2, however, the new trio of devices are the first WebOS products to be announced by HP.
The HP TouchPad is not only the first tablet to be based on WebOS, but appears to be one of the first devices to offer Qualcomm's dual-core version of its ARM-derived Snapdragon processor. The cited 1.2GHz dual-core APQ8060 model is not yet listed by Qualcomm, but appears to be a variant of the MSM8x60 dual-core Snapdragon chipsets announced last June.
Those chipsets offered 1080p video encode/decode plus a "powerful" GPU (graphics processing unit) with 3D/2D acceleration engines for Open GL ES 2.0 and Open VG 1.1 acceleration, according to Qualcomm at the time. The MSM8260 model targets HSPA+ networks and the MSM8660 supports HSPA+/CDMA2000 1xEV-DO Rev. B.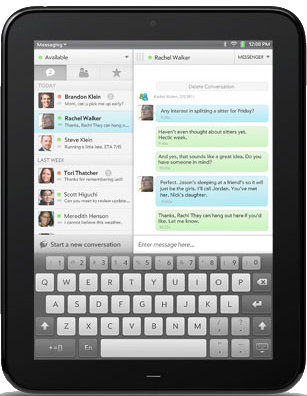 TouchPad, showing virtual keyboard
Expected to ship this summer, the TouchPad will be offered in Wi-Fi only as well as 3G versions, says HP. Only the 3G version will offer aGPS, but 802.11b/g/n and Bluetooth 2.1 are standard on both.
The 9.7-inch capacitive display offers 1024 x 768 pixel resolution, as well as multitouch support, says HP. The amount of RAM was not listed, but the device ships with either 16GB or 32GB of internal flash. There is apparently no SD slot available, nor is there any mention of another typical feature on modern tablets: HDMI.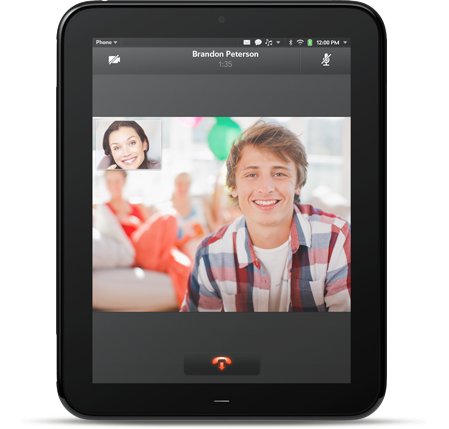 TouchPad video call
In fact, while the device is said to support video recording and playback using MPEG-4, H.263, and H.264 formats, there are no claims that we saw about video quality, not even for 720P. This is odd considering that a dual-core 1.2GHz processor would likely be capable of at least that, if not 1080p video. A front-facing, 1.3-megapixel camera is supplied for video-calling, but there is no separate rear-facing camera for higher resolution images and video capture.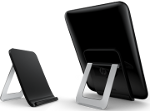 Additional features are said to include audio ports, internal stereo speakers with "Beats Audio" technology, and the usual accelerometers and sensors (see spec list below). The 1.6-pound device runs on a massive 6300mAh battery, but its operating time was not cited.
The device is compatible with HP's optional Touchstone inductive charging docking stand (pictured), made available with the original Palm Pre. It also includes a novel feature in which compatible WebOS devices — currently just the new Pre 3 — can be tapped against the TouchPad's screen to exchange URLs and text messages between the devices.
In fact, with the 3G model of the Touchpad, which is apparently imbued with telephony functions, you can even start a phone call on the Pre 3 and continue it on the tablet.
The touch communication novelty, as well as the presumably robust processor — which may well be on par with the dual-core Nvidia Tegra 2 found in Android tablets such as the Motorola Xoom — should place the TouchPad among other elite tablets.
However, the 10.1-inch Xoom, for example, offers higher 1280 x 800 screen resolution, as well as a rear-facing five-megapixel camera, an HDMI port, and (by this summer) 4G capability. It also offers the tablet-optimized Android 3.0, and access to far more apps than currently available on WebOS.
But HP should have trouble competing either with top-notch Android tablets, as well as the popular, well-entrenched Apple iPad. If nothing else, it has HP's extensive retail reach behind it, as noted in this Business Insider story on today's launch.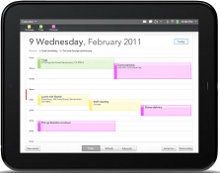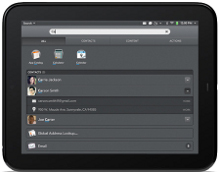 WebOS calendar (left) and contacts apps on TouchPad
(Click on either to enlarge)
WebOS, which is widely considered to be a better multitasker than Android 2.x or iOS (although perhaps not better than Android 3.0) may be HP's strongest card with the TouchPad. As HP notes, the operating system, which was
upgraded to version 2.0
in October, and is available in the TouchPad in a new version 3.0, enables the TouchPad to "power on instantly" from hibernation and brings the user "back to exactly where you left off, whether you were in the middle of composing an email, playing a game or browsing a web page."
WebOS shows activities using a unified card metaphor instead of depending solely on numerous icons and home screens, says HP. As users launch new activities, WebOS automatically groups related cards — for example, an email and an associated web page — together in a card stack, for unified handling and tracking, says the company.
WebOS also features an updated version of the Synergy communications engine, integrating email, instant messaging, contacts, calendar, videos, and video calling. Synergy enables features such as connected photo albums for sharing images with Facebook, Snapfish, Photobucket, and other services, says HP.
Amazon.com announced today that it will launch a free Kindle app for WebOS tailored for the TouchPad, offering access to more than 810,000 titles from Amazon's Kindle Store. Other software includes a TouchPad music app, as well as apps for Fandango, Facebook, YouTube, Twitter, IM, video calling, email, and an integrated contacts and calendar. Additional apps include Quickoffice Connect Mobile Suite, for editing Microsoft Word and Excel files and the like, as well as VPN support.
It is unclear how much WebOS has been modified for the TouchPad vs. the version available on the Pre 3 and Veer phones. For example, the TouchPad offers a virtual full QWERTY keyboard that includes a number row, which reduces keyboard switching, says the company.
Features and specifications listed for the TouchPad include:
Processor — Qualcomm Snapdragon dual-CPU APQ8060 @ 1.2GHz
Memory — 16GB or 32GB of internal flash (RAM not listed)
Display — 9.7-inch XGA (1024 x 768) capacitive, multitouch, 18-bit color
Wireless connectivity:

802.11b/g/n with WPA, WPA2, WEP, 802.1X
Bluetooth2.1 + EDR with A2DP stereo
Optional 3G models
aGPS (3G models only)

USB — Micro-USB (charging and PC Connect) port with USB 2.0 Hi-Speed
Audio — 3.5mm headset/headphone/microphone jack; stereo speakers; Beats Audio sound system
Other features — light sensor; accelerometer; compass (magnetometer); gyroscope; HP touch-to-share feature
Options — case; keyboard; HP Touchstone charging stand
Camera — front-facing 1.3-megapixel webcam for live video calling
Software highlights:

browser with Adobe Flash Player 10.1 beta
email, including EAS (for Microsoft Exchange) and personal email (Google Gmail push, Yahoo!, POP3, IMAP)
Messaging support
HP Synergy communications suite

Battery — 6,300mAh battery; built-in support for optional HP Touchstone charger
Dimensions — 7.48 x 9.53 x 0.54 inches (190 x 242 x 13.7mm)
Weight — 1.6 lbs (740 g) approx.
Operating system — WebOS 3.0 (Linux)
Stated Jon Rubinstein, senior vice president and general manager, Palm Global Business Unit, HP, "The flexibility of the webOS platform makes it ideal for creating a range of innovative devices that work together to keep you better connected to your world."
Availability
The HP TouchPad is scheduled to be available in the summer. Pricing and availability will be announced at a later date. More information and notification sign-up may be found at the HP TouchPad page.
---
This article was originally published on LinuxDevices.com and has been donated to the open source community by QuinStreet Inc. Please visit LinuxToday.com for up-to-date news and articles about Linux and open source.