Feb 15, 2011 — by Eric Brown — from the LinuxDevices Archive — 1 views
Acer formally announced two previously tipped Android tablets, as well as an Android smartphone. The 10.1-inch Iconia Tab A500 and the seven-inch Iconia Tab A100 run Android 3.0 on a dual-core 1GHz Nvidia Tegra 2 processor, and feature a five-megapixel and two-megapixel camera, while the 4.8-inch Iconia Smart phone runs Android 2.3 on a Qualcomm Snapdragon.
Announced at Mobile World Congress in Barcelona, the three Iconia devices were previewed by Acer in November, and were tipped again at CES. Now Acer has more fully vetted the devices, which are due to ship in April and May. (In addition, this week the company also announced a Windows 7-based Iconia Tab W500 tablet.)
We'll start off first with the new Android tablets, which were previously disclosed with lesser detail than was the Iconia Smart phone.
Iconia Tab A500 and A100
While many vendors have sharply different visions for their seven- and 10.1-inch tablets, giving them different processors and features, Acer has delivered a matched set with the Iconia Tab tablets, with the differences primarily limited to screen size and resolution.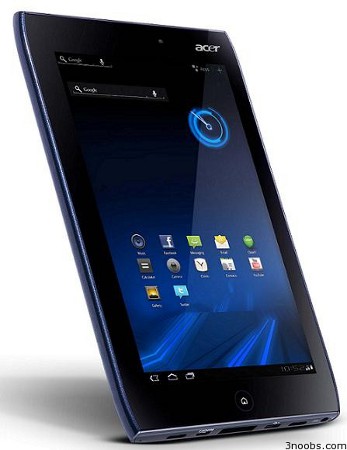 Iconia Tab A100
Source: 3Noobs
It may be even harder to for consumers to differentiate these devices from all the other similar high-end tablet choices that should be available by summer. The
Android 3.0
on
Nvidia Tegra 2
platform chosen here appears to provide an awesome experience, but it will soon be everywhere.
As is typical of other tablet vendors, Acer seems to be stressing its add-on software as a way to stand out. In this case, Acer touts its DLNA-infused Clear.fi media sharing software, which also features on its new Windows tablet and is said to enable accessing, playing, and sharing multimedia across a home network, as well as and pushing updates to social media networks.
As usual, Acer was a bit spotty on the specs in its formal announcements, so we've also borrowed a bit from Slashgear for the A100, and 3Noobs.com for the A500.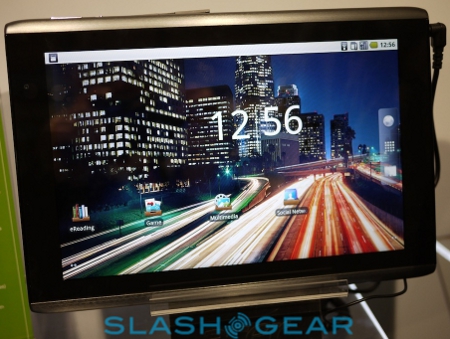 Iconia Tab A500
Source: SlashGear
Whereas the Iconia Tab A100 offers a seven-inch, 1024 × 600 touchscreen, the Iconia Tab A500 moves up to a 10.1-inch, 1280 x 800 display, thereby matching the Motorola Xoom and
Toshiba Tablet
, among others. Both screens offer gyro-control, but only the A500 is specifically called out by Acer for offering capacitive multitouch technology.
On both the Iconia Tab A100 and A500, the Nvidia Tegra 2's dual 1GHz Cortex-A9 cores and GeForce GPU help deliver 1080p video output via the supplied HDMI port.
The 10.1-inch A500 ships with 1GB RAM and 16GB internal storage, according to 3Noobs. Both devices offer wireless options including "Wi-Fi, 3G, or Bluetooth 2.1," as Acer puts it, suggesting a Wi-Fi only model may be available. It appears that only the seven-inch A100 provides GPS, as befitting its more mobile nature.
Both models offer both a five-megapixel rear-facing camera plus an HD-capable two-megapixel front-facing camera, which also supports video chat and barcode scanner applications, says Acer. A micro-USB port and Dolby Mobile audio are also said to be supplied, and the A500 model is touted as being only 13.3mm thick.
Finally, while Acer says nothing about it in the announcement, several sites including 3Noob report that the A500 model will offer 4G LTE support.
Iconia Smart
Back in November, considerably more details and a photo were offered on the 4.8-inch Android 2.3-based Acer Next Generation Smartphone. The tablet-like smartphone has now been more fully outed with a new "Iconia Smart" name in Acer's usual drip-drip-drip PR strategy.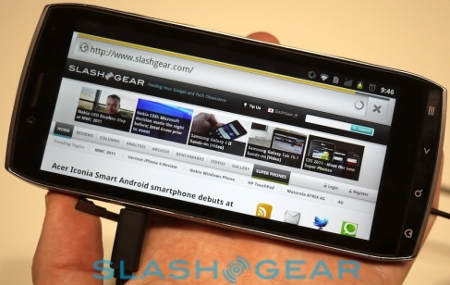 Iconia Smart
Source: SlashGear
As previously noted, the Iconia Smart runs on a 1GHz Qualcomm Snapdragon processor, and offers a 4.8-inch screen with 1024 × 480 resolution and an LED backlight. The phone offers a unique, "stretched out, thin and slightly curved shape," says Acer. The "full metal" design is highlighted by a slim, 64mm (2.52-inch) width, giving the phone a signature 21:9 aspect ratio.
The phone also provides six-axis motion sensing (gyroscope plus accelerometer), as well as Home, Search, Back, and Menu buttons, says the company.
Communications are supplied via 14.4 HSDPA 3G cellular service, as well as 802.11n and Bluetooth 3.0, says Acer. An HDMI port is also said to be provided, as is Dolby Mobile audio technology. In addition, an eight-megapixel camera with LED flash is placed on the back of the camera while a front-facing two-megapixel camera supports "high quality IP video calling," says the company.
The Android 2.3 browser is said to offer multitouch, Javascript optimization, Adobe Flash Player 10.1, and multiple page opening capabilities. DLNA streaming is also said to be provided. The software includes Contacts, Google Maps, Email, and Instant Messaging, says the company.
At Mobile World Congress, several sites gave the Iconia Smart the once over, including Engadget, which found the display to be "beautiful" and the overall feel of the phone to be "quite good." On Slashgear, meanwhile, the Iconia Smart was said to offer "snappy" performance, and "feels well made, if a little plasticky."
Acer's previous Android smartphones include the 1GHz Snapdragon-based Stream phone announced in May, which offers a 3.7-inch AMOLED WVGA display and a five-megapixel camera.
Availability
The Acer Iconia Tab A500 will available at some unknown destination starting in April, while the Acer Iconia Tab A100 has the same launch date, but more specifically in the U.K., says Acer. The Iconia Smart Phone is also Britain-bound, but in May. Pricing and carrier support was not announced, and as far as we can see no web pages have been posted for the products.
---
This article was originally published on LinuxDevices.com and has been donated to the open source community by QuinStreet Inc. Please visit LinuxToday.com for up-to-date news and articles about Linux and open source.