May 26, 2011 — by Eric Brown — from the LinuxDevices Archive — 38 views
WonderMedia Technologies announced the first ARM11 model in its Prizm line of multimedia system on chips (SoCs), now featuring 1080p video playback. Aimed at entry-level Android and Windows CE tablets and available with a Prizm WM8710 Tablet Reference Design Kit, the Prizm WM8710 offers an ARM11 core clocked to 800Mhz, plus video, 3D graphics, and security engines, the company says.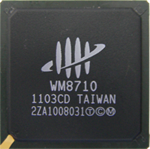 The Prizm WM8710 replaces earlier ARM9-based Prizm SoCs, starting with the original Prizm 8510. The 8510 was announced in 2009 but is no longer featured on the website of WonderMedia, a Taiwan-based subsidiary of Via Technologies.
Neither is the subsequent 2010-issue, 600MHz WonderMedia Prizm MW8505, which was demonstrated at last year's Computex show on several Android tablets running on its "SmartTouch" tablet reference design: the Eken M001 and M003, as well as the FirstView PC707 and G-Link A8. At the same time Joyplus showed a seven-inch M702 Android tablet equipped with the processor.
The current top-of-the-line Prizm is yet another ARM9 SoC — a Linux-ready, 600MHz ARM9 model called the WM8650, also available in a Via WM8650 tablet OEM design that has been overclocked to 700-800MHz, according to various reports.
WonderMedia says it will display the new Prizm WM8710 at next week's Computex show in Taipei, Taiwan, along with a Prizm WM8710 Tablet Reference Design Kit (about which no details were offered). A selection of media tablets and "SmartBooks" featuring the above-mentioned WM8650 will also be demonstrated, the company adds.
The new Prizm WM8710 is designed primarily for "entry-level Android media tablet and Windows CE SmartBook markets," but is also suitable for smart TVs, networked projectors, digital signage, and thin clients, says WonderMedia.

The company also cites the SoC's applicability for its new "SmartStream" wireless display technology. Announced a year ago, the SmartStream (pictured at right) is a Wi-Fi-enabled Wireless Display (WiDi) device, said to allow users to directly stream movies, videos, and photos and other digital content from a phone, tablet, or PC directly to their TVs.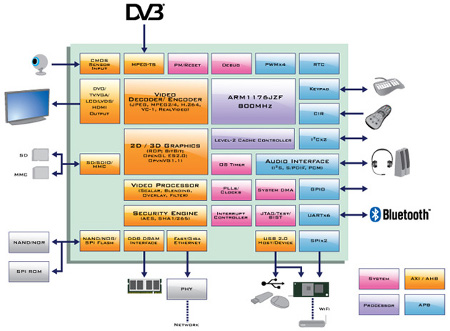 Prizm WM8710 block diagram
(Click to enlarge)
As usual for this vendor, WonderMedia did not post full specs on the latest Prizm, although more details can be gleaned from the block diagram above. The SoC builds on the 800MHz ARM1176JZF core with a 1080p-ready video decoder, an H.264 video encoder, an OpenGL ES 2.0 g2D/3D graphics processor, and a hardware security engine. In other words, it seems to offer all the extras of a modern-day Cortex-A8 SoC, but without the same speed and superscalar capability in its ARM core.
A variety of memories are supported including DDR3 and NAND flash, and there's a full slate of video interfaces, including HDMI, says WonderMedia. Gigabit Ethernet and USB support are available, as are interfaces ranging from I2C to GPIO. A CMOS sensor input can handle digital cameras, and there are also audio and infrared interfaces, says the company.
The following specifications are listed for the Prizm WM8710:
Processors:

800Mhz ARM1176JZF core
OpenGL-ES 2.0 compliant graphics processor
multi-standard 1080p video decoding engine
H.264 video encoding engine
hardware security engine

Memory:

DDR2/DDR3 DRAM interface
NAND/NOR/SPI flash
SD/SDIO/MMC interface

Video/display — HDMI, LVDS, TV-out, DVO, VGA
Networking — fast/gigabit Ethernet
Other I/O

USB host/device
3 x SPI
2 x I2C
4 x PWM
6 x UARTs
GPIO
Audio interface
keypad/CIR
JTAG/debug
CMOS sensor input

Power — advanced power management
Stated Tzumu Lin, president and CEO, WonderMedia Technologies, "With our PRIZM WM8505 and WM8650 platforms, we pioneered the development of the entry-level Android media tablet market. The launch of the WM8710 enables us to continue to lead the way in meeting the explosive growth in global demand for affordable smart mobile devices."
Availability
The WonderMedia Prizm WM8710 is sampling now and is scheduled for volume shipments in the third quarter. More information may be found at WonderMedia's WM8710 page.
WonderMedia will be showing off the SoC at next week's Computex show, May 31 through June 4, at TICC Room 201D.
---
This article was originally published on LinuxDevices.com and has been donated to the open source community by QuinStreet Inc. Please visit LinuxToday.com for up-to-date news and articles about Linux and open source.