Jun 1, 2009 — by Eric Brown — from the LinuxDevices Archive — 6 views

Via subsidiary WonderMedia Technologies has announced an ARM9-based system-on-chip (SoC) aimed at "smartbooks," digital picture frames, media players, and other devices. The Prizm 8510 includes an ARM926EJ-S core, a programmable digital signal processor (DSP), gigabit Ethernet, and a wide variety of interfaces,… WonderMedia says.
(Click here for a larger view of WonderMedia's Prizm 8510)


NorhTec's MicroClient TC
(Click image to enlarge)
Today's announcement at Computex in Taipei marked the formal debut of the Prizm 8510, though initial word of the product leaked back in March, in the context of NorhTec's MicroClient TC (right), a little computer using an early version of the SoC (click on the image, or see later in this story for brief details). According to WonderMedia, the Prizm 8510 is aimed at devices that include Internet-enabled digital picture frames (DPFs), stereo entertainment devices, digital signage, networked projectors, and thin clients.
The SoC also targets ARM-based netbooks, which the company calls "SmartBooks," joining ARM SoC vendors Qualcomm and Freescale today in establishing the "smartbook" moniker in an attempt to counter Intel's netbooks. In essence, the two formats are very similar except for the processor platform and the fact that smartbooks are expected to be smaller, more affordable, more power efficient, and more likely to run Linux or Android than a version of Windows.
As seen in the diagram below, the Prizm 8510 is built around an ARM926EJ-S core and an MMX-enhanced, programmable "uDSP 2.0" digital signal processor (DSP). The Prizm also offers video decoders for MPEG 1/2/4, H.264, and JPEG, a video co-processor, and engines for 2D graphics and security acceleration, the company says.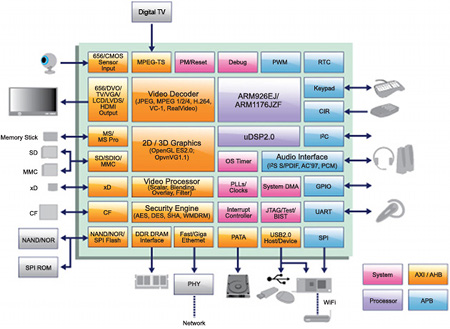 Prizm 8510 architecture
(Click to enlarge)
The Prizm is equipped with a gigabit Ethernet MAC, as well as interfaces for WiFi, 3G, Bluetooth, camera input, PATA/SATA, USB 2.0, Smart Card, and a DVB-ready MPEG-TS interface. For display output, it supports 656/DVO and TV/VGA/LVDS/LCD displays. Other I/O, including I2C, SPI, UART, and GPIO, can be seen in the diagram above.
The SoC appears to support a wide variety of memory types, and WonderMedia touts the Prizm 8510's "low power consumption," though further details weren't offered. Meanwhile, the SoC's "broad operating system compatibility" is said to include Windows CE, Linux, and Android. "Strong BSP, SDK, and RDK support" is offered for both MontaVista Linux Professional Edition 4.0/5.0 and Windows CE 5.0/6.0, the company adds.
Not pictured on the WonderMedia website, but apparently set for an airing at Computex, are four different Prizm reference platforms, described by the company as follows:
SmartBook — Notebook or tablet systems offering a long battery life and an "extensive application set that allows for rich multimedia and communication suites"

SmartFrame — An Internet-enabled digital picture frame (DPF) providing access not only to online photos, but also email, games, video, news, documents and a "whole host of web services"

SmartPlayer — A specialized media player that takes content from a variety of sources, such as web-sites, memory cards, or DLNA-enabled digital media servers, and displays it on a TV

SmartTouch — A touchscreen DPF device that also includes a webcam and VoIP software
In addition to the above, the Prizm 8510 is apparently destined for low-cost, compact thin clients. As mentioned earlier in this story, Thai design integration firm NorhTec has already announced a compact, fanless thin client using a Prizm SoC.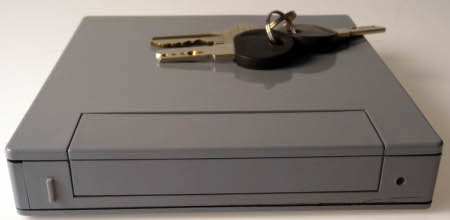 NorhTec's little MicroClient TC
(Click to enlarge)
According to NorhTec, the MicroClient TC (pictured earlier in this story and above) actually employs a SoC known as the Via VT8500, which is similar to the Prizm 8510, but lacks some multimedia extras. Clocking the SoC at 300MHz, the MicroClient TC includes 256MB of DDR2 memory and 4GB of flash storage, along with an SD slot, IDE connector, three USB ports, Ethernet, and optional WiFi.
ARMed and ready …
WonderMedia Technologies bills itself as a fully owned subsidiary of Via Technologies that is headquartered in Taipei, Taiwan, with teams in Shenzhen and Beijing, China, and Silicon Valley, Calif. The parent company is primarily known for its x86-based processors and chipsets for the mobile and embedded markets, including the Eden and Eden ULV, the C7-M ULV, and most recently, the 64-bit Via Nano, a 65nm design with an out-of-order execution unit.
In 2006, however, Via announced that it had expanded its licensing agreement with ARM to include the ARM926EJ-S and ARM968E-S processors, after previously having licensed ARM7 cores. At the time, Via said the processors were licensed to help Via and its subsidiaries improve products aimed at mobile phones, set-top boxes, telematics, and personal media players.
Tzumu Lin, president and CEO of WonderMedia, stated, "The future of the computer and communication industries is converging on networked multimedia devices able to provide full access to Web-based entertainment and information. The WonderMedia Prizm merges the very latest in SoC and software technologies to give system developers all the tools with which to create these stylish new cloud-connected devices."


WonderMedia provided an informal look at Prizm-based reference designs as far back as January's Consumer Electronics Show (CES)
Source: Via Technologies
(click to play)
Availability
WonderMedia did not release pricing or availability for the Prizm 8510, but says reference devices with the SoC will be showcased this week at Via's Computex booth, which is located in the Taipei International Convention Center, 2nd Floor, Room 201D.
More information on Via/WonderMedia's Prizm SoC may be found here. Meanwhile, further information on the MicroClient TC may be found on the NorhTec website, here.
---

This article was originally published on LinuxDevices.com and has been donated to the open source community by QuinStreet Inc. Please visit LinuxToday.com for up-to-date news and articles about Linux and open source.