May 28, 2010 — by Eric Brown — from the LinuxDevices Archive — 2 views
Next week at Computex, Via Technologies' WonderMedia Technologies subsidiary will demonstrate low-cost Android-based tablets based on the ARM9-based, 600MHz WonderMedia Prizm processor and related "SmartTouch" reference designs. The tablets will be manufactured by a variety of Chinese manufacturers, and sold for as low as $100 in the U.S. later this year, says Bloomberg.
According to the brief preview announcement from WonderMedia, the Via subsidiary will showcase a number of different SmartTouch tablets at the massive Computex computer show next week in Taipei. The WiFi-enabled tablets will run Android on the WonderMedia Prizm SoC, and will be available in a wide range of touchscreen sizes, says WonderMedia. The tablets are said to feature both built-in and downloadable Android applications.
Although Via offered few more details on the SmartTouch tablets, it did provide images of four SmartTouch tablets: the Eken M001 and M003, as well as the FirstView PC707 and G-Link A8 (see images below).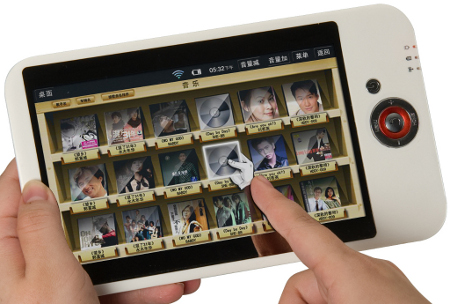 Eken M001
(Click to enlarge)
Bloomberg,
meanwhile, reports that about five different SmartTouch models will be made available from different Chinese manufacturers, ranging in price from $100 to $150. Based on an interview with Via Technologies VP Richard Brown, the story says that at least some will be available in the U.S. in the second half of the year.
Eken M001
The only SmartTouch tablet to be previously announced is the Eken M001, which was unveiled with minimal details by Shenzhen-based Eken in April. Said to be available with Android or Windows CE, the M001 offers a 7-inch, 800 x 480 touchscreen and runs on a 600MHz Via "MW8505" processor. We rightly presumed that this referred to the VT8505, which is a version of the ARM9-based Prizm 8510 announced last year by WonderMedia Technologies (see farther below for more on the Prizm.)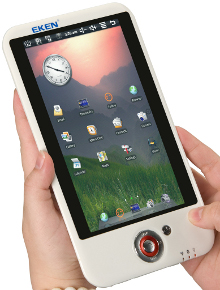 Eken M001 side view (left) showing audio, power, proprietary docking port, and SIM card slot; on the right, the Eken M001 showing Android interface
(Click on either to enlarge)
The M001 is said to be equipped with 128GB of RAM, 2GB of flash storage, and an SD card reader that supports up to 32GB. Also included are 802.11b/g, a microphone input, a headphone output, and a "30-pin" interface, the latter apparently for a docking station that has yet to be announced.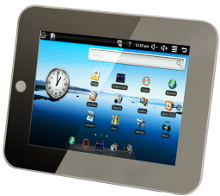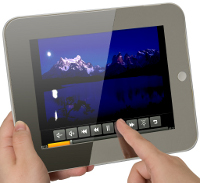 Two views of the Eken M003
(Click on either to enlarge)
There was no mention of an M003 model (pictured above) when the M001 was announced in April. Judging from the photos, the only clear difference is that the M003 has a wider bevel around the touchscreen.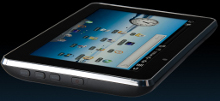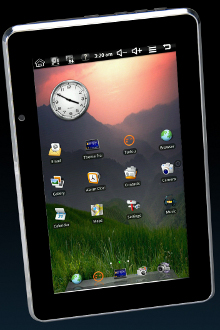 Two views of the FirstView PC707


(Click on either to enlarge)
As for the FirstView PC707 (pictured above) and the G-Link A8 (below), there are no details beyond what one can glean from the photos. It does not appear that the tablets are larger than seven inches, although it's difficult to say in the case of the FirstView PC707.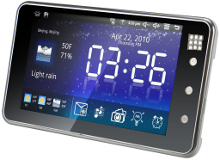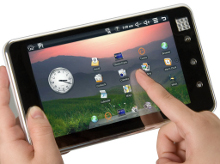 G-Link A8, showing the DPF alarm clock theme (left) and Android home page
(Click on either to enlarge)

WonderMedia's Prizm
As seen in the diagram below, the Prizm 8510 is built around an ARM926EJ-S core and a programmable "uDSP 2.0" digital signal processor (DSP). The Prizm also offers video decoders for MPEG 1/2/4, H.264, and JPEG, a video co-processor, and engines for 2D graphics and security acceleration, says WonderMedia, which like Via itself, is based in Taipei, Taiwan.

The Prizm is equipped with a gigabit Ethernet MAC, as well as interfaces for WiFi, 3G, Bluetooth, camera input, PATA/SATA, USB 2.0, Smart Card, and a DVB-ready MPEG-TS interface. For display output, it supports 656/DVO and TV/VGA/LVDS/LCD displays. Other I/O includes I2C, SPI, UART, and GPIO.
The SoC appears to support a wide variety of memory types, and WonderMedia touts the Prizm 8510's "low power consumption." Meanwhile, the SoC's "broad operating system compatibility" is said to include Windows CE, Linux, and Android. "Strong BSP, SDK, and RDK support" is offered for both MontaVista Linux Professional Edition 4.0/5.0 and Windows CE 5.0/6.0, the company added.
At the Prizm announcement last year, WonderMedia also briefly announced the SmartTouch reference design. At the time, however, it was described as a touchscreen DPF device that also includes a webcam and VoIP software.
Via: Tablets to sport different sizes, different looks
The Bloomberg story quotes Via's Brown, revealing his company's strategy to take over the low end of the Android tablet market. "The tablet market has been legitimated by Apple," Brown is quoted as saying. "Android is bringing a lot of diversity to the market. There are different sizes and different looks and feels."
Although the ARM9-based SmartTouch tablets are not likely to be comparable to the iPad, which sells for $500, their pricing pressure will be felt by Apple, as well as other more powerful Android and Linux-based tablet vendors.
The story also cites IDC research as estimating that there will be a sixfold increase in industrywide shipments of tablet computers by 2014. According to Bloomberg, IDC projects that worldwide tablet shipments will rise to 46 million from 7.6 million this year.
The research firm is also said to project that some 398 million "portable personal computers" will ship in 2014. Presumably this includes tablets and netbooks, although definitions vary considerably on both formats.
Stated Tzumu Lin, President and CEO, WonderMedia Technologies, Inc., "There's clearly a large and growing interest in the tablet form factor, but what we're seeing now is a rising consumer demand for some diversity in size, shape, style and price. SmartTouch provides a platform for that diversity and the fast-moving China manufacturers are using it as a springboard to bring their visions of what tablets should be to market."
Availability
Both the WonderMedia SmartTouch platform and the partner products based on it are now shipping, says WonderMedia. This may refer, however, to shipments to OEM partners, or may suggest shipments to Asian markets only. As mentioned, Bloomberg reports that the tablets will appear in the U.S. later this year at prices ranging from $100 to $150.
Demonstrations of partner tablets based on the WonderMedia SmartTouch platform can be viewed at Computex booth L1018 of the Taipei World Trade Center and Room 201D of the Taipei International Convention Center. More information on the Computex presentations may be found here.
More information on the WonderMedia Prizm SoC and SmartTouch platform may be found here. The full list of supplied SmartTouch images may be found here.
The Bloomberg story on the SmartTouch tablets should be here.
---
This article was originally published on LinuxDevices.com and has been donated to the open source community by QuinStreet Inc. Please visit LinuxToday.com for up-to-date news and articles about Linux and open source.