Sep 1, 2009 — by Eric Brown — from the LinuxDevices Archive — 5 views
[Updated: Sept. 2] — Coraid announced a storage-area network mini-tower for the SMB market. The EtherDrive SR821T Storage Appliance offers up to 16TB RAID-enabled storage in eight SATA-ready bays, provides dual gigabit Ethernet ports, supports VMware vSphere virtualization, and incorporates Coraid's Linux-ready ATA-over-Ethernet (AoE) open storage protocol, says the company.
Coraid's EtherDrive appliances run the Plan9 real-time operating system (OS), but Linux servers can access their storage-area network (SAN) data via drivers for the company's open SAN protocol, AoE. According to a Coraid spokesperson, "Linux users enjoy native multi-pathing and all of the great tools and features available to take advantage of low-cost AoE based storage."
AoE is billed as a "simple and reliable alternative to more complex and expensive iSCSI and Fibre Channel SAN technologies." Coraid announced its first open source EtherDrive-family SAN products incorporating AoE back in 2004, initially targeting Linux, with shipments starting in 2005. AoE was merged into the Linux mainline that same year, and in 2006 was adopted by the open source Etherboot project.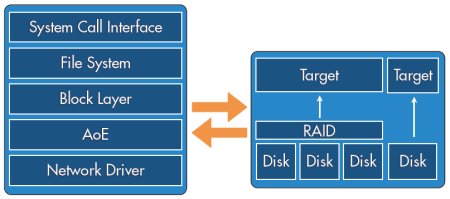 EtherDrive and AoE in SAN environment
(Click to enlarge)
AoE places disk read/write requests directly into Ethernet frames, with no need for TCP/IP and its overhead, and no special network interface cards required, according to Coraid (see diagram above). Disks inside the EtherDrive appliances are assembled into RAID volumes and presented as AoE block storage devices, enabling the drives to be shared by any server/host machine attached to the network.
The AoE driver presents an AoE device to the host OS as just another local disk drive on the network, the company adds. This touted simplicity and lower cost enables Coraid to sell its SAN systems into the SMB market, where they often compete with high-end network-attached storage (NAS) appliances.
The SR821T can be used with a NAS gateway server that provides NFS or SMB/CIFS file-level sharing, says the company. Coraid itself sells a Debian Linux-based NAS Gateway CLN21 (pictured below), a rack-mounted NAS server that is designed to act as a "NAS head" for EtherDrive SANs.
The CLN21 provides a file-sharing net appliance serving CIFS/NFS. Each EtherDrive is assigned a shelf number, and CLN21 customers can then create physical LUNs (SCSI logical unit numbers) as a RAID type or JBOD (just a bunch of disks) mode. Each LUN can then be mounted as AoE targets using Linux, with the CLN21 supporting an "almost unlimited amount of AoE targets," according to the vendor.

Coraid's Linux-based NAS Gateway CLN21
Based on an Intel 3GHz Pentium 4, the CLN21 NAS gateway is further equipped with 2GB RAM and 512MB flash. The CLN21 offers two sets of dual gigabit Ethernet ports, one configured for the LAN and one for the AoE SAN. A control interface is offered via an SSH network connection, or using a supplied RS-232 or KVM interface, says the company.
The CLN21 or another AoE-enabled Linux server can access data on the EtherDrive SR821T (pictured at left). The mini-tower measures 17.8 x 7.0 x 25.5 inches, and can hold up to eight standard 3.5-inch SATA I or II disk drives for more than 16TB in total capacity, says Coraid. The device can also be configured with solid-stage disk (SSD) storage as well, says Coraid. The SR821T provides dual gigabit Ethernet ports, as well as a command line control interface via RS-232, KVM, or EtherConsole, the company adds.
The system incorporates a 100-240 VAC, 50/60Hz power supply, with consumption rated at at 325 Watts "with disk drive." With two hot-swap fans in the same configuration, the device sustains a heat load of less than 1500 BTU, says the company.
The SR821T supports JBOD, as well as RAID levels 0, 1, 5, 6, and 10, says Coraid. Hot spare disks can be set to automatically backup a failed disk, and a storage security option is said to use MAC address filtering.
AoE is included in the Linux 2.6.11+ kernel, with drivers for earlier Linux kernels also available. In addition, drivers are said to be available for FreeBSD, Solaris, Mac OS X, and Windows, with HBAs (host bus adapters) available for ESX/ESXi 3.5 and 4 (vSphere).
Coraid claims speeds of up to 200 MBytes/sec. for its EtherDrive SR821T, with some EtherDrive models offering speeds of up to 500 MBytes/sec. The company has published benchmarks purporting to show AoE running on VMware ESX, delivering 36 percent better read throughput and 90 percent better write throughput compared to similar iSCSI and Fibre Channel systems. More information may be found here.
Stated Brantley Coile, Coraid CTO, "By moving to simple Ethernet technology, our customers dramatically reduce storage complexity with improved performance."
Availability
The EtherDrive SR821T is available now, with undisclosed pricing. More information on the EtherDrive SR821T should eventually appear here.
More on the NAS Gateway CLN21 may be found here.
Coraid will demonstrate its AoE-based EtherDrive systems at VMWorld 2009 this week at the Moscone Center in San Francisco at booth #2319. The company is also offering a raffle contest to win a free EtherDrive SAN.
---
This article was originally published on LinuxDevices.com and has been donated to the open source community by QuinStreet Inc. Please visit LinuxToday.com for up-to-date news and articles about Linux and open source.