Aug 1, 2011 — by Eric Brown — from the LinuxDevices Archive — 2 views
Hong Kong based Marvel-Digital announced a Android 2.3-based TBT-10C 7″ Mercury Pad Tablet for $259, featuring a 1GHz Samsung "Hummingbird" Cortex-A8 processor and a seven-inch, capacitive multitouch display. Meanwhile, a detailed comparative review between the iPad 2 and the Samsung Galaxy Tab 10.1 has given the edge to the Android tablet for its greater flexibility.
Research studies that project Android tablets will eventually match or eclipse the almighty Apple iPad tend to agree that it will do so primarily on the low end — where Apple has so far dared to tread. The question is, how low can one go? Tablets that are too underpowered or shoddily built run the risk of turning off consumers to the platform altogether.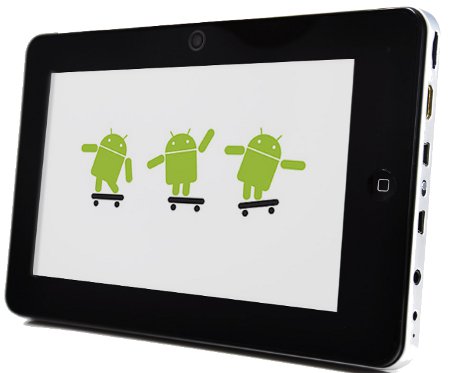 Marvel-Digital's TBT-10C 7" Mercury Pad Tablet
(Click to enlarge)
Now Hong Kong-based Marvel-Digital — not to be confused with
Marvel's digital comics service
or
Marvell Semiconductor
, which offers its own Android-based "Moby" tablet reference design — has launched a tablet that aims to boost the profile of cut-rate tablets.
The $259 TBT-10C 7" Mercury Pad Tablet runs Android 2.3 on a Cortex-A8 based Samsung S5PV210 "Hummingbird" processor clocked to 1GHz. While high-end tablets have moved on to dual-core Cortex-A9 system on chips (SoCs), many under-$300 models instead use less powerful ARM11 or even ARM9 CPUs. The device can even drive 1080p video output via its HDMI port, says the company.
The Mercury Pad Is equipped with 512MB DDR2 RAM, and starts at 4GB of internal memory, with an option to move to 8GB or 16GB, says Marvel-Digital. A 32GB-ready microSD slot is also said to be available.
The tablet is said to provide a seven-inch, 800 x 480 capacitive multitouch display with 16:9 aspect ratio. This resolution can't match the 1024 x 600 resolution of high-end seven-inch tablets, but at least it's capacitive, as opposed to the non-multitouch resistive touchscreens that are more typical of under $300 tablets.
The specs appear to indicate that the $259 model ships with a 0.3-megapixel camera that can be upgraded to a two-megapixel model. However, this may instead refer to front- and back-facing cameras, respectively.
Standard features include both USB host and device ports, and 802.11 b/g Wi-Fi, says Marvel-Digital. No GPS capability is listed, but a USB 3G module from Huawei or ZTE is also said to be available as an option. In addition, the tablet is said to supply a mic, speakers, 3.5mm audio jack, and a G-sensor.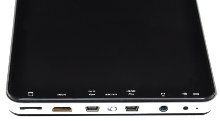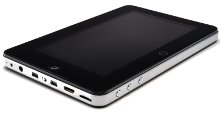 The Mercury Tab features dual USB ports and an HDMI port.
(Click on either to enlarge)
The Mercury Pad is touted for its "ultra lightweight design, smooth edges, and thin profile," but no dimensions are supplied, and the tablet weighs a hefty 510 grams (18 ounces) compared to the 13.4-ounce (380 grams) seven-inch
Samsung Galaxy Tab
. No claims are made for the 2250mAH battery.
The tablet's Android 2.3 stack provides pre-installed Google apps including Gmail, Google Maps, and Google Talk, says Marvel-Digital. Also included are Adobe Flash 10.1, an Office-compatible productivity app, an ebook reader, English/Chinese input tools, as well as Skype, MSN, and QQ messaging apps, says the company. So-called "3D" games are available, although it's unclear whether the Angry Birds Rio app that is ably demonstrated in the YouTube video below is one of them.
The reigning king of seven-inch tablets — the aforementioned Samsung Galaxy Tab — is available for $350 in the U.S. in the Wi-Fi only model. The Galaxy Tab is equipped with the same 1GHz Hummingbird processor, but offers 16GB standard, higher 1024 x 600 resolution, a more powerful 4000mAh battery, a three-megapixel camera and front-facing videocam, and Bluetooth 3.0.
So it's unclear how much of a deal the Mercury Tab offers until we see the price of the 16GB version, as well as read some reviews. In the meantime, however, the demo below seems fairly impressive for a $259 tablet. More information may be found at Marvel-Digital's Mercury Tab page, where the tablet is available for sale.
Marvel TBT-10C 7" Mercury Pad Tablet demonstrated on YouTube


Source: Marvel-Digital
(Click to play)
Galaxy Tab 10.1 wins one against the IPad 2
Early reviews have not been too kind to Android 3.x "Honeycomb" tablets, especially since the iPad 2 came out around the same time as the somewhat buggy, flagship Honeycomb device, the Motorola Xoom. (Despite disappointing early sales, the Xoom, has apparently sold a fairly respectable 400,000 units through the second quarter.)
Yet the Galaxy Tab's big brother — the Samsung Galaxy Tab 10.1 — appears to do better than most in iPad 2 comparisons, in part because it is the only Honeycomb tablet that can beat Apple's tablet on both thickness and weight.

Now DeviceGuru's Rick Lehrbaum — former editor-in-chief of the DeviceForge sites, including LinuxDevices — has seen fit to place the Tab 10.1 above the iPad 2 after a close comparison. Although Lehrbaum is perhaps biased by his long history as an open source embedded Linux aficionado, he's also a longtime iPod Touch user and admits to being "a rank newbie" when it comes to Android.
The indepth review compares the iPad2 and Galaxy Tab 10.1 (pictured) on a variety of hardware features and interface particulars. Lehrbaum finds many similarities, including price and performance, yet the Galaxy Tab 10.1 is said to have a few feature advantages over the iPad 2 including standard GPS and Adobe Flash 10.1, These more than compensate for a few iPad advantages including a Netflix player, writes Lehrbaum.
Lehrbaum seemed to encounter only a few glitches on the Tab, most notably in some occasional arbitrary switching between landscape and portrait mode. It should be noted that most Honeycomb tablets have been savaged far more for the buggy and immature Android 3.0 platform rather than complaints over hardware. The Galaxy Tab is now running the bug-fixed Android 3.1, which is now becoming available on the Motorola Xoom, as well.
The key differentiator that attracted Lehrbaum to the Tab 10.1 was Android's high degree of configurability vs. Apple's tablet. "Thanks to Android's greater empowerment of its apps, I was easily able to mold the Galaxy Tab 2.1 into a highly personalized tablet experience, and do things on it that I haven't a clue how to accomplish on an iOS device," he concludes.
The iPad 2 is still a good buy for users who don't want to customize their tablet, says the review. By the end of the review period, however, Lehrbaum writes that "I only turn to the iPad when in need of a specific app that's not available on the Galaxy Tab 10.1 — and that's not very often."
(The full "Tablet Smackdown" review may be found at DeviceGuru.)
---
This article was originally published on LinuxDevices.com and has been donated to the open source community by QuinStreet Inc. Please visit LinuxToday.com for up-to-date news and articles about Linux and open source.