Jul 29, 2011 — by Eric Brown — from the LinuxDevices Archive — 1 views
Dell launched its long awaited 10.1-inch Honeycomb tablet — but only in China, with no date yet given for a U.S. appearance. The Dell Streak 10 Pro runs Android 3.1, offers the usual Nvidia Tegra 2 processor and other Honeycomb features, measures 0.51 inches (12.95mm) thick, and weighs 1.6 pounds, says the company.
Dell has begun taking orders for the Streak 10 Pro on its Chinese website, and says it will start shipping them "in the next couple of weeks" as well as selling direct at Dell-authorized retailers in more than 2,000 cities in China. The tablet will be heading "eventually elsewhere," which may well include the U.S. manufacturer's U.S. homeland.
The long-rumored Streak 10 Pro first showed up in a leaked Staples training guide in March as a nameless 10-inch Android 3.0 tablet, and more details were tipped in May. Yet 10.1-inch Honeycomb tablet "tip" stories are less compelling than with smartphones because so far, the devices all offer Nvidia Tegra 2 processors and pretty much identical features. The Streak 10 Pro is no exception.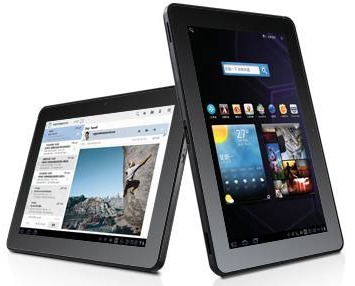 Dell Streak 10 Pro, in landscape and portrait modes
The key differentiating features for Honeycomb tablets are the width, the weight, the battery life, and the software, although the latter two criteria require reviews to ferret out completely. If Dell's claim for up to 12-hour battery life rings true, that will be good news indeed.
On weight and dimensions, the Dell comes in slightly on the heavy and thick side at 0.51 inches (12.95mm) and 25.6 ounces (727 grams/1.6 pounds). This comes nowhere close to the market-leading Samsung Galaxy Tab 10.1, which measures 0.34 inches (8.6mm) and weighs 20.1 ounces (595 grams). However, it's about the same as the Lenovo IdeaPad Tablet K1, and is thinner than the 0.62-inch Toshiba Thrive.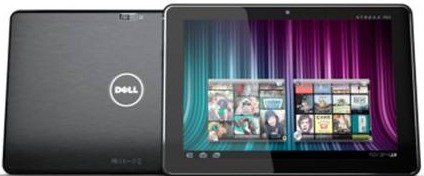 Streak 10 Pro, back and front
Like the Thrive, the Dell is aimed — at least partially — at the business market. The tablet ships with an application called "Dell Divide," which offers "a clear balance between your personal and professional information — the ultimate in yin and yang," says Dell.
The work mode offers secure access to corporate networks and business applications, yet protects personal mode items like family photos and personal email from the prying eyes of IT techs. Conversely, personal mode features are said to be enabled without "compromising access to any sensitive work data," says Dell.
(The company does not say whether the tablet also protects private info from other curious types, such as the Chinese government or Rupert Murdoch.)
We can almost list the Dell Streak 10 Pro's features without checking the spec list (which is, however, available from a link at the end of this story). Following the Honeycomb script, the Streak Pro offers a dual-core, 1GHz Tegra 2 processor with 1GB RAM, and 16GB of internal flash storage, says Dell.
Dell cites the Streak 10 Pro as having an SDHC reader for up to 32GB of memory. It doesn't say, however, whether this is microSD-sized or offers a full-sized, desktop-compatible SD format, a la the Lenovo's IdeaPad K1 or the Toshiba Thrive. (With Android 3.2, full SD support will be standard, so vendors will no longer need to offer customized support.)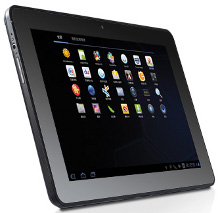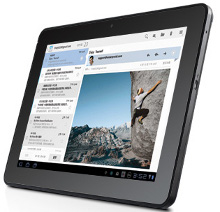 Streak 10 Pro, side views
(Click on either to enlarge)
A Honeycomb-standard 10.1-inch, 1280 x 800 touchscreen with Gorilla Glass is supplied, as well as five-megapixel rear-facing and two-megapixel front-facing cameras. The tablet is further equipped with GPS, 802.11a/b/g/n, and Bluetooth 2.1, says Dell. While there's no talk about cellular support, we note that the company's official model mthe official model name is Dell T03G.
The Streak 10 Pro offers the usual gyro, accelerometer, and compass, as well as a micro-USB port, 3.5mm audio port, speakers, and dual microphones, says the company. A 40-pin dock connector is available, but there appears to be no mention of accessories at this point.
With the bug-fixed Android 3.1 release, Chinese customers should be able to spend more time enjoying their tablets and less time on tech support. In addition to the aforementioned Dell Divide UI layer, the tablet ships with Dell apps including Dell Work Profile, Stage, SyncUp, and Back up and Restore, says the company.
With the China launch, it's not surprising there are no Google apps to be seen. Instead you get Quickoffice, Swype, and a number of Chinese apps. These include Baidu maps, input, and search, which will save users from those pesky Dalai Lama stories.
Third time a charm?
Dell has so far stumbled in the Android tablet market with its original, five-inch Streak tablet and the more recent, seven-inch Streak 7. Both tablets were hampered by high prices and out-of-date Android releases, among other issues.
Even so, a recent survey of Retrevo customers offers good news for Dell. When asked what vendors they would likely choose for an Android tablet, 55 percent said Amazon, but Dell was tied with Samsung for second with 38 percent.
Availability
The Streak 10 Pro is orderable now in China, for a special introductory price through July 29 of 2,999 Renminbi (RMB) — $461 — followed July 30 by 3,699 RMB ($574). The tablet is available at Dell's Chinese online store and Dell-authorized retail channels in China. More information and a spec list may be found here.
---
This article was originally published on LinuxDevices.com and has been donated to the open source community by QuinStreet Inc. Please visit LinuxToday.com for up-to-date news and articles about Linux and open source.