Jul 28, 2011 — by Eric Brown — from the LinuxDevices Archive — views
Informa projects that Android tablets will rival Apple's iPad by 2015 and surpass them in 2016, and a survey by online store Retrevo shows high consumer interest in Amazon.com's rumored Android tablets. Yet, Google's own statistics appear to reveal slow Android tablet sales to date.
Sales of Android 3.x "Honeycomb" tablets started off slow, and Google statistics suggest they've remained that way, at least through June (see farther below). A recent report by Strategy Analytics, however, paints a rosier picture. The research firm estimates that Android advanced to 30 percent of the global tablet market shipments in the second quarter.
Although shipments do not always equate to sales, this appears to be an improvement. Now, research firm Informa has piped in with a July 27 report saying Android will be neck and neck with the iPad in 2015, and will surpass it the next year.
According to a blog by Informa's David McQueen, Apple currently has 75 percent of the global tablet market. Informa does not list Android's current numbers, but — judging by relatively slow sales of the Research in Motion (RIM) Playbook and current Windows tablets — one might guess the firm places Android somewhere in the 20 to 25 percent range.

The company does not list the share of the latest Android 3.x "Honeycomb" tablets vs. Android 2.x tablets (such as the seven-inch Samsung Galaxy Tab). Few of the tablet-optimized Honeycomb tablets have been on sale for more than a month or two; the Motorola Xoom (pictured) shipped in late February.
The Android push will begin later this year "with the introduction of low-cost Android tablets, the wider launch of Android 3.0 (Honeycomb) and the possibility of other major brands such as Amazon launching tablets on the OS," writes Informa's McQueen. However, the platform won't start stealing major market share away from Apple until 2013, he adds.
Informa then fast-forwards to 2015 when it sees Android finally catching up with Apple with 38 percent share (87 million sales) vs. Apple's 39 percent (90 million). In 2016, Android will finally surpass the iPad, says Informa, although it does not project numbers.
The 2015 split would suggest that RIM, Microsoft Windows, HP WebOS, MeeGo, and other emerging platforms will take the remaining 33 percent. Informa lists all these platforms as potential challengers, but it doesn't project market share.
The research firm does say, however, that RIM's PlayBook should do better once it adds some Android app compatibility, as well as 3G and 4G versions. Meanwhile, Windows 8 is expected to give Microsoft a boost in the tablet market, adds McQueen.
Retrevo: consumers waiting for Amazon tablet
U.S.-based online consumer electronics retail site Retrevo released a study this week claiming 55 percent of 1,000 Retrevo consumers surveyed said they would buy an Amazon tablet. As reported by our sister site eWEEK, roughly 38 percent of respondents said they would buy a tablet from Samsung or Dell, and 31 percent claimed they would pick a machine from Motorola or HP/Palm.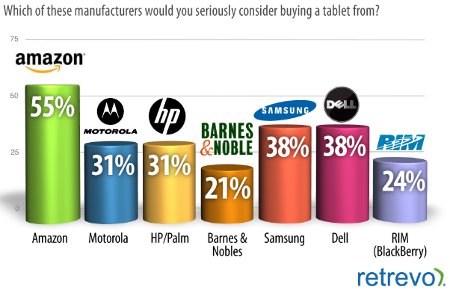 Retrevo customer tablet purchase plans by manufacturer (1,000-person sample)
Source: Retrevo
(Click to enlarge)
Nearly one quarter of respondents said they would choose a tablet from RIM. Meanwhile, 21 percent picked Android-based Nook maker Barnes & Noble.
Over the last six months, a number of reports have claimed Amazon.com is preparing one or more of its own self-branded Android tablets. "If Amazon does, in fact, enter the tablet market with a low cost Android tablet this fall they might be able to change the playing field to a lower margin one where Apple would be less able to compete," writes Retrevo.com director of Community and Content Andrew Eisner in his blog post.
Retrevo cautions that some respondents may have confused Amazon's role as a manufacturer — via the Linux-based Kindle e-reader — with its role as a major technology retailer.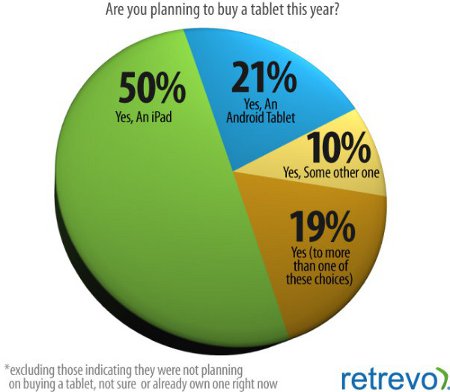 Current Retrevo customers tablet purchase plans (1,000-person sample)
Source: Retrevo
(Click to enlarge)
Meanwhile, the news is still fairly grim for Android tablet vendors in general, at least among Retrevo customers. Half of the respondents planning on buying a tablet said that the iPad was their first choice vs. 21 percent for Android (see chart above).
One problem may be that current Honeycomb tablets are simply too expensive. According to Retrevo, 48 percent of respondents said $300 was the price point that would get them to consider an Android tablet over a base-level iPad, assuming a similar set of features. Retrevo also found that 79 percent of respondents would buy an Android tablet if it cost less than $250, with 31 percent choosing $400 as the decision point.
"Despite the fact that Apple makes a lot of money on companion products like apps, music and software, Amazon may be in a better position to sacrifice a high profit margin on a tablet or razor in return for revenue from razor blades like books, music, videos and apps," adds Eisner.
One interesting side-note is the surprisingly favorable response to a Dell tablet. So far, Dell has appeared to stumble in the market with its original, five-inch Streak tablet and the more recent, seven-inch Streak 7. However, an upcoming 10.1-inch model could be the answer.
Google's Dashboard shows slow Android tablet sales, say reports
Google has yet to respond to several reports from last week claiming that the search giant's own statistics say Android tablet sales are sluggish. As reported by John Gruber on his tech blog site Daring Fireball, Google's Dashboard numbers posted on the Android Developers site on indicate that only about 1.2 million Android tablets have been activated through July 5. The analysis was corroborated by a number of sites, including GigaOM.
By comparison, the iPad and iPad 2 have together sold 28.73 million units through the end of June, or about eight times as many, according to Gruber. The iPad has only been selling for five quarters compared to about three quarters for Android tablets, based on the introduction of the first hot-selling Android tablet, the Samsung Galaxy Tab.
The Android numbers were derived in part from Google's screensize categories, which define "Xlarge" as any screen 7 inches or larger. This would not include the relatively few five-inch models such as the original Dell Streak. Google reported that only 0.9 percent of activated in-use devices that accessed Android Market in the last week of June were Xlarge devices (see chart below).

Android devices that have accessed Android Market within a seven-day period ending July 1 by screen size
Source: Google
A
separate Google report
, based on the Android devices that have accessed Android Market within a 14-day period ending July 5, was broken down by Android version. In this report, Android 3.0 and 3.1 devices once again totaled 0.9 percent (see chart below). When one multiplies 0.9 percent by the 135 million total Android devices that Google said have been activated to date earlier this month, the result is about 1.21 million Android tablets, concludes Gruber.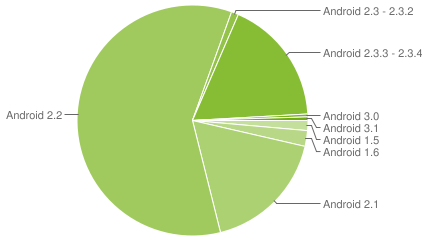 Android devices that have accessed Android Market within a 14-day period ending July 5 by Android version
Source: Google
The figures do seem to indicate slow sales of Android tablets. However, there is likely a slightly uneven correlation between Android Market access and active devices. What's more, considering the high number of pre-installed apps on tablets and the relatively few Honeycomb-optimized apps available, it would seem to make sense that tablets are under-represented in Android Market access numbers.
According to Gruber, the similarity between the screen size and Android release percentage "suggests that almost no pre-Honeycomb Android tablets have been sold." Yet an IDC report posted in March, estimated that Samsung's Android 2.2-based, seven-inch Galaxy Tab alone closed out 2010 with 17 percent of the tablet market.
It's hard to believe all those Tab users would have stopped buying apps by now. Yet, it seems odd that both the screen size and version stats both add up to 0.9 percent. It might help if Google would step up and offer its own analysis of its Dashboard reports.
---
This article was originally published on LinuxDevices.com and has been donated to the open source community by QuinStreet Inc. Please visit LinuxToday.com for up-to-date news and articles about Linux and open source.