Apr 26, 2010 — by Eric Brown — from the LinuxDevices Archive — 9 views
Marvell is shipping a new member of its Linux-ready Armada line of system-on-chips touted for delivering up to 1GHz performance while consuming less than a single Watt. A slower but more power-efficient version of the Armada 300, the Armada 310 offers 256KB L2 cache, plus PCI-express, gigabit Ethernet, and USB 2.0 connectivity, says the company.
The Armada 310 is designed for digital homes and small and remote office applications, as well as for medical, financial, and point-of-sale (POS) devices, says Marvell. Specific devices are said to include routers, micro-servers, dongles, PC cards, industrial and medical systems, and Plug Computing devices.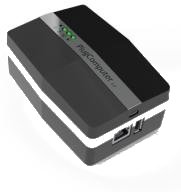 Marvell's popular Plug Computer reference design, which uses a Linux-based SheevaPlug development platform, was recently upgraded with an almost identical, yet more powerful cousin of the Armada 310 called the Armada 300. (Marvell's PlugComputer 3.0 is pictured at right.) Presumably, Marvell is readying a new lower-cost version based on the Armada 310.
Whereas the Armada 300 system-on-chip (SoC) is touted for 1.6GHz to 2GHz performance on less than two Watts of power, the Armada 310 supports clock speeds from 600MHz to 1GHz on one Watt, says Marvell. The Armada 310 is also said to deliver power-down consumption as low as 700mW.
Otherwise, as indicated by the shared block diagram below, both SoCs are identical. They are based on the same ARMv5TE-compliant Sheeva PJx architecture used in the original four Armada SoCs announced in October — the Armada 100, 500, 600, and dual-core 1.2GHz Armada 1000 models.
The Armada 300/310's core is equipped with a four-way, set-associative L1 cache that incorporates both a 16KB I-cache and a 16KB D-cache, says Marvell. The core is also said to offer a 256KB, unified four-way, set-associative L2 cache. An on-chip crossbar architecture, meanwhile, enables concurrent transactions among multiple units, says the company.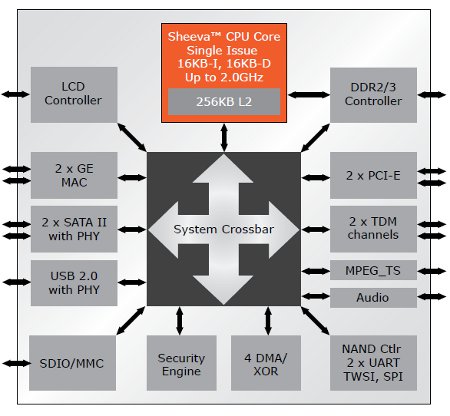 Armada 300/310 block diagram
(Click to enlarge)
Other notable features on both the Armada 310 and Armada 300 include an on-chip 16-bit DDR2/3 interface, NAND flash support, and two PCI Express bus interfaces. Storage is said to be supported via dual SATA 2.0 ports, as well as an SDIO/MMC interface.
The Armada 300/310 SoCs provide two gigabit Ethernet MACs, as well as a USB 2.0 compliant host/device port with an integrated PHY, says Marvell. In addition to providing I/O ranging from SPI to dual UARTS, the processors offer the somewhat novel addition of a thermal sensor interface. A 16-bit LCD controller is provided on both SoCs, supporting up to 1080p and UXGA resolutions, says the company.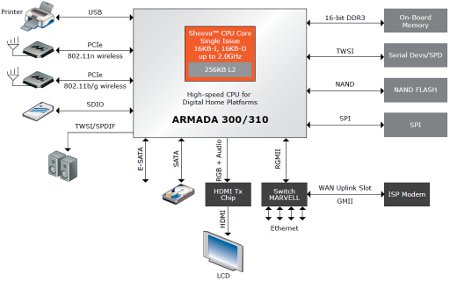 Typical device implementation for Armada 300/310


(Click to enlarge)
Specifications listed for both the Armada 310 and Armada 300 include:
Core — ARMv5TE-compliant single-issue Sheeva PJx clocked at 600MHz or 1GHz (Armada 310); or 1.6GHz, 1.8GHz, or 2.0GHz (Armada 300)
Cache — 16KB instruction and 16KB data 4-way, set-associative L1 cache; 256KB unified 4-way, set-associative L2 cache
Memory — 16-bit DDR2/3 memory interface (up to 1066MHz)
Storage — 2 x SATA 2.0 ports with integrated PHYs
Expansion — 2 x PCI Express ports
Networking — 2 x gigabit Ethernet MACs with interface options
Other I/O:

1 x USB 2.0 port (host and peripheral) with integrated PHY
2 x TDM Channels
SDIO/MMC
NAND flash
SPI
2 x TWSI
2 x UART interfaces
DMA/XOR engine with 4 channels
RTC
Thermal sensor

Graphics/audio:

LCD controller for up to 1080p and UXGA
Audio and MPEG transport stream interface
Audio video bridging

Security — network security engine with encryption algorithm support
Power consumption — 1GHz in typical operation and 700mW in power-down (Armada 310); below 2GHz in typical operation (Armada 300)
Dimensions — 15 x 15mm FCBGA (flip-chip ball grid array)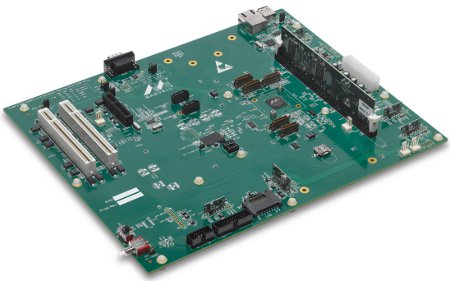 Development board for Armada 300/310


(Click to enlarge)
Linux-ready development platform
Development platforms are available, built around a baseboard that supports both the Armada 310 and Armada 300, says Marvell (see image above). Complete reference design platforms are said to be available for Linux, VxWorks, and BSD, including software drivers and board support packages (BSPs). No information was available of real-world ports and other features, however.
Stated Dr. Simon Milner, VP and GM of the Enterprise Business Unit at Marvell Semiconductor, "Embedded application developers need smarter processors capable of delivering high levels of performance while consuming lower power, the new Armada 310 is designed to do just that."
Availability
The Armada 310 is available now for under $15 in 10K quantities, says Marvell. More information may be found in a PDF, here.
---
This article was originally published on LinuxDevices.com and has been donated to the open source community by QuinStreet Inc. Please visit LinuxToday.com for up-to-date news and articles about Linux and open source.