Apr 21, 2010 — by Jonathan Angel — from the LinuxDevices Archive — 2 views
[Updated, Apr. 23] — Marvell announced a tablet device for medical applications that will include a built in camera and multiple liquid crystal or e-paper displays. The "Moby Med" platform will offer a 1GHz Armada 600 series processor, WiFi, Bluetooth, GPS, an FM receiver, and Adobe Flash capability, the company says.
Marvell's "bold new healthcare initiative" follows the company's announcement last month of the Moby, a $100 tablet computer for students that will run Android or Windows Mobile on a "gigahertz-class" processor. Proposing a more elaborate "Moby Med" version, the company did not say whether it will manufacture the tablet itself or — as we think more likely — merely try to spur on third-party manufacturers by creating a reference design.
The Moby featured a single liquid crystal display of unspecified size. The more elaborate Moby Med, however, will include "multiple simultaneous liquid crystal display (LCD) or electronic paper display (EPD) viewing screens for convenient viewing of information," says Marvell. Also mooted is a built-in camera for doctor-patient videoconferencing.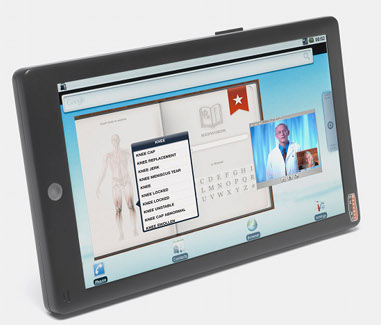 Marvell's Moby Med
Source: Marvell
(Click to enlarge)
While most medical computers are built for health care providers and designed with something of a "cost no object" approach, the Moby Med appears to be aimed at both patients and practitioners. Marvell says the platform "is designed to allow physicians to consult with patients remotely in real-time, allow consumers to manage their own health histories, make it possible to send and read high-resolution diagnostic imagery, and give consumers access to online medical information."

Weili Dai (right), a Marvell co-founder who is also the vice president and general manager of its consumer and computing business unit, stated, "The Moby Med tablet platform provides everything needed in a mobile medical tablet, from keeping track of blood pressure rates, glucose levels and other vital data, to serving as a virtual medical station in remote parts of the world. With the Moby Med, doctors could once again make house calls — without leaving the office — and provide a much higher, more personalized quality of care."
Hardware details
As noted, Marvell envisions dual displays for the Moby Med, though the device's screen size and ultimate cost weren't specified. It's said that, like the Moby, the medical tablet will offer WiFi, Bluetooth, an FM radio, and a GPS receiver, and will be capable of 1080p video encoding and decoding.
Unlike Apple's iPad, the Moby will be compatible with "full Adobe Flash," and it will run Android or Windows Mobile on a "gigahertz-class" processor, the company adds.
Regarding the latter, Marvell said the Moby Med will use an Armada 600 series processor, though it didn't say which. The Armada 610, announced last October, is based on an ARMv7 core, has a 1GHz clock sped, includes a display controller that offers resolutions up to 2000 x 2000 pixels, and has an integral 3D accelerator, according to the company.
A followup Armada 618 model was announced in February, though Marvell didn't do much to distinguish it from the existing 610. The company did say the 12 x 12mm Armada 618 is capable of supporting four simultaneous displays and 1080p video decode/encode, and also comes with a "highly robust security subsystem" including a secure execution processor. The 618's 3D graphics engine supports DirectX, Open GL ES 2.0, and Open VG 1.1, rendering up to 45 million triangles per second, the company added.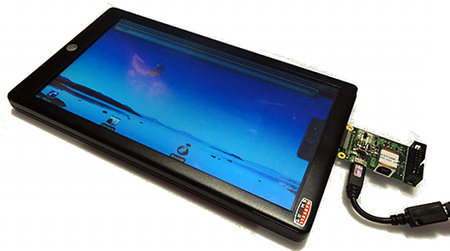 A 10.1-inch Android tablet reference design from Marvell
Source: Technologizer
According to a posting on the Technologizer blog by Harry McCracken, Marvell also used the Future of Publishing conference in March to show off at least one prototype device, the 10.1-inch, Android-based tablet pictured above. McCracken did not offer any further details, but we suspect this reference design is similar to what's being contemplated for the Moby Med.
According to Marvell, the Moby Med will include an SD/MMC expansion slot and an optional cellular modem. When the latter is on board, the device will be capable of creating an eight-user WiFi hotspot, the company adds.

A video demonstrating the Armada 610
Source: Marvell
(click to play)

Further information
Further information on Marvell's Armada 600 processors may be found on the company's website, here. Harry McCracken's Technologizer posting may be found here.
---
This article was originally published on LinuxDevices.com and has been donated to the open source community by QuinStreet Inc. Please visit LinuxToday.com for up-to-date news and articles about Linux and open source.