Jul 30, 2009 — by Eric Brown — from the LinuxDevices Archive — 1 views

Juniper Research released a study predicting 50 million WiMAX broadband subscribers around the world by 2014. Much of the growth will be driven by the original goal for the wireless technology: providing broadband to underserved areas that pose logistical challenges to wired broadband networks, says the research firm.
The WiMAX 802.16e, or Mobile WiMAX, standard was established by the iEEE in 2005 after the original 802.16d "Fixed WiMAX" standard failed to generate much interest, according to a free white paper that accompanies Juniper's "WiMAX Broadband: Markets, Opportunities & Forecasts, 2009-2014" study (see link below). Delays have held back deployments, but there have been a number of examples of successful WiMAX 16e service providers worldwide, especially in China and East Asia, says Juniper Research.
Despite its support for mobile usage, similar to 3G networks, 802.16e also supports fixed deployments at peak throughput rates from 48 to 75Mbps, says Juniper Research. So far, fixed deployments in underserved areas have been the most common use of the 802.16e technology, a trend that will continue for several years, says the white paper.
"WiMAX 16e will have opportunities not just in developing countries but also areas of developed countries where the DSL coverage is weak or non-existent," stated Juniper Research WiMAX report author Howard Wilcox. "The key for the industry ecosystem now is to overcome the challenges and ensure trials evolve into commercial services quickly."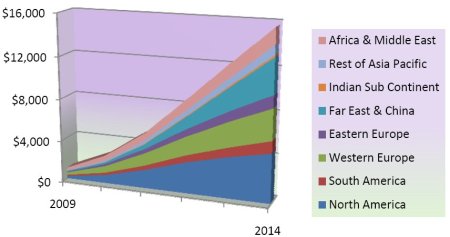 WiMAX service revenues by region (2009-2014) in $bn (Source: Juniper Research)
(Click to enlarge)
Additional findings in the report are said to include:
Some network operators are targeting specific niches such as high end business broadband, or cable modem customers in addition to DSL metro and rural applications.
The highest number of subscribers will be in the Far East and China region largely due to the region's status as an early adopter.
Growth in Western Europe and, to a lesser extent, North America, is forecast to be driven by DSL churn, as well as broadband provision in underserved areas.
Africa and the Middle East is set to exceed Western Europe with in excess of 15 percent of the subscriber base in 2014, primarily driven by broadband connectivity to underserved and unserved areas.
Slow to emerge, WiMAX appears to have finally gotten off the ground in the U.S., with the launch of Clearwire's first WiMAX deployments and merger with Sprint Nextel's WiMAX efforts under the Clearwire name. Meanwhile, the USDA (Department of Agriculture) last year awarded $267M to Colorado-based Open Range Communications to use WiMAX the way it was originally intended — to extend broadband into rural areas. Private investors piled on another $374M a few months later. The group hopes to deliver WiMAX in 17 states. With the recession, however, these efforts may struggle in building their networks nationwide.

The slow growth of WiMAX may have also helped slow acceptance of mobile Internet devices (MIDs). Intel originally envisioned MIDs as using WiMAX, but now most MIDs instead offer support for mobile 3G services such as HSPA, with WiMAX support often promised for the future.
Intel, however, is not giving up on its WiMAX-driven MID vision, and next-generation Moorestown-based MID reference designs targeting a 2010 release, such as the Elektrobit MID (shown above right) are touted for their WiMAX support.
Moving toward 1Gbps Mobile WiMAX 802.16m
The Juniper white paper also reports on the convoluted international politics involved in integrating various country- and region-specific flavors of 802.16e, as well as the halting progress of integrating WiMAX standards into the ITU's family of 3G standards. The 3G integration is expected to come eventually, says Juniper Research.
In addition, the white paper discusses the upcoming Mobile WiMAX 802.16m standard, which was first proposed by the iEEE in 2007. The 16m standard, which will increase speed to 1Gbps, while maintaining backward compatibility, is being considered by the ITU along with LTE-Advanced as a 4G mobile broadband standard, says the report. The 16m standard, also referred to as WiMAX Release 2, should be ratified by 2010 or 2011, says the study.
Juniper's WiMAX report features regional forecasts, with country detail, identifying broadband and DSL growth, WiMAX market status, and use-case analysis, says the research firm. The 65-page forecast examines WiMAX opportunities and growth over the next six years, with data broken down by broadband, DSL, and WiMAX subscribers. The study also provides WiMAX service revenue forecasts and ARPU, split by eight regions.
Questions answered in the report are said to include:
How many WiMAX subscribers will there be each year from 2009 — 2014?
Which will be the prime regions for WiMAX deployments?
How many WiMAX subscribers are operational in each region?
What are the main applications that WiMAX is providing in each region?
How much service revenue and ARPU will WiMAX generate by region?
What are the trends, drivers and constraints affecting the development of the WiMAX market?
How many broadband subscribers will there be each year from 2009-2014?
How many DSL subscribers will there be each year from 2009 — 2014?
Availability
More information on "WiMAX Broadband: Markets, Opportunities & Forecasts, 2009-2014," may be found here. The free white paper on "WiMAX Broadband" may be found in this PDF.
---

This article was originally published on LinuxDevices.com and has been donated to the open source community by QuinStreet Inc. Please visit LinuxToday.com for up-to-date news and articles about Linux and open source.