Oct 31, 2011 — by LinuxDevices Staff — from the LinuxDevices Archive — 15 views
BeagleBoard.org announced a new open-platform, hobbyist-focused development board — priced at just $89 and equipped with a Linux distro that boots in ten seconds. The BeagleBone offers an ARM Cortex-A8 processor running at 720MHz, 256MB of RAM, two 46-pin expansion connectors, a USB host port and multipurpose device port, on-chip Ethernet, and a microSD slot.
BeagleBoard.org isn't part of Texas Instruments (TI), but it has a close relationship with the company. This fact has provided the all-volunteer group with early access to TI SoCs (systems on chip) to use on its popular, hobbyist-focused development boards. For example, the BeagleBoard xM (now $149) was announced with TI's DM3730 onboard even before the chipmaker could announce that chip itself!

The group's newest board — the BeagleBone — was announced Oct. 31 via a blog entry by volunteer Jason Kridner (pictured), who happens to be open platforms principal architect for TI's application processor group. This time, he was careful not to spill any CPU beans in advance, but the page was updated following its first appearance to reveal that the 'Bone uses a TI AM3358 processor.
We refer you to our complete coverage of TI's AM335x launch (also staged Oct. 31) for the full skinny on this new ARM Cortex-A8 CPU. Suffice it to say that the AM3358 is second from the top in a multi-product line of SoCs, lacking only support for the EtherCat protocol: It includes a 720MHz core, an Imagination Technologies-based 3D graphics accelerator, and Ethernet as well as many other on-chip interfaces.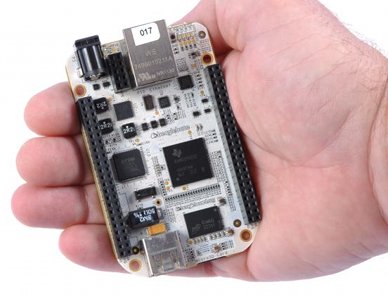 The BeagleBone
(Click to enlarge)
Positioning the BeagleBone (above) as the "the low-cost, high-expansion hardware-hacker focused BeagleBoard," Kridner writes that the device has been designed to be easier to clone than previous hardware from the group. And, he adds, while it doesn't have quite the memory capacity and MIPS of the BeagleBoard and BeagleBoard-xM, it offers "easier and more extensive expansion, on-chip Ethernet, analog-to-digital data conversion, and a lower cost."
According to Beagleboard.org, the BeagleBone measures 3.4 x 2.1 inches, and features 256MB of DDR2 RAM and two 46-pin, two-row expansion headers. It's said these feature "easy to use" 0.1-inch spacing and provide industry-standard 3.3V I/Os — more than 60 of them, including five serial ports, two I2C buses, timers, power management modules, and SPI.
The expansion headers are not compatible with those on the popular, microcontroller-based Arduino platform, "though certainly having the breadth of add-on boards available to the Arduino is on our goals," Kridner writes. "The performance and cost of interfacing to Arduino shields as is would under-utilize the capabilities of the underlying Linux-based system and compete in places where an Arduino is really the right solution."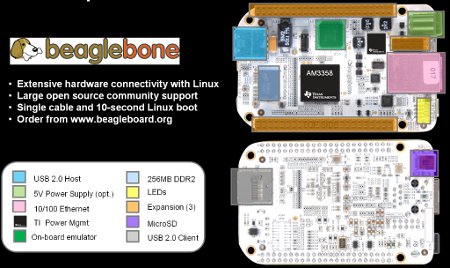 BeagleBone components
(Click to enlarge)
BeagleBoard.org says the BeagleBone comes with the Angstrom version of Linux (which, we note, has also been employed on another $89 board, the ARM9-based HawkBoard). Supplied on a 2GB card for the device's onboard slot, the distro boots in just ten seconds, the group claims.
According to Kridner, the BeagleBone's shipping image also includes the git-enabled Cloud9 IDE (integrated development environment) and node.js, a server-side JavaScript language interpreter. Developers can begin coding simply by connecting the board to a Linux, Windows, or Macintosh computer and then pointing a web browser in the BeagleBone's direction, he explains.
While BeagleBoard.org has not yet provided all of the BeagleBone's hardware specs, the device is said to include a USB 2.0 host port, plus a USB device port with onboard hub. A microSD slot is also said to be available. Simultaneous low-level serial control and JTAG hardware debug connections are supported, so no JTAG emulator is required, the group adds.
The template-based coding available to the Arduino community makes it easy to copy-and-paste simple projects, the BeagleBone's ability to run Linux should ultimately make it easier to use, Kridner suggests. "We intend to collaborate with the Linux, Cloud9 IDE (Ajax.org), node.js, github.com and BeagleBoard communities to evolve this to Arduino-like simplicity, without the need to install any development tools or understand Linux programming details," he writes.
Peripheral boards, which will likely be called "capes" in order to distinguish them from Arduino's "shields," are already in the works, BeagleBoard.org says. A DVI-D board is in the prototype phase now, while HDMI, VGA, and LCD boards will follow, and plans for a Wi-Fi/battery board are "in the very preliminary phases," according to Kridner.

TI's Jason Kridner introduces the BeagleBone
(click to play)
Availablity
BeagleBoard.org says rev. A1 boards are "just shipping to active community members," while rev. A3 boards, with a suggested retail price of $89, will ship to distributors "before the end of November." Updated information is promised and will be posted on the BeagleBone product page.
Jonathan Angel can be reached at [email protected] and followed at www.twitter.com/gadgetsense.
---
This article was originally published on LinuxDevices.com and has been donated to the open source community by QuinStreet Inc. Please visit LinuxToday.com for up-to-date news and articles about Linux and open source.