Oct 31, 2011 — by Eric Brown — from the LinuxDevices Archive — 28 views
Texas Instruments (TI) announced a low power (7mW standby) Cortex-A8-based system on chip (SoC) intended to supplant ARM9 processors in cost-sensitive devices. Priced as little as $5 in volume, the Sitara AM335x SoC is available in six models, most of which can be clocked to 720MHz, and half of which include 3D graphics acceleration, according to the chipmaker.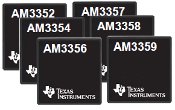 The Sitara AM335x (pictured) is aimed at portable navigation devices, handheld gaming and educational devices, home and building automation equipment, and other cost-sensitive devices that require portability or low power consumption, says TI.
The processors support Linux, Android, and Windows Embedded Compact 7, says the company. They're supported by a $995 evaluation module (see farther below), as well as a new $89 BeagleBone open platform hobbyist and prototyping development board from BeagleBoard.org.
The AM335x enables current ARM9-based product lines to migrate to faster devices with 3D touchscreen interfaces, higher resolution displays, and more connectivity options at roughly the same cost and power levels, claims TI.
TI product marketing manager Russell Crane told LinuxDevices, "The AM335x is setting a new price point and level of integration that can save up to $40 BoM costs over many ARM9-based devices, and it can be used in just about any embedded space."
Six different models, four stripped-down variants
The AM335x family is available in six models, each of which is available in a 15 x 15mm package that supports 720MHz clock rates, dual USB OTG with PHY interfaces, and dual gigabit Ethernet MACs. Four of the six models also ship in 13 x 13mm packages that limit speed to 550MHz, and offer just one USB and gigabit Ethernet interface respectively.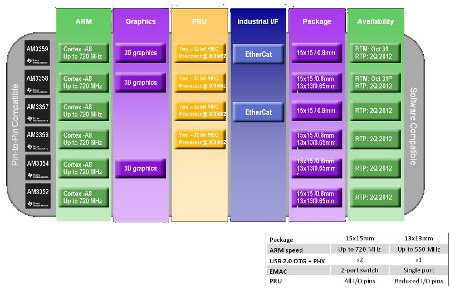 Sitara AM335x models
(Click to enlarge)
The first two devices — the AM3359 and AM3358 — have begun sampling now, says TI. The others will sample later, and all six are scheduled to enter production in the second quarter of 2012, the chipmaker adds.
The top-of-the-line AM3359 and second-tier AM3358 are two of three models that offer 3D graphics acceleration, along with the AM3354. Using the Imagination Technologies IP that TI has traditionally favored, the GPU offers 20 million triangles per second performance, according to TI.
The main difference between the AM3359 and AM3358 is that the latter lacks support for the Ethernet-based EtherCat (Ethernet for Control Automation Technology) industrial communication fieldbus protocol. The AM3357 is the only other model with EtherCat support, says TI. The two EtherCat models are also the only ones not available in the lower-end 13 x 13mm versions.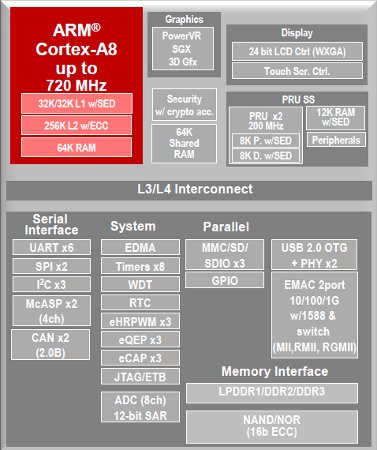 AM335x block diagram
(Click to enlarge)
Both the AM3359 and AM3358, as well as the AM3357 and AM3356, support Sitara's programmable real-time unit (PRU) — also found in some of TI's ARM9 processors such as the Sitara AM1x (see farther below). The 3D-enabled AM3354 lacks the PRU, as does the low-end AM3352.
The PRU is a universal controller that combines dual 32-bit RISC microcontrollers to offer greater flexibility in configuring I/O control and adding custom interfaces. The PRU has been said in the past to handle some processing duties, at least on the ARM9-based chips. The 550MHz, 13 x 13mm AM337X versions lack full PRU pin counts, presumably offering fewer simultaneous functions enabled with the module.
Standard features on the AM335x include support for LPDDR, DDR2, and DDR3 memory types, as well as NAND and NOR flash. In addition to the 3D graphic accelerators and PRU modules available on some models, the SoCs are equipped with a security/crypto engine, says TI.
The AM335x SoCs provide a 24-bit LCD controller supporting WXGA (1280 x 720) resolution, as well as a touchscreen controller. However, there are none of the video accelerators found as standard or optional features on most of TI's OMAP, Sitara, and Integra processors. Still, with a Cortex-A8, video quality is no doubt far superior to that of any ARM9 SoC that lacks such accelerators.
In addition to the one or two USB 2.0 On-The-Go and gigabit Ethernet interfaces available, depending on the packaging type, interfaces include dual CAN 2.0B interfaces, as well as three MMC/SD/SDIO memory card interfaces. Additional I/O is said to include six UARTs, dual SPI, three I2C, GPIO, and two McASP interfaces. In addition, an ADC is available to support analog devices such as step motors, says TI.
Overall power consumption is claimed to be as little as 7mW of power in standby and 700mW in active operation. This is said to enable fanless and battery-powered devices.
Development tools and EVM
The AM335x will be available with TI EZ software development kits, starting with Android 2.2 and Linux 3.1 in December, and Windows Embedded Compact 7 in the first quarter of 2012. QNX, Mentor Graphics, and Wind River are also expected to offer support for their own real-time operating systems, says TI.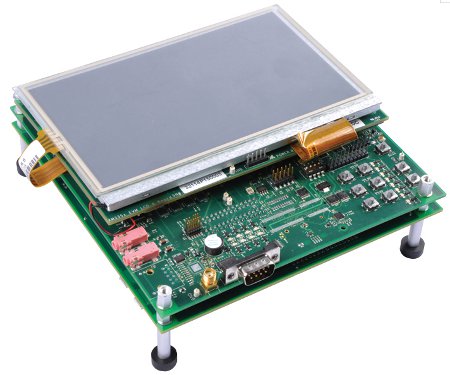 TI's AM335x evaluation module (EVM)
(Click to enlarge)
Developers can call upon either the $89, open source BeagleBone prototyping board, or TI's more fully featured, $995 AM335x evaluation module (EVM). The latter is said to feature an AM3358 with 512MB of DDR2 RAM, a seven-inch LCD touchscreen, and access to all peripherals. The board also offers TI's WL1271 single-chip 802.11b/g/n + Bluetooth device, said to be the first widely available platform to enable Wi-Fi Direct.
Additional software support includes a StarterWare software stack, which TI announced last week. The kit is said to allow developers to program microprocessors as they do a lower-end microcontroller, without requiring an operating system.

TI AM335x video overview
Source: TI
(Click to play)

Background

ARM's Cortex-A8 processor design first emerged in 2008 with TI's high-end OMAP3x processors. With Cortex-A9 dominating the high end of the market in multicore processors like TI's OMAP 4, however, and with the announcement of a Cortex-A7 design that aims to supplant Cortex-A8 in the mid-range, Cortex-A8 is now ready to migrate downward and replace ARM9.
TI's higher-end Cortex-A8 models have included the 1GHz DM3730 (which powers the BeagleBoard-xM), the 1GHz AM37x, and the 1.5GHz, machine-vision focused C6A8168 Integra. The chipmaker has also offered lower-end models such as the 500MHz, industrial-focused Sitara AM3505 and AM3517.
Now, with the Sitara AM335x, the company has delivered the packaging, pricing, and power consumption to enable the Cortex-A8 to compete with slower ARM9 processors in the general purpose embedded market. The Sitara AM335x will be available for just $5 for one of the 550MHz models in 100,000-unit quantities, with the highest 3D-enabled 720MHz version still available for under $10, claims TI.
By comparison, but based on 1,000-unit quantities instead of 100,000 units, TI's own ARM9 SoCs, including the Sitara AM1808, AM1806, AM1707, and AM1705, and similar, Profibus-enabled Sitara AM1810, launched with prices of between $6.55 and $9.95. The high-end AM3715 and AM3703 Cortex-A8 SoCs, meanwhile, debuted last year at $26 and $22.50 in 1,000-unit quantities.
Availability
The Sitara AM3359 and AM3358 have begun sampling now, and both models, as well as the AM3357, AM3356, AM3354, and AM3352 will reach production in the second quarter of 2012, says TI.
All are available in 15 x 15mm packages that clock to 720MHz and offer other advantages, while all but the EtherCat-enabled AM3359 and AM3357 are also available in 550MHz 13 x 13mm versions.
Prices begin at $5 in 100,000 unit quantities, says the company. More information may be found at TI's AM335x product page.
TI's AM335x EVM (TMDXEVM3558) will be available in December for $995, says the company. TI's Linux EZ SDK and support for Android 2.2 are available for free download in December, with Windows Embedded Compact 7 support coming in 1Q 2012. Application-specific reference designs based on the AM335x ARM Cortex-A8 microprocessors will be available later this year and into 2012, says the company.
---
This article was originally published on LinuxDevices.com and has been donated to the open source community by QuinStreet Inc. Please visit LinuxToday.com for up-to-date news and articles about Linux and open source.