May 22, 2007 — by LinuxDevices Staff — from the LinuxDevices Archive — 5 views
A U.S. government- and industry-led coalition aiming to equip every car and roadside in America with wirelessly connected computers has tapped Linux for a prototype design. The Vehicle Infrastructure Integration Consortium (VII-C) hopes to lower driver death rates, reduce traffic jams, and media-enable cars before 2017.
The VII-C is funded by the U.S. Department of Transportation (DOT), along with AASHTO, ten State Departments of Transportation, and seven vehicle manufacturers already involved in the U.S. DOT's Intelligent Vehicle Initiative: BMW, DaimlerChrysler, Ford, GM, Honda, Nissan, and Toyota.
The VII-C says that 21,000 of the 43,000 traffic fatalities in 2003 were caused by vehicles leaving the road or entering intersections when they should not have. It hopes a massive network connecting cars to each other and to roadsides can help.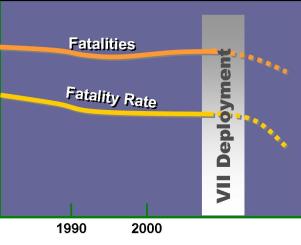 Driving deaths
(Source: U.S. DOT)
Like a lot of large-scale government projects, VII is a long-term effort that, if all goes well, will roll out between 2015 and 2017. Closer at hand is the deployment decision, which looms in late 2008 or early 2009.
Meanwhile, over the last three months, the VII-C has created prototype hardware that it will now begin to field-test at OEM (original equipment manufacturer) facilities in Michigan and California, and at Motorola and Delphi test sites in Florida and Minnesota.
The component of VII that resides in vehicles is known as "on-board equipment," or OBE. Prototypical OBEs are based on Celeron-powered PC/104 form-factor single-board computers (SBCs) from Parvus, a Utah-based company specializing in rugged boards and systems for transportation applications.
On the software side, the prototype OBEs run Linux. The Parvus SBCs come with a basic Linux BSP. Alternatively, if OEMs want commercial support, Wind River said its General Purpose Platform, Linux Edition was selected for this purpose, in part because of the company's long-standing relationships with Delphi, Motorola, and other project participants, broad experience in automotive applications, and experience working with large ecosystems — Eclipse's Device Software Project comes to mind here.
In an interview with LinuxDevices, Leslie Mulligan, GM of automotive at Wind River, explained that "They did a survey on using an RTOS [real-time operating system], but decided on an open source strategy because they thought it would bring a broader reach to the community. They realized rapidly that it's foes collaborating with foes in the prototype environment."
Mulligan has a lot of suggestions for how VII technology could one day improve driving safety, efficiency, and enjoyment, including:
Cars receive alerts about approaching emergency vehicles
Alerts if cars in area activate anti-lock braking
Cars serve as data collectors, for example with windshield wiper activity being used to map weather patterns with high precision
Media-enabling cars
Vehicle firmware upgraded over-the-air
Inform car owners of recalls
Larry Lehman, one of Wind River's half-dozen or so "distinguished engineers," noted that regardless of whether the project pans out, it will help expose car makers to the world of open source. "There is no guarantee that OEMs will build out devices, but the project allows them a lot of exposure to working with Linux," he said.
Mulligan, too, emphasized that the VII-C prototype win is "really just a potential proof point" for Linux in automotive applications. If VII-C turns out to be too far over the rainbow, Wind River's engagement with the project could still help the company establish a bigger foothold for Linux among telematics applications that exist in today's world, such as back-up and blind-spot cameras, navigation systems, and so on.
---

This article was originally published on LinuxDevices.com and has been donated to the open source community by QuinStreet Inc. Please visit LinuxToday.com for up-to-date news and articles about Linux and open source.