Aug 13, 2009 — by Eric Brown — from the LinuxDevices Archive — views
At this week's OpenSource World, a Dell executive reportedly said the company's Linux netbook returns are roughly equivalent to those for Windows-based netbooks. The remarks were in response to Microsoft's COO Kevin Turner, who gave a recent speech claiming Linux netbook returns were four or five times higher.
At OpenSource World (formerly LinuxWorld) in San Francisco this week, Todd Finch, Dell senior product marketing manager, decided to set the record straight on return rates for Dell's Linux-based Inspiron Mini netbooks, writes Gavin Clarke in The Register. Saying Linux return rates were a "non-issue," Finch is quoted as saying that Microsoft was "making something of nothing."
Finch was further quoted as saying, "We don't see a significant difference between the return rate for Windows versus the rate for Linux. We've been quite pleased with the stability and technical soundness of the Linux machines."
A PC World story, apparently covering the same event, reports that Finch revealed that in a few weeks Dell will offer Linux OS upgrades to Ubuntu 9.04. PC World also reports that Finch said Dell is looking into manufacturing ARM-based netbooks and "smartbooks". Finally, Finch was said to have revealed that "in certain quarters" close to a third of all Dell netbook shipments are pre-loaded with Linux.
Finch's comments about netbook returns appeared to be in response to Microsoft COO Kevin Turner, who claimed at Microsoft's annual financial analysts' meeting that retailers selling Linux netbooks had told him they are experiencing return rates "like four or five times higher than what we're seeing on other PCs that have Windows."
Turner (pictured at right) made the comments when relating the secret behind his company's success in upselling netbook retailers from Windows XP to Windows 7. "The reason we were able to make so much traction on this particular space is because we went to retailers and said, 'Hey, what are your return rates on these Linux netbooks that you are getting?' And they said, "Oh, gosh, they're, like, four or five times higher than what we're seeing on other PCs that have Windows,'" related Turner. "I challenge you to find a retailer who wants to sell Linux on these netbooks, because the returns are bad."
Dell has sold a number of netbooks running Ubuntu Linux, most recently its latest Atom-based Mini 10v (pictured below). Larger Dell systems that are available with Ubuntu include the Inspiron 1525, Inspiron 15n, and XPS M1330n.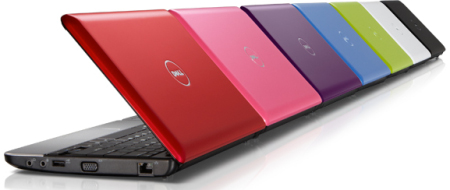 Dell's Mini 10v in multiple colors
Linux netbook returns do appear to be slightly higher, judging from the comments from Dell's Finch. Yet these returns, especially in the early days, were not due to technical problems, but because consumers bought a low-priced machine expecting Windows and opened it to find a different interface, explained Clarke in
The Register.
Finch suggested that the long-term difference in return rates has been slight, especially since Dell has improved its marketing. "Now we are trying to be a little more explicit in our advertising," Finch is quoted as saying. "We are not seeing any technical reasons for why they are returning Linux machines."
Meanwhile, despite higher returns for netbooks, recession-strapped consumers continue to buy them at a fast pace. Two recent studies of the PC market by iSuppli and DisplaySearch claim that netbooks continue to lead the PC market, with the latter claiming growth rates of nearly 100 percent.
Can Windows 7 beat Linux on power management?
According to Clarke, Finch noted that Linux netbooks will face greater challenges from Windows 7 in terms of battery life and power consumption than they did from XP (though Windows 7 will run only on x86 processors, not the more power efficient ARM CPUs). He was also said to have stated that Linux still suffers by offering support for fewer major applications than does Windows.
A quick straw poll by Clarke of the primarily Linux-focused conference delegates revealed a belief that application availability was a bigger issue for Linux netbooks than power consumption and battery life. "They believed Linux netbooks should ship with Firefox, Thunderbird, OpenOffice, and Pidgin," writes Clarke. "After that, there was a big fall off."
According to Clarke, generating consumer demand in brick-and-mortar stores was widely considered to be the biggest challenge for Linux netbooks. Here, Linux is fighting an uphill battle against Microsoft's channel clout. "Microsoft is famous for having locked down the retail channel by providing retailers with cash and marketing resources to enable everything from endorsements of Windows on PCs to stocking and positioning of product in the stores and on shelves," writes Clarke.
Finch was quoted as saying that Dell has not done as well as it could in promoting Linux-based PCs on its own site, adding that it's a "battle" he is fighting inside Dell. Yet he did not appear to offer any hope for a quick Linux turnaround in the netbook market. His suggestion to OpenSource World attendees was to focus on writing cloud-based applications capable of running on any machine. In this he might have been alluding to Google's upcoming Chrome OS.
Appearing on the same panel with Finch was Novell's OpenSUSE community manager Joe Brockmeier (pictured), who agreed that Linux needed to improve its consumer marketing. "If you take my marketing budget, add it to Ubuntu and Red Hat's marketing budget, it's not even a rounding error for Microsoft," Brockmeier is quoted as saying. "For us to generate the market awareness to say: 'I want Linux on a netbook' is going to be incredibly hard because we don't have the tools to do that."
Linux netbook return rates revisited
Signs of trouble in the Linux netbook world emerged last fall after a promising start in which some analysts figured that Linux had captured as much as 30 percent of the market, compared to one percent in the desktop market in general. It all started with an MSI executive who claimed that returns of its Linux-based MSI Wind netbooks were more than four times higher than those of Windows XP netbooks.
Then in early April, a Microsoft executive announced that an NPD Retail Tracking Service study showed that Microsoft owned 96 percent of the netbook market and that Linux netbook returns were four times higher than with Windows.
A Canonical (Ubuntu Linux) executive and others quickly disputed the MSI and Microsoft claims. For one thing, it has been noted that the NPD story apparently only looked at brick-and-mortar retail instead of online sales, and did not cover international sales.
Still, other anecdotal evidence, as well as a study by Ovum, appeared to suggest a slippage in Linux netbook market share. Ovum did not publicly report exact percentages, but reported that the Linux netbook share has dropped considerably in recent months. Many believe the major cause for the gap is Microsoft dropping the price of Windows XP and applying other channel and vendor pressures.
There is also some anecdotal evidence that Linux return rates are somewhat higher than Windows netbooks, as Dell's Finch seems to suggest. Yet no research firm, as far we know, has substantiated the claim for significantly higher Linux netbook return rates, let alone by a factor of four or five. In the classic Microsoft F.U.D. tradition, however, the company continues with its four-times-higher-return-rate claims without showing any evidence.
Meanwhile, Examiner.com posted a story from OpenSource World, reporting on several other panels that had promising things to say about the prospects for Linux in netbooks and smartphones. Although the story is titled, "Linux makes headway in netbooks, smartphones," it did not reveal any recent evidence that Linux had actually had made progress with netbooks.
Still, there are plenty of signs for hope. Dell and others are said to be prepping Android netbooks, and low-power ARM-based netbooks and "smartbooks" are heading for shelves this holiday season, as well as being distributed via wireless carriers. On Intel Atom netbooks, Moblin 2.0 should offer a richer Linux experience that is more targeted at the netbook format.
In the other corner, there's Windows 7, which could very well continue Microsoft's dominance as long as it doesn't get greedy and charges too much. Yet waiting on the horizon, Google is prepping Chrome OS for the netbook market, which could pose even greater competition for Windows.
Availability
Gavin Clarke's story in The Register, "Dell: Linux v Windows netbook returns a 'non-issue'," may be found here.
A transcript from the recent speech from Microsoft's Kevin Turner may be found here.
The PC World story on Finch's speech may be found here.
The Examiner.com story about netbook panels at OpenSource World should be here.
---
This article was originally published on LinuxDevices.com and has been donated to the open source community by QuinStreet Inc. Please visit LinuxToday.com for up-to-date news and articles about Linux and open source.