Nov 23, 2010 — by Eric Brown — from the LinuxDevices Archive — views
Acer announced three Android tablets due in April 2011, as well as a "Clear-Fi" media-streaming service and an "Alive" app store. The Android tablets include a Dell Streak-like 4.8-inch, telephony-enabled "smartphone" model with 1024 × 480 resolution, a dual-core, seven-inch, 1280 × 800 tablet, and a 10.1 inch model with 1080p video playback.
Acer today followed through on CEO Gianfranco Lanci's October tip that his company would announce a number of Android and Windows tablets in November. Acer was sparing wth public details on the three tablet prototypes, which appeared to be displayed running Android 2.2. (The devices may well bypass Android 2.3, and jump to the allegedly tablet friendly Android 3.0.)
A 4.8-inch Android smartphone "with the soul of a tablet" as well as seven- and 10.1-inch Android tablets are slated for an April 2011 release. According to a BusinessWeek report from the launch event, Acer said the two larger tablets would range in price from $299 to $699.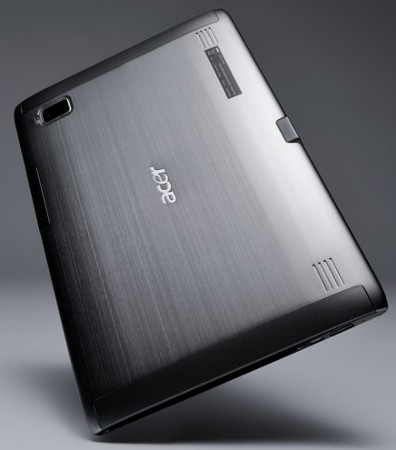 Acer 10.1-inch Android tablet prototype
Acer also announced a Windows 7-based "Iconia" notebook, which offers dual 14-inch touchscreens instead of a physical keyboard, along with an AMD-based tablet that has a 10.1-inch screen and also runs Windows. For more on these, see today's coverage in our sister publication,
WindowsForDevices
,
here
.
In addition, Acer announced Clear-Fi, which is billed as a sort of unified streaming service that that shares media among different devices via drag-and-drop. It also announced an Alive app store and online service that appears to offer a push content service controlled by filters. These services appear to be headed for all the Acer devices unveiled today.
Acer next generation smartphone
The 4.8-inch "Acer next generation smartphone" immediately draws comparisons with the five-inch Dell Streak, the only other major 3G-telephony-enabled Android device to bridge the gap between the smartphone and tablet formats. Similarly touted for its tablet-like features, it blows away the Streak on resolution, offering 1024 × 480 pixels on its LED backlit display as opposed to the Streak's 854 x 480 (WVGA) resolution.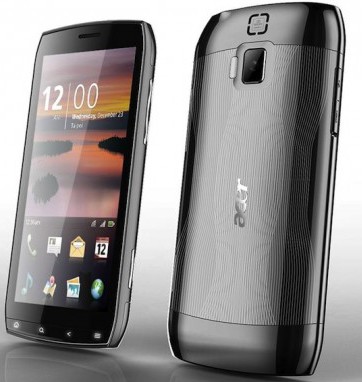 Acer next generation smartphone prototype
The Acer smartphone runs on a 1GHz Qualcomm Snapdragon processor, and offers a unique, "stretched out, thin and slightly curved shape," says Acer. The "full metal" design is highlighted by a slim, 64mm (2.52-inch) width, giving it a signature 21:9 aspect ratio. Together with the high resolution, the aspect ratio is touted for optimizing movie playback and web page displays.
The phone also provides six-axis motion sensing (gyroscope plus accelerometer), as well as Home, Search, Back, and Menu buttons, says the company.
Communications are supplied via 14.4 HSDPA 3G cellular service, as well as 802.11n and Bluetooth 3.0, says Acer. An HDMI port is also said to be provided, as is Dolby Mobile audio technology. In addition, an eight-megapixel camera with LED flash is placed on the back of the camera while a front-facing two-megapixel camera supports "high quality IP video calling," says the company.
The Android browser is said to offer multitouch, Javascript optimization, Adobe Flash Player 10.1, and multiple page opening capabilities. DLNA streaming is also said to be provided. The software includes Contacts, Google Maps, Email, and Instant Messaging, says the company.
Acer's previous Android smartphones include the 1GHz Snapdragon-based Stream phone announced in May, which offers a 3.7-inch AMOLED WVGA display and a five-megapixel camera. Earlier models included several variations on its Snapdragon-based Liquid phones.
Acer's seven-inch Android tablet
Acer offered fewer details on its larger Android tablets, both said to be due in April. The seven-inch model is equipped with an unnamed dual-core processor, and offers an even higher resolution display than the Acer smartphone, with 1280 × 800 pixels and a 16:10 aspect ratio, says Acer.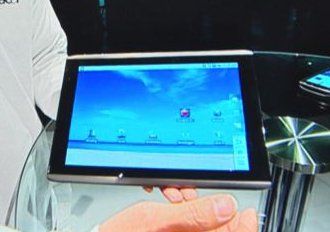 Seven-inch Acer tablet at launch event
Source: Engadget
Wi-Fi and 3G communications are supplied, as is a front-facing camera primed for video chat and video recording, says the company. An HDMI port with DLNA support is also said to be supplied, as well as Adobe Flash Player 10.1.
According to Engadget, which posted the photo shown above, the seven-inch tablet is equipped with a 1.2GHz dual-core processor from Qualcomm. This presumably is one of the next-generation dual-core Snapdragons announced in June.
Acer 10.1-inch Android tablet
Acer lists no details on the processor of the even more mysterious 10.1-inch Android tablet, but an IDG News report says that this is the model with the dual-core processor made by Qualcomm, as opposed to the seven-incher. According to both Fast Company and Gizmodo, however, the 10.1-inch tablet's processor is a dual-core, Cortex-A9-based Nvidia Tegra 2 clocked at 1GHz.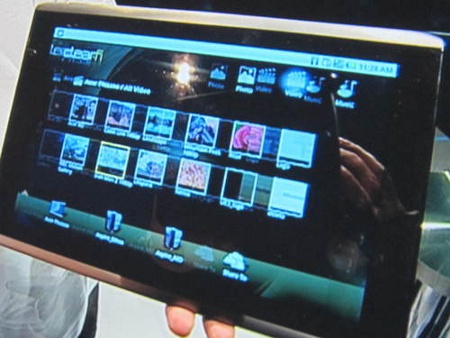 10.1-inch Android tablet at launch event


Source: Gizmodo
The 10.1-inch model offers a capacitive touchscreen of unstated resolution, although
AndroidCommunity
says it's the same as the seven-inch tablet: 1280 x 800 pixels. Acer claims 1080p playback capability, but is not explicit as to whether that refers to a TV connected through the device's supplied HDMI port or locally. Meanwhile,
AndroidCommunity
claims it's actually 720p half-HD capability, which would fit with the Tegra 2 scenario.
The story also notes the presence of a four-megapixel, rear-facing camera and says the tablet will run — using quotes of its own — the "Google Android Tablet OS," which sure sounds to us like Android 3.0.
Other features include Wi-Fi, 3G , and "10 point multitouch and gyro meter control," says Acer. The company also said the aluminum casing is 0.52 inches (13.3mm) thick.
In May, the Acer tablet buzz started when Acer's Lanci showed off a prototype seven-inch color tablet that runs Android. Then in July, Acer was rumored to be launching both seven-inch and ten-inch ARM-based Android tablets in the fourth quarter. This was followed in October by CEO Lanci's tip of today's launch.
Availability
The Android smartphone tablet and two larger Android tablets are due to ship in April 2011, says Acer. More information should eventually appear on Acer's website, here.
The BusinessWeek story on the Acer tablets may be found here, and the Engadget story should be here.
The IDG News story on the tablets should be here. The Fast Company story on the tablets may be found here, while the Gizmodo story should be here.
The AndroidCommunity story on the 10.1-inch tablet may be found here.
---
This article was originally published on LinuxDevices.com and has been donated to the open source community by QuinStreet Inc. Please visit LinuxToday.com for up-to-date news and articles about Linux and open source.