Mar 1, 2011 — by LinuxDevices Staff — from the LinuxDevices Archive — 2 views
AMD has been touting its "Fusion" line of "accelerated processing units" — devices incorporating x86 CPUs along with graphics on a single die. But now the company has announced three G-Series processors that are distinctly un-fused: aimed at headless embedded applications, they save power by leaving the graphics out.
AMD's Fusion devices all incorporate one or more instances of the x86 CPU core codenamed "Bobcat." This features an out-of-order execution engine — which breaks data apart and allows for instructions to run in parallel — plus clock and power gating that can extend battery life, according to the company.
The chipmaker has said its "2011 mainstream platform" — to be available by the middle of this year — will feature the A-series "Llano" processor, including up to four Bobcat cores. This will deliver performance of more than 500 gigaflops, according to the company.
The first Bobcat implementation, however, is the "2011 low power platform," which seeks to rival Intel's Atom. Mobile versions — the 1.6GHz E-350, 1.5GHz E-240, 1.0GHz C-50, and 1.2GHz C-30 — were announced at January's Consumer Electronics Show (CES), and have since started showing up in portable computers (and AMD-powered tablets, too).
As we review later in this story, AMD then followed up the E- and C-Series versions with the G-Series, targeting embedded devices. Five different offerings — the 1.6GHz T56N, 1.4GHz T48N, 1.0GHz T40N, 1.5GHz T52R, and 1.2GHz T44R — were announced in January, with TDPs of either 9 Watts or 18 Watts.
Off with their heads
Like the E- and C-Series before it, the G-Series has been hyped as delivering better graphics than Intel's Atoms, not to mention the "Sandy Bridge" Cores. (Intel's chips can only manage DirectX 10, whereas the Fusion offerings do "full" DirectX 11 and have dedicated hardware for HD video, according to AMD.)
Nonetheless, AMD apparently heard from potential customers who don't need graphics, and would rather shave a few Watts off their power budget. The chipmaker used today's Embedded World conference in Nuremberg, Germany to announce three "headless" additions to the G-Series, targeting embedded devices that do not need to drive screens.
The new offerings, which were not named or further detailed, have TDPs of five Watts or 18 Watts, according to AMD. While omitting the ATI-derived GPUs, they respectively offer single- or dual- Bobcat cores, we presume.
Buddy Broeker, director of embedded solutions for AMD, stated, "We know that the ground-breaking AMD Embedded G-Series APUs address a significant trend toward a high-performance visual component in many embedded systems, but there also remains a core market that can benefit from a stand-alone 'Bobcat'-based CPU and we are responding to that need."
AND also announced what it termed a new Systems and Technology track for its AMD Fusion Partner Program, offering "embedded solutions providers personalized incentives and tools, training and technical enablement resources that align with their individual business objectives." The program is designed to help vendors sell all-AMD embedded solutions, according to the chipmaker.
AMD also says it has developed a Reference Design Kit [PDF link] for storage and media servers aimed at small and medium businesses and home offices. Including "fully-tested schematics and layout source files," the design is based on Turion II Neo and Athlon II Neo processors with the AMD SR5650 chipset. Compatible with Windows or Linux, it features ECC memory, RAID, and up to four SATA drives, the company adds.
Background
AMD first discussed its new x86 microarchitectures during a Stanford University conference last year. Then, in advance of any formal announcements, it provided additional information and sample hardware to technical reviewers, who hailed the devices as potential Atom-beaters.
| | | | | | |
| --- | --- | --- | --- | --- | --- |
| Model | CPU Cores | CPU Clock Speed | Number of GPU Cores | GPU clock Speed | TDP |
| AMD E-350 | 2 | 1.6GHz | 80 | 500MHz | 18W |
| AMD E-240 | 1 | 1.5GHz | 80 | 500MHz | 18W |
| AMD C-50 | 2 | 1.0GHz | 80 | 280MHz | 9W |
| AMD C-30 | 1 | 1.2GHz | 80 | 280MHz | 9W |
AMD's E-Series and C-Series processors
The mobile E-Series and C-Series versions that were revealed at CES are shown in the table above. They're already been adopted in a variety of Windows-powered portable computers, including Acer's Aspire One 522, HP's Pavilion dm1z, Lenovo's ThinkPad X120e, MSI's U270, and Toshiba's Satellite C655D.
| | | | | |
| --- | --- | --- | --- | --- |
| Model | Clock speed | Cores | Graphics | TDP max |
| T56N | 1.6GHz | 2 | HD6310 | 18W |
| T48N | 1.4GHz | 2 | HD6310 | 18W |
| T40N | 1.0GHz | 2 | HD6250 | 9W |
| T52R | 1.5GHz | 1 | HD6310 | 18W |
| T44R | 1.2GHz | 1 | HD6250 | 9W |
AMD's embedded G-Series processors
Meanwhile, the five G-Series parts (above) announced later in the month took AMD's fight against the Atom into embedded territory. According to AMD's analysis (below), its two-chip platform is about 13 percent smaller than Intel's Atom E6xx platform, and 60 percent smaller than the Atom 4xx/5xx ("Pineview") platforms.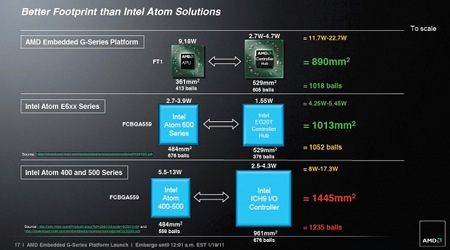 AMD's Fusion chipsets offer a smaller footprint than those for Intel's Atom
Source: AMD
(Click to enlarge)
It's clear that the Fusion chipset, at 19 x 19mm for the APU and 23 x 23mm for the controller hub, is not only more compact than Atom solutions, but also more graphically adept. But total power consumption favors Intel in all cases, as AMD's slide conceded: That's precisely the issue the new decapitated G-Series versions are apparently intended to address.
All previously announced G-series devices feature 64KB of L1 cache, plus 512KB of L2 cache per processor core, according to AMD. They're designed to work with DDR3 memory, except for the T40N, which instead employs LVDDR3, the company adds.
According to AMD, each G-series device offers 4×1 or 1×4 PCI Express lanes on the APU, six SATA ports (6Gbps), 14 USB 2.0 ports, HD audio, plus SPI, LPC, and SMBus interfaces. One of two pin-compatible, "Hudson" I/O controllers may be employed, the company adds: either the A50M (also used by the E-series and C-series) or the embedded-specific A55E.
AMD says the A55E provides added functionality including a gigabit Ethernet MAC, RAID (0/1/5/10) support with FIS (frame information structure)-based switching, and a 32-bit PCI interface. The A55E also is said to use PCI Express Gen 2 for its UMI (unified media interface) connection to the G-series APU, presumably offering a dollop of extra speed thereby.
Further information
Further information, including details of a mini-ITX development board from AMD known as the DB-FT1, may be found on the company's G-series product page.
---
This article was originally published on LinuxDevices.com and has been donated to the open source community by QuinStreet Inc. Please visit LinuxToday.com for up-to-date news and articles about Linux and open source.