Feb 2, 2010 — by Eric Brown — from the LinuxDevices Archive — views
Days after a hacker broke open the inner multi-touch capabilities of Google's Nexus One, Google announced it is now offering pinch-to-zoom capability on the Android phone via a software update. In other Google news, the company has posted pictures of the Linux-based Chrome OS running on a tablet prototype.
Several days ago, Android hacker Cyanogen (Steve Kondik) posted Android 2.1 code that enables multi-touch capabilities on Google's Nexus One phone (pictured below, at right). Now, Google has announced that starting today, it is offering a multi-touch pinch-to-zoom capability to users of the Google-branded, HTC-manufactured Android handset via an over-the-air software update. The update also includes a 3G performance fix, Google Goggles, and an updated Google Maps 3.4 (see farther below). Google notes that some users may not receive the upgrade until later in the week.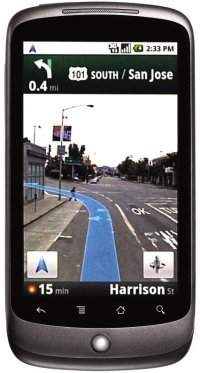 Only a few Android devices, such as Verizon's modestly appointed Android 1.5-based HTC Droid Eris, have offered active pinch-to-zoom capability, leading some to speculate that Apple had locked down its multi-touch patents for the iPhone, making certain vendors wary of enabling the inherent capability. Yet, Google has moved ahead with the feature, perhaps inspired by Cyanogen, consumer demand, or even Steve Jobs' recent town hall meeting rant about Google (he was said to have claimed that the search giant was trying to kill the iPhone, and that its "don't be evil" mantra was "bullshit").
The new pinch-to-zoom mechanism will be available in the Nexus One Browser, Gallery, and Maps applications, according to a blog post on Google's Nexus One site today. In addition, the update will offer a fix that improves the phone's spotty 3G connectivity for some suers, says Google. The company recently suggested it was preparing just such an update, following widespread complaints about the 3G performance of the otherwise well-received phone.
In addition, the update will offer the innovative Google Goggles visual search application as standard instead of requiring a download. The app lets users upload a photo, and (if you're "feeling lucky") receive matching web pages for the object that has been photographed.
Finally, the update is said to include a new version 3.4 of Google Maps, which offers synchronization with maps.google.com, enabling users to access favorite places from either the phone or a desktop computer, says Google. Google Maps 3.4 also offers search suggestions from one's personal maps.google.com history, says the company. In addition, the update is said to offer a night mode in Google Maps Navigation that automatically adjusts screen brightness at night for easier viewing and driving.
Google tips Chrome OS tablet
Google's decision to post photos of a prototype tablet running its pre-alpha stage Google Chrome OS netbook operating system was apparently inspired neither by Apple's iPad tablet nor by Steve Jobs' later tirade. As Clint Boulton reports in the eWEEK blog Google-Watch, the images "amazingly" had been posted well before Jobs' comments, and in fact two days before the Apple iPad announcement, without drawing much notice until now.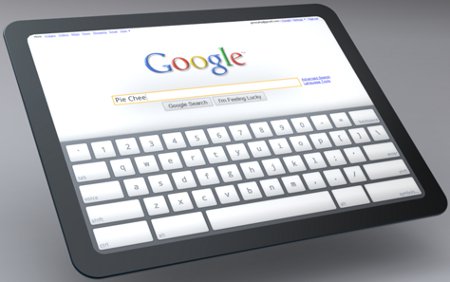 Chrome OS tablet concept with straightforward QWERTY …
The photos were posted on a Google Chromium project page by Google Chrome designer, Glen Murphy, where they can still be ogled, along with a video (see link below). The images are described as "visual explorations" of Chrome OS interfaces that might suit the tablet format.
When Chrome OS was introduced in open source bits and pieces in November, the company stressed netbooks as the primary focus for the operating system. However, with tablet fever running high at last month's CES several weeks before the iPad announcement, and with numerous Android and Linux-based models being announced, tablets have been speculated as a Chrome OS target as well. Indeed, on the surface there is not much difference between a tablet and touchscreen netbook on the one hand, and a tablet and a large MID on the other.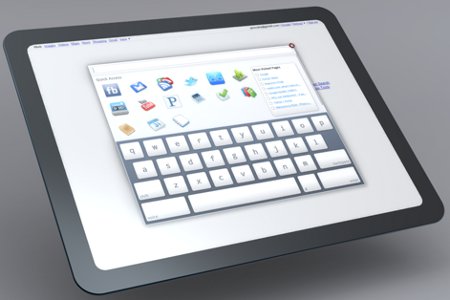 …or a simplified version…
In particular the Google images reveal a variety of different versions of onscreen keyboard interfaces, from a standard, Android-like display to a split screen that appears to be designed for double thumb usage. Particular themes in the photos are said to include:
Keyboard interaction with the screen: anchored, split, attached to focus
Launchers as an overlay, providing touch or search as means to access web sites
Contextual actions triggered via dwell
Zooming UI for multiple tabs
Tabs presented along the side of the screen
Creating multiple browsers on screen using a launcher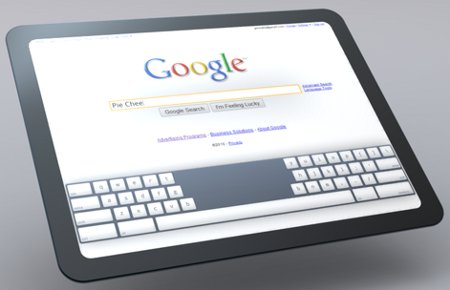 …or a split keyboard
The short concept video, meanwhile, shows an animation of multi-touch capability that either features somebody with very small hands or a version of a Chrome OS netbook that is much larger than expected. In the video, the user manipulates several windows simultaneously using all five fingers of both hands. In any case, the video and images appear to show an interface at the highly conceptual stage. It may take many months before we see the real thing.
Availability
The Google blog about the new Nexus One Android update may be found here.
The Chromium page with the conceptual Chrome OS tablet images and video may be found here, and the Google-Watch story on the images should be here.
---
This article was originally published on LinuxDevices.com and has been donated to the open source community by QuinStreet Inc. Please visit LinuxToday.com for up-to-date news and articles about Linux and open source.