Dec 2, 2010 — by Eric Brown — from the LinuxDevices Archive — views
Google Hong Kong released a preview video of Android 2.3 showing new UI elements and voice command enhancements, says an industry report. Meanwhile, a Nielsen study says that Android is gaining on Apple's iPhone as the second-most desired smartphone among U.S. consumers, while Royal Pingdom says iOS still leads in worldwide mobile traffic, according to eWEEK.
On Nov. 23, Google Hong Kong posted a Cantonese-language video tutorial of new Google Voice Search features found on Android 2.3 ("Gingerbread"). However, the YouTube video (below) got very little notice until today when AndroidPolice got wind of it.
While there does not appear to be anything particularly revolutionary about the new voice search features, the video does show off the new green-themed Android 2.3 user interface. The mobile operating system upgrade will be released as early as next week, according to some reports.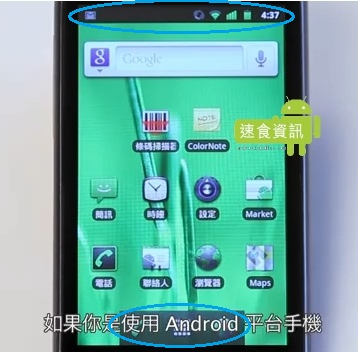 Android 2.3 interface


Source: Google Hong Kong; AndroidPolice
Other
spy shots
of alleged Android 2.3 phones have emerged. However, this leak appears to offer the first video, as well as the most extensive look at the UI overhaul.
So far, the only new Android 2.3 detail confirmed by Google has been the implementation of NFC short-range wireless support. Yet, Gingerbread has been widely rumored to feature an overhaul of Android's icons and other aspects of the user interface, thought to be the work of former Palm employee Matias Duarte.
Android 2.1 has also been rumored to feature video chat support leveraging the Google Talk protocols and SIP (session initiation protocols), as well as support for Google Voice, enabling users to receive calls through Google Voice over a Wi-Fi connection. Google TV and Google Music integration may also turn out to be part of the new release.
As for the once-rumored optimization for tablet-sized screens, the general consensus is that the full "tablet" version of Android will await next year's Android 3.0 "Honeycomb." However, some tablet enhancements may emerge in Gingerbread as well.
Google Hong Kong video of Android 2.3 voice features on YouTube


Source: Google Hong Kong
(Click to play)
Nielsen: Android gaining in "most desired" category
The Nielsen Company has released a report on consumer plans for buying smartphones, suggesting that Android is gaining on Apple's iPhone as the most desirable smartphone platform among U.S. consumers.
Mobile-phone users who are upgrading to a smartphone next year indicated that Apple's iOS and the Android operating system were their most likely choices. This is according to an October survey from Nielsen of 4,900 phone users in the U.S.
Some 35 percent of current U.S. smartphone owners said they would pick an iPhone, while 28 percent of smartphone owners said an Android handset was on their wish list. Thirteen percent of smartphone users said they were not sure what device they wanted, while 15 percent would pick a RIM Blackberry model, says the study.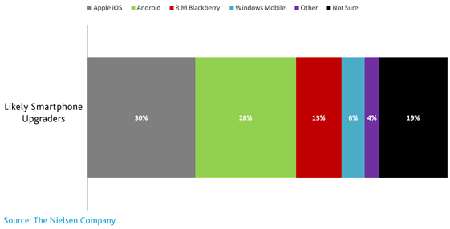 Next desired smartphone operating system, Oct. 2010
Source: Nielsen
(Click to enlarge)
When all likely U.S. smartphone upgraders were polled, Android pulled closer with the same 28 percent mark compared to the iPhone's 30 percent. What's more, when asking featurephone owners about their upgrade plans, Android led the way with 28 percent compared to the iPhone's 25 percent, says Nielsen.
Apple's iPhone and smartphones based on RIM's BlackBerry are tied with 27 percent of U.S. smartphone market share based on U.S. ownership, says Nielsen. Android follows with 22.7 percent.
Android: The middle-aged guy phone
Desire for Apple's iPhone was greater than Android and all others among those aged 18 to 24, 25 to 34, and 55 and older, says the Nielsen study. Interestingly, those aged 35 to 54 were slightly more apt to pick an Android device.
Out of 9,200 respondents in the Nielsen study, women were more likely to choose an iPhone than an Android phone (31 percent to 22 percent), while men were more likely to choose an Android device over an iPhone (33 percent to 29 percent). Verizon Wireless's masculine marketing campaign for its Droid smartphones clearly contributed to this scenario, eWEEK's Boulton notes in his story covering the research.
A second quarter study by Nielsen published in September estimated that Android had grown to be the most popular operating system among U.S. smartphone buyers in the previous six months, with 32 percent share. Nielsen also said at the time that Android had grown to represent 19 percent of smartphones used in the U.S.
Royal Pingdom: iOS still leading in worldwide mobile traffic
A Clint Boulton story in eWEEK also reported on a recent Royal Pingdom study, which crunched its own mobile OS numbers using web traffic data from StatCounter. The researcher found that, while Symbian leads in mobile market share worldwide, iOS "is pretty much blowing away the rest of the competitive field, leading in more than 30 countries," writes Boulton.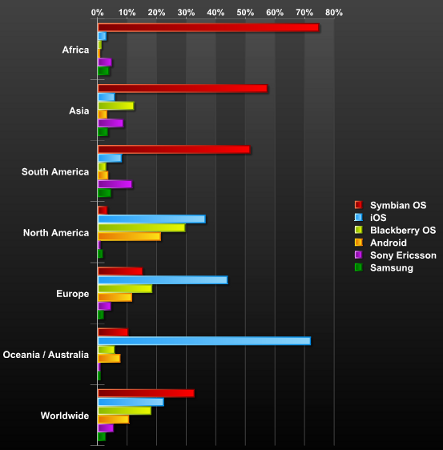 Mobile OS worldwide market share based on web usage


Source: Statcounter; Royal Pingdom
(Click to enlarge)
In 21 of those countries — including Canada, Cuba, Switzerland, Australia and Ireland — more than 50 percent of the mobile Web traffic came from iPhone or iPod Touch. By contrast, Android accounts for more than 50 percent of the mobile Web traffic only in South Korea, the home of Samsung and its Galaxy S line of Android phones, says the story.
The Royal Pingdom/Statcounter mobile ad traffic numbers for North America show Android in third place behind iOS and RIM. However, other mobile ad traffic firm surveys have shown Android much higher, at least in the U.S. For example, last month Millennial Media estimated that Android now matches Apple's iOS in U.S. ad impressions, with each mobile operating system garnering 37 percent.
Availability
The AndroidPolice story on Google Hong Kong's Android 2.3 preview video may be found here. If the above video is removed or does not play, you can try some of the mirrored sites supplied by AndroidPolice, which also offers more still images from the video.
The Nielsen report on likely smartphone upgrades, including many more charts, may be found here, and the eWEEK story on the study should be here.
The Royal Pingdom and Statcounter study on worldwide mobile traffic may be found here.
---
This article was originally published on LinuxDevices.com and has been donated to the open source community by QuinStreet Inc. Please visit LinuxToday.com for up-to-date news and articles about Linux and open source.