Nov 30, 2010 — by Eric Brown — from the LinuxDevices Archive — views
More photos have been posted of an "LG Star," rumored to be the first Android smartphone to offer a dual-core Nvidia Tegra 2 processor. Meanwhile, a more imminent LG Androider called the LU3000 has been tipped in South Korea, and the FCC has posted details on two Samsung Android phones, one of which appears to be the rumored Nexus S.
LG Electronics' LG Star was first tipped two weeks ago by Engadget, which suggested it would be the first smartphone to run on Nvidia's Tegra 2 dual-core processor when it ships in early 2011. Based on dual ARM Cortex-A9 cores, the Tegra 2 is generally clocked to 1GHz. The Optimus-branded phone will offer an eight-megapixel camera, microSD expansion, and a 1500mAh battery, and support 1080p video recording, said Engadget.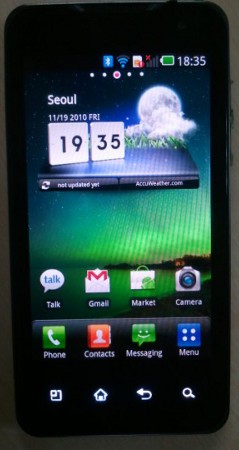 A spy shot of the LG Star
Source: Phandroid
Now
Phandroid
has
published
some new photos of the Star showing the device actually running Android — or more specifically Android 2.2. The photos also point to another uncovered feature: an HDMI port, shown below.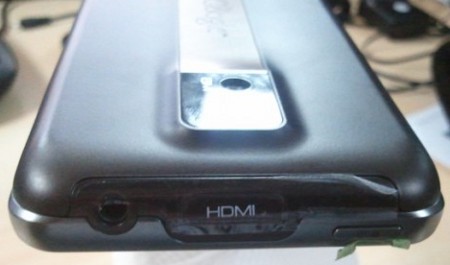 LG Star, showing HDMI-out port
Source: Phandroid
LG LU 3000
Closer to market, it would seem, is an LG LU3000 Android phone that has been tipped with fairly minimal details in South Korea, according to a story in TrustedReviews. The LU3000 features a 3.8-inch WVGA IPS (in-plane switching) screen, a five-megapixel camera with autofocus, and an HDMI port with support for 1080p video, says the story.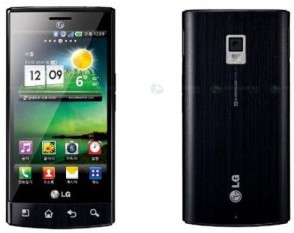 LG LU3000
Source: TrustedReviews
The LU3000, which is again expected to carry the Optimus brand, is said to run Android 2.2 on a 1GHz Texas Instruments
OMAP3630
. This is the same processor used by the Motorola Droid X and Droid 2.

Comparison of LG LU3000 (left), Samsung Galaxy S, and iPhone 4 on YouTube
Source: "qkrwjddnr2"
(Click to play)
No more details were forthcoming, but
TrustedReviews
posted a new
YouTube
video from a "qkrwjddnr2" in Korea. Seen above, the short video shows a purported speed comparison test between the LU3000, a
Samsung Galaxy S
, and an Apple iPhone 4. As you might have guessed, the LU3000 wins handily.
Nexus S and R700 Samsung Android phones spotted on FCC
Rumors of a Google-branded Nexus One follow-up, called the Nexus S and made by Samsung, have been backed up by some Federal Communications Commission (FCC) pages that register two new Samsung phones. The pages were identified by Phone Scoop which reports that both devices are suspected to run Android, and that one is clearly the Nexus S.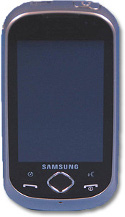 The other phone is called the Samsung R700, pictured at right in an FCC shot. It has a camera, a headset jack, and lock keys, says our sister publication, eWEEK, which took a closer look at the FCC pages. The R700 supports dual-band CDMA with EvDO (Evolution Data Optimized) 3G, says the story.
The higher end model is the GT-99020T, otherwise known as the Nexus S. This appears to be similar to a previously submitted Galaxy S phone, with the key differences, according to the Samsung application, being the antennas for Wi-Fi/Bluetooth and for GPS. This would suggest the phone maker is working to avoid the antenna issues faced by the Samsung Galaxy S, says eWEEK.
Just as the Apple iPhone 4 experienced a loss of signal bars when the bottom left corner of the device was covered by a user's hand, so, too, did the Galaxy S, according to reports. In neither case did the problems appear to do much to hurt sales, however. Within 45 days of releasing the Galaxy S, Samsung announced it had sold one million of the smartphones in the United States.
According to eWEEK, the Nexus S is equipped with a four-inch Super AMOLED (active-matrix organic light-emitting diode) display and runs Android 2.3 on a Samsung Hummingbird — a 1GHz processor that is also integrated in the Galaxy S. Also expected is support for EDGE/GPRS/HSUPA networks, and GPS, says the story.
Nexus S rumors emerged a month ago when the phone was referred to as the Nexus Two. The rumors were reinforced two weeks ago with more rumors, including upcoming availability at Best Buy.
About the same time, Google CEO Eric Schmidt flashed a phone rumored to be the Nexus S at the Web 2.0 conference. Schmidt did not identify the phone, but said that it ran Android 2.3 and would debut that upcoming release's new NFC short-range wireless support.
Last week, XDA-Developers posted some photos of an alleged Nexus S phone said to be running Android 2.3 (pictured below).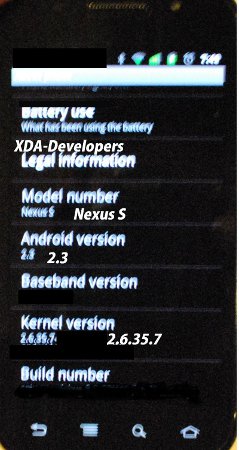 Alleged screenshot of Nexus S running Android 2.3, with XDA-Developers' translation of fuzzy text overlaid in white


Source: XDA-Developers
The site summed up the rumors to report that the phone runs on the
Samsung Orion
, a recently announced dual-core, 1GHz ARM Cortex-A9 processor. Equipped with either 328MB or 512MB of RAM, and either 1GB or 2GB of internal flash, the Nexus S is said to support 720p video, says
XDA-Developers
. The four-inch screen offers 800 x 480 resolution and may possibly offer the second generation of Super AMOLED, says the story.
---
This article was originally published on LinuxDevices.com and has been donated to the open source community by QuinStreet Inc. Please visit LinuxToday.com for up-to-date news and articles about Linux and open source.