Sep 7, 2010 — by Eric Brown — from the LinuxDevices Archive — views
Sweden-based People of Lava has begun taking pre-orders for its "Scandinavia Window to the World" line of Android-based HDTVs, and the platform apparently impressed observers at the IFA show. Meanwhile, Samsung is considering making Android-based TVs too, says an industry report.
People of Lava announced its Scandinavia Window to the World IPTVs in April. Pre-orders for the 42-inch model are now available to Swedish customers for 849 Euros (about $1,082), for delivery in October, says the company.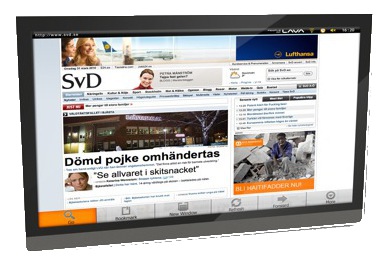 Android browser on Scandinavia TV
The Scandinavia TV interface is not as ambitious as the upcoming
Google TV
stack, which will be used in devices from Sony and Logitech. For example, it lacks Google TV's universal search interface for both TV and Internet content. On the other hand, it appears Scandinavia TV will reach market before Google TV (see farther below).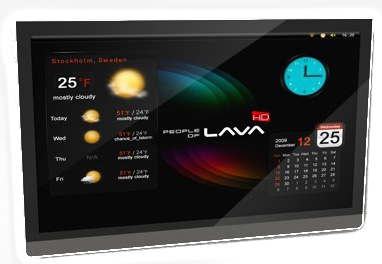 Basic apps on Scandinavia TV
As noted in our previous coverage, the Scandinavia TV runs on an "SOPC100" ARM Cortex-A8 processor clocked at 833MHz. Available in 42-, 47-, and 55-inch backlight LED models, all with 1920 x 1080 resolution, the TVs are offered with a wireless keyboard equipped with a pointer and mouse, says People of Lava.
Supporting PAL/SECAM and DVB-T TV formats, the TVs also offer IPTV support for formats such as MPEG4 and H.264 HD at 720p, says the company. The Scandinavia TVs offer a variety of inputs including S-Video and component connections, as well as three HDMI ports.
The TVs also ship with a USB port, with optional USB peripherals available. (For the full list of specifications, see our earlier coverage, here, and check out the People of Lava link at the end of the story.)
Early report calls Scandinavia TV "impressive"
The company showed off its Scandinavia TVs at the IFA show, which is underway in Berlin through tomorrow. The product has already received several positive reports, including one from IntoMobile's Will Park, who called the TV "impressive."
The Scandinavia platform is currently limited to running Android 1.5 ("Cupcake"), but the hands-on story says the customized interface is surprisingly well done. The web browser is said to do a good job of scaling web pages to the larger TV resolution.
In addition to a web browser, the Scandinavia software provides YouTube, Facebook, and other Android apps, says IntoMobile. The biggest reminder of the dated Android version is the "clunky" email client, says the story.
Park was especially impressed with the highly customized YouTube player. "What's cool here is that the videos look surprisingly good on the large screen," writes Park. "We expected all kinds of pixelation and crappy video quality, but that was thankfully not the case."
There's no Android Market support, but a proprietary App Market is said to offer a limited amount of apps. This is expected to grow with the release of Google TV, says the story. Due around the same time as Google TV, Android 3.0 is expected to offer screen resolution extensions that will make it easier for developers to offer large-screen versions of their apps for tablets and TVs.
Samsung mulls Android TV entry
Samsung, the world's largest TV manufacturer, may develop Android-powered TVs, says Bloomberg. The story quotes Yoon Boo Keun, head of Samsung's TV business, as saying, "We will have to see, but we are reviewing" whether the company will offer Android-driven TVs. The remarks were said to have been made to reporters on the sidelines of a technology forum in Seou.
The story does not detail whether Samsung plans to sign up for Google TV or offer its own Android interface. Samsung's TV rival Sony will offer the first Google TV television, and Logitech will offer the first set-top box using the Android-based interactive TV stack. Both devices are expected to ship by year's end.
Yoon Boo Keun is further quoted as saying, however, that one key question in Samsung's decision is whether South Korean movie, TV, and music providers will cooperate with Google. This would seem to suggest that Samsung is considering joining Sony as another Google TV partner, and that it would start close to home in Korea.
According to the Bloomberg story by Jun Yang and Pavel Alpeyev, Samsung's lead position in the TV market may be threatened by IPTV set-tops and models that enable viewers "to buy third-party video games and programs that do anything from forecasting the weather to measuring the string tension of a tennis racket."
Samsung, which uses its own Bada operating system as well as Android for its phones, is also developing an operating system (OS) that can be used for both phones and TVs, Yoon was quoted as saying. It was unclear from the story, however, whether this OS is based on Android, the Linux-derived Bada, or something else.
About half of Samsung's new 3D TVs offer Web-browsing features, and the portion will increase in coming years, Yoon was quoted as saying. Samsung aims to sell 35 million LCD TVs and four million plasma TVs this year, including more than two million sets that offer 3D features, says the story.
The company started offering 3D sets in the U.S. in March, and had sold more than one million units by Aug. 31, giving it an 88 percent share of the U.S. 3D TV market, says the story.
Availability
The 42-inch Scandinavia TV is available for pre-order in Sweden for 849 Euros (about $1,082), for shipment in October, says People of Lava. The 47- and 55-inch models should be available in Sweden and other markets by the end of the year, says IntoMobile.
The People of Lava Scandinavia page, with links to order pages, may be found here.
The IntoMobile story on the Scandinavia should be here.
The Bloomberg story on Samsung's Android TV plans should be here.
---
This article was originally published on LinuxDevices.com and has been donated to the open source community by QuinStreet Inc. Please visit LinuxToday.com for up-to-date news and articles about Linux and open source.