Jun 8, 2010 — by Eric Brown — from the LinuxDevices Archive — 4 views
At Computex last week, Logitech demonstrated its Android Harmony Link app for remote control of Google TV, says Phandroid. Meanwhile, Chinese consumer electronics giant TCL demonstrated an Android-powered alternative to Google TV, and Expert Reviews offers its praise for People of Lava's Android-powered Scandinavia TV.
Linux-based IPTV set-top boxes (STBs) have been around for several years. Some, such as the Myka Ion, offer full web access over the TV in addition to access to video-on-demand sites.
Meanwhile, Android is now being viewed as more than just a smartphone operating system. Numerous companies have been working on IP STBs and digital TVs with Android-based interfaces, allowing users to have more control over the TV viewing experience.
Most notably, Google's Android and Chrome browser-based Google TV intends to use Android not only as a conduit to online media and web access, but as a way to search and sort broadcast content. The Intel Atom-powered Google TV STBs and TVs, for example, will offer integrated search for content across TV, DVR, and the web when they debut later this year.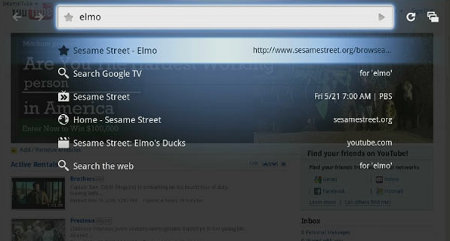 Google TV interface
Yet, Google TV is far from a slam-dunk, according to a recent survey of negative analyst comments by our sister site eWEEK (see link at the end of the story). Citing the "ghosts of WebTV," the story notes that the integration promised by Google may not be as easy as it thinks, nor go far enough to truly integrate TV and the web.
Meanwhile, several Android-driven IPTV contenders have recently popped into view, including People of Lava's Scandinavia Window to the World TV, which was announced in April and has now received a favorable review from Expert Reviews. (See later in this story for further details.)
Google TV will also see competition from semiconductor core vendor MIPS, which is a major player in STBs, is working hard with partner semiconductor vendors like Sigma Designs to incorporate Android interfaces in a range of MIPS-based STBs and TVs. By next January's CES, Android STBs and TVs should be numerous, just like the Android tablets that stole the show at Computex.
Logitech demos Harmony Link for Android
At Computex last week, Logitech showed off one crucial piece of the Google TV puzzle, says a story in Phandroid. Logitech was said to have demonstrated a Harmony Link app enabling iPhone and Android phones to control Google TV, as well as hook up to infrared-connected home entertainment equipment.
Logitech is building the Google TV companion box and accompanying keyboard-equipped Logitech Harmony Link remote device. However, it is also collaborating with Google on a smartphone app remote control alternative that was announced by Google at the launch.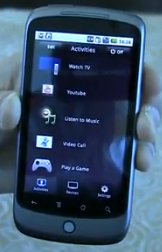 Android version of Harmony app, apparently not yet ready for demo
(Source: Phandroid, YouTube)
According to a Logitech rep who gave a demo of the app running on an iPhone in a
Phandroid
video on
YouTube,
(see below), the app is made possible because much of the well-established Harmony Link remote technology will be incorporated in the Google TV companion box. A lightweight Android or iPhone app communicates via WiFi with the box, which in turn communicates with external A/V equipment via infrared.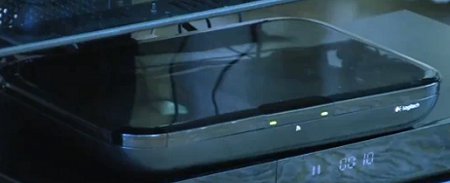 Logitech's Google TV companion box
(Source: Phandroid, YouTube)
As with Logitech's Harmony Link controllers, the smartphone app enables users to watch TV, control a TiVo box, play an XBox game, or play music CDs from a stereo system. The app can also control the Google TV UI for searching content across multiple devices, although the technology and the Android app itself were not yet yet available for demo.
At the Google TV launch, Google demonstrated the Android app offering voice control of Google TV, although this capability was apparently not demonstrated at Computex. The Harmony Link app will be fully open for Android developers to extend, says the story.
Phandroid

video of Logitech Harmony Link control app
(Source: Phandroid, YouTube)
China's TCL demos its own Google TV
Along with its Google TV partners — Sony, Logitech, Intel, and the Dish Network — Google would love to break into China, one of the fastest growing TV markets in the world. However, the falling out with the Chinese government that led Google to shut down its Google Search site in China earlier this year might make things difficult.
This could provide an opening for Chinese consumer electronics (CE) manufacturing giant TCL, which is building its own Android-based TV. According to Tech.qq.com as related on ChiniTech, TCL recently demonstrated an unnamed Android TV prototype (pictured below) that lets TV users access the Internet, chat, make online purchases, download video from VOD services, play interactive games, and run Android applications.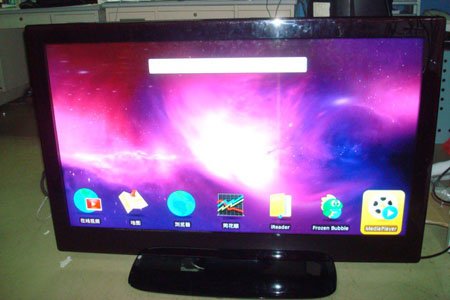 TCL's Android TV demo
(Source: Tech.qq.com)
The TCL TV can also "connect all your electronics devices to the system to remotely control them," according to
ChiniTech.
A translation of the
Tech.qq.com
story refers to this as a "home electronics equipment control" feature.
According to ChiniTech, which says TCL has been working on the project since 2008, the company plans to integrate compatible software in future Android smartphones and MIDs. Meanwhile, Tech.qq.com reports that the Android-based TV platform will be "unified and open," with support for third party applications and personalization.
According to ChiniTech, which sees the TCL platform as potentially a "good alternative to Google TV in China," the product may be stalled for sale to China "due to the Chinese laws on the control of media (especially TV)." This appears to be primarily a broadcast licensing conflict rather than a censorship issue, and is likely to be overcome, both stories suggest.
People of Lava praised as "future of TV"
Google TV was not the first Android-driven IPTV product to be announced. That would appear to be People of Lava's Scandinavia Window to the World TV. The TV runs Android 1.5 on a Cortex-A8 processor, and offers HD with 1920 x 1080 resolution, available in 42-, 47-, and 55-inch models, said the Swedish company in its April announcement.
Pricing will run between 2,000 Euros ($2,693) and 2,500 Euros ($3,366), the company said at the time.
Now, Expert Reviews' Tim Smalley has traveled to Sweden to take a closer look at the Scandinavia TV, and he has brought back a favorable hands-on review of the pre-release version. The final version is due in September, and People of Lava is now trying to bring down the starting price to as low as 1,800 Euros, says the story.
The TV is based on an LG model, which Expert Reviews says offers a very sharp picture, although with fairly muted colors at this point. The homescreen is based on a modified version of Android, and will be made available in different versions that can be customized by TV providers, writes Smalley. At this point, however, this is not a fully open IPTV platform for third-party developers, he adds.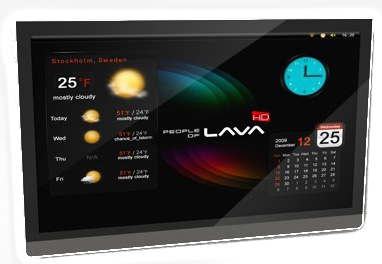 Scandinavia Window to the World TV
The Scandinavia TV currently offers the Chrome browser, but only about 25 to 30 apps, including YouTube, Twitter, Facebook, and an IM client. More apps, including Android Marketplace, will be available in People of Lava's app store by launch, the company told
Expert Reviews
.
The interface was very easy to use, says the review, although it currently lacks Google TV's unified search of TV content across both TV and web directories. Despite a few rough edges, "Overall, we came away impressed with the Scandinavia's first showing," writes Smalley. "It's the most convincing vision for the future of the living room we've seen to date."
Availability
The eWEEK story about the negative analyst response to Google TV may be found here.
The Phandroid story on the Harmony Link smartphone app for Google TV may be found here.
A translated version of the Tech.qq.com story on TCL's Android TV may be found here, and the ChiniTech follow-up should be here.
The ExpertReviews hands-on story about the People of Lava Scandinavia TV should be here.
---
This article was originally published on LinuxDevices.com and has been donated to the open source community by QuinStreet Inc. Please visit LinuxToday.com for up-to-date news and articles about Linux and open source.