Mar 18, 2010 — by Eric Brown — from the LinuxDevices Archive — 5 views
Google, Intel, and Sony are developing an Android- and Intel Atom-based IPTV and IP set-top box platform with the help of Logitech and Dish TV, says The New York Times. "Google TV" aims to bring the web and social networking services to TV viewers, and will be offered with open source Android development tools this summer, says the story.

Google has built a prototype Google TV set-top box (STB) based on an Intel Atom processor that runs Android and the Google Chrome browser, according to a Nick Bilton story in the The New York Times yesterday. The third major partners is said to be Sony, which is expected to sell STBs and TVs based on the technology. (Sony already offers a Linux-based IP STB, the DMX-NV1 Bravia Internet Video Link, pictured at right, but this works only with the company's Bravia HDTVs.) Logitech will be tapped for peripheral support while the Dish Network has begun a limited test of the technology on its satellite TV network, says the story.
The Google TV platform would appear to be one of the first examples of Android running on an x86-based Atom processor, as well as the first pairing of Android with Google's Chrome browser. According to the Times, the Google TV software will present users with a TV interface that lets them perform Internet functions like search, while also integrating YouTube and Hulu.com videos. In addition, users will be able to download Web applications, including games and social network apps, says the story.
Open source Android IPTV tools due by summer
Google will release an open source Android-based toolkit for developers within "the next couple of months," with resulting products based on the software appearing as soon as this summer, says the Times. Logitech is said to be working on a remote control "with a tiny keyboard" that will accompany the Intel Atom-based prototype.
None of the companies involved would go on record to confirm the story, according to the Times. However, as further evidence, Bilton notes that both Intel and Logitech have recently posted job listings for Android developers with audio/video expertise.
One of Bilton's unnamed sources offers the not particularly surprising insight that "Google wants to be everywhere the Internet is so they can put ads there." The story notes that Google launched Google TV Ads three years ago to sell advertising on cable and satellite networks, but that the business has grown slowly, and still represents a fraction of Google's web-related advertising business.
The WSJ spins Google dish on TV trials
The story follows up on a report last week in The Wall Street Journal claiming that Google and the Dish Network were implementing Google's Web search experience on a Dish satellite set-top. The trials for the technology enable users' search queries to retrieve both TV content and YouTube video content, said the story.
On Monday, in a followup story in our sister publication eWEEK, Clint Boulton quotes IDC analyst Hadley Reynolds as saying that the Google/Dish technology only works on Android-powered set-tops (none of which exist in commercial form as far as we know), and includes a keyboard input as well as a remote. Reynolds also argues that Google's search interface will need to be revamped in order to successful in a TV environment.
In addition, eWEEK quotes Richard Doherty, research director for the Envisioneering Group, as saying Google will advance into the TV market by three paths. It will introduce an Android-powered STB, offer the Chrome browser running on smart networked TVs and Tru2way boxes, and serve up YouTube videos on IPTVs with embedded ad links, Doherty reportedly expects.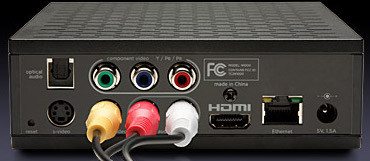 Roku HD-XR
The
Times
story notes that the IP STB market is already fairly crowded, citing new boxes from
Roku
(which recently released the Netflix-ready Roku HD-XR, (pictured above) and
Boxee
(the Boxee Box shown below at left, built by D-Link).
Bilton quotes Roku CEO Anthony Wood as commenting that a browser-based Google TV box would probably cost $200 or more, compared with Roku's $80 device, adding "On the TV, people want specific TV apps, not a browser experience."

Other IP STB contenders include Syabas Technology's Popbox, Sony's aforementioned Bravia Internet Video Link, the Neuros OSD, and many more. One of the few Intel Atom-based STBs we know of is the Myka Ion, which runs Ubuntu Linux on a dual-core Atom 330.
All the other boxes mentioned above also run Linux. However, Android-based STB designs are being developed by MIPS and Sigma Designs, following through on last year's port of Android to the MIPS processor platform, which dominates the STB market along with ARM-based processors.
If the Times report is correct, however, Google has taken the unexpected path of choosing the Atom. The only Atom-based device that we know of that runs Android is Acer's Aspire One AOD250-1613 netbook, and even here, Android is treated as a secondary fast-boot environment running on top of Windows 7.
Among many other questions the alleged Google TV platform raises is how it would relate to the new Moblin/Maemo open source Linux merger called MeeGo. The Intel- and Nokia-backed mobile distribution is aimed at "connected TVs" as well as other devices ranging from smartphones to netbooks to in-vehicle infotainment systems. In addition, the noted merger of the Chrome browser with Android suggests various intriguing possibilities, as well as potential cross-pollination with Google's Linux-based Chrome OS.
Availability
The story on the Google TV project in The New York Times may be found here. The earlier story on the Google/Dish TV trials in The Wall Street Journal should be here. The eWEEK story may be found here.
---
This article was originally published on LinuxDevices.com and has been donated to the open source community by QuinStreet Inc. Please visit LinuxToday.com for up-to-date news and articles about Linux and open source.