May 27, 2011 — by Eric Brown — from the LinuxDevices Archive — 3 views
Envizions opened pre-orders for a hackable Android-based gaming console due to ship this fall for $249, and announced an "open" developer version for a $149 per year support fee. The Evo 2 Cloud Console runs a modified version of Android 2.2 on a Samsung 1.2GHz processor with 512MB of DDR2 RAM, and offers cloud storage and social networking integration, says the company.
The Evo 2 is the successor to the Linux- and AMD Athlon-based Evo Smart Console, which was announced back in 2008, and was made available for pre-order in 2009, says Envizions Computer Entertainment Corp. The device sold out later that year, says the company, although it did not say why it chose not to build more.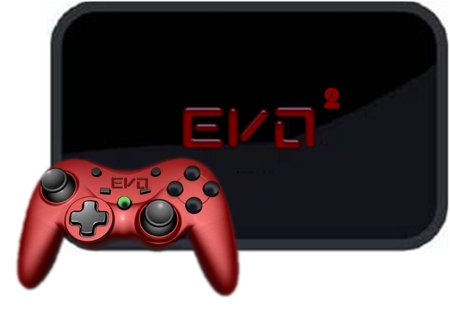 Envizions Evo 2
(Click to enlarge)
Not that Envizions did much worse than any other organization aiming to establish a viable Linux-based gaming system. From
Indrema's console
in 2000, to OpenPandora.org's
Pandora
in 2008, to GamePark Holdings'
GP2X Caanoo
in 2010, there have been some modest Linux gaming device successes, but the combined sales have never represented more than a fraction of the console market.
But Android is based on Linux, and so the dream continues.
The Evo 2 system was announced as the "GameBox" with relatively few details in January. Envizions now says the Evo 2 will run Android 2.2 on a Samsung 1.2GHz processor with 512MB DDR2 RAM. Since the company's website only offers specs on the pre-release GameBox version — which ran on an Nvidia Tegra 2 — it's unclear whether the Samsung processor is the new dual-core, ARM Cortex A9-based Exynos 4210, or a faster version of the Cortex-A8-based single-core Samsung Hummingbird.
The Evo 2 package includes the 6.7 x 4.38 x 1.18-inch (170 x 111 x 30mm) console, plus an Evo TV remote, an Evo game controller, and an HDMI cable, says Envizions. The specs previously provided for the GameBox suggest the Evo 2 will be equipped with CompactFlash storage, five USB ports, an Ethernet port, an HDMI port, and both Bluetooth and 802.11 b/g/n Wi-Fi. Video support is listed as MPEG2, H.264, H.263, and VC-1 at up to 1080p quality.

Evo 2, side view
The Evo 2 is said to "sync with your Android tablet or cell phone," although no more details were offered. Nor is it clear what sort of generic Android features and apps may be available. Envizions says it plans to add motion 3D sensor capabilities to the device toward the end of fourth quarter, presumably after the first system is released.
The Evo 2 will incorporate the core software components from the previous Evo Smart Console (pictured below), says the company. Like that Linux-based unit, the Evo 2 ships with cloud-based online services, including "GameBox" cloud storage and an Evo Market Store where developers can sell their Evo games at their own prices.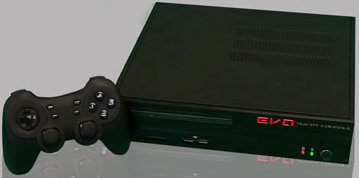 EVO Smart Console
The Evo 2 is billed is the first Android gaming console to offer users "real time gaming playlist and social friend connections." Gamers can also earn points and "Evo tokens" to buy premium Android games. There's also a new Qquip SMS blogging reward service, says the company.
Envizions says it will let customers participate in the design roadmap of the console via Twitter, FaceBook, and the Evo 2 website. The community can vote on the system's first launch location and the console's final color, package design, and product image, says the company.
An open SDK
The Evo 2 is said to be an "open console" enabling gamers to "modify any part of the system." New updates and upgrades will be released periodically after the system launch, says the company.
Developers can start testing the Evo 2 software via website download in two weeks, says Envizions. Android developers can order the free Evo hardware software development kit (SDK) today from the Envizions store with a annual $149 software support fee per unit, with developer fees and royalties waived for the first 1000 developers to sign up.
The SDK enables developers to develop new games or convert pre-existing Android games, says Envizions. Specific features are said to include:
Envizions Qquip SMS Reward Service integration via Qquip social micro-blogging tool, enabling gamers to chat, text, share news, photos and video updates, as well as earn points and rewards in real-time
Envizions GameBox Storage access
HDTV support
game playlist and friend location support
gameplay recording and sharing
EVO remote and EVO 2 game controller support
Other dedicated Android-based game devices include HardKernel's Odroid. Meanwhile, this week Sony Ericsson released its Xperia Play Android gaming phone on Verizon, according to eWEEK.
Stated Derrick Samuels, CEO and founder of Envizions, "Game development for Evo 2 is cheaper for developers so they have the opportunity to create games on a platform that will increase their return on investment."
Availability
The Evo 2 will be available this fall in the U.S. for $249, with plans for an international release with availability in certain locations of Europe. More information may be found on the Envizions Store.
---
This article was originally published on LinuxDevices.com and has been donated to the open source community by QuinStreet Inc. Please visit LinuxToday.com for up-to-date news and articles about Linux and open source.