Oct 13, 2010 — by LinuxDevices Staff — from the LinuxDevices Archive — 1 views
Android is behind the second-quarter successes of HTC, Motorola, Samsung and Sony Ericsson, reports iSuppli. Meanwhile, global smartphone sales during the quarter reached 60.4 million units, up from 55.8 million units during the first quarter, representing a growth of 8.2 percent, says the research firm.
What do the fastest-growing smartphone brands have in common? They run Google's Android operating system, according to market research firm iSuppli. Citing global smartphone market share figures for the second quarter of 2010, iSuppli analyst Tina Teng in an Oct. 12 report called Android the "secret sauce" the handset makers are on to.
"Every brand that has put effort into designing smartphones using Google's mobile operating system is riding the Android wave," Teng said in the report. "From the spectacular growth of HTC and Samsung, to the steady advances of Motorola, Android is the secret sauce for smartphone growth for many companies in 2010."

HTC, which makes the Droid Incredible (pictured at right) and Evo 4G, among other handsets, led the industry in growth during the second quarter with a rate of 63.1 percent, compared with the quarter before. HTC shipped 4.9 million smartphones in the second quarter, versus 3 million during the first quarter.
Samsun

g, which put in the second most impressive growth performance, thanks to the strength of its Galaxy S line of smartphones (pictured at left), posted a 55.6 percent sequential growth rate, shipping 2.8 million smartphones, versus 1.8 million the previous quarter.
Sony Ericsson, which arrived later than others to the party, posted 15.4 percent growth, with shipments of 1.5 million smartphones, up from 1.3 million in the first quarter.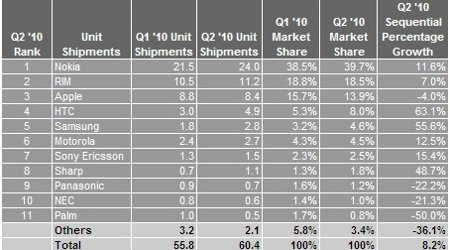 Global smartphone market share in Q2 2010 by vendor (in millions of units shipped)
Source: iSuppli

Motorola, ranking fifth in terms of growth, saw an increase of 12.5 percent in the second quarter, according to iSuppli, with shipments of 2.7 million smartphones, up from 2.4 million in the first quarter.
Also putting in an unexpectedly strong performance, though one not attributable to Android, was Sharp. Thanks to a strong market share gain in Japan, reports iSuppli, Sharp posted a growth rate of 48.7 percent in the second quarter.
Nokia, another sans-Android smartphone maker, led the quarter in terms of shipments, moving 24 million units — more than twice the number of second-ranking Research In Motion, at 11.2 million units — though Nokia's grow rate was 11.6 percent. RIM, still lower, grew by 7 percent.
The success of the Android phone makers can be attributed to carrier support, said iSuppli, with wireless operators wanting "to showcase the capabilities of their upgraded networks by offering handsets with sophisticated features to subscribers."

The carriers — for example, Sprint, which offers the HTC Evo 4G, and Verizon, which offers the Samsung Galaxy S and the Motorola Droid X (pictured) — have also turned to Android as they work to compete against AT&T's exclusive hold on the Apple iPhone.
Amid the growth of the Android handsets during the quarter, iSuppli reported that Apple shipments fell 4 percent during the quarter, though this was partly attributable to short supply.
"Apple's decline in the second quarter was because of the transition from the iPhone 3G S to the iPhone 4," iSuppli reported. "The iPhone 3G S was reaching the end of its life, causing sales to drop off. Meanwhile, Apple had trouble keeping up with iPhone 4 demand, resulting in the small decline in shipments."
Apple's market share fell from 15.7 percent during the first quarter to 13.9 percent during the second, with units dropping from 8.8 million to 8.4 million. Still, its figures were strong enough, wrote Teng, for Apple to maintain "a firm grip" on third place in the global smartphone market.
Total smartphone sales during the quarter reached 60.4 million units, up from 55.8 million units during the first quarter, representing a growth of 8.2 percent, said iSuppli.
Availability
The announcement for the iSuppli report on global smartphone sales in the second quarter may be found here.
In other Android coverage, Don Reisinger has written an analysis piece called "Android OS keeps gaining momentum: 10 reasons why," in eWEEK, here.
Michelle Maisto is a regular contributor to our sister publication eWEEK.
---
This article was originally published on LinuxDevices.com and has been donated to the open source community by QuinStreet Inc. Please visit LinuxToday.com for up-to-date news and articles about Linux and open source.