Sep 28, 2010 — by Eric Brown — from the LinuxDevices Archive — views
Android ad requests increased 39 percent month-over-month in August and 996 percent during 2010, says Millennial Media. Meanwhile, Sony Ericsson has dumped Symbian, Amazon.com may be developing an Android tablet, an IDC/Appcelerator survey claims 58.6 percent of developers believe Android's prospects are brighter than Apple's iOS, and a J.D. Power survey finds high consumer satisfaction for Android smartphones.
The good news just keeps on coming for Google and its favorite mobile Linux operating system. Not only have numerous market research reports reported rapid gains for Android in the smartphone market this year, but this week Sony-Ericsson announced it will not develop any more Symbian-based products, and will focus instead on Android.
Meanwhile, vendors have started releasing Android 2.2 tablets and color e-readers, with perhaps dozens of models due to ship this fall. This is despite Google's claim that the current version of the OS is not yet tablet ready.
Even more vendors are likely to jump into the Android tablet market next year, waiting for Android 3.0 to deliver optimized support for larger screens. If one recent rumor is to be believed, Amazon.com is preparing an Android app store, and may possibly release a tablet to match.
Now three new studies point to gains for Android in mobile traffic, developer interest, and consumer satisfaction. The first two studies look not only at smartphones but also at the larger market for connected devices.
Millennial Media: Android ad traffic up 996 percent
Today, Millennial Media released its August 2010 Mobile Mix report, claiming that Android mobile ad requests increased 39 percent month-over-month in August on its U.S.-based network. What's more, Android has grown 996 percent since January in that category, says the mobile advertising firm.
The study covers mobile devices including smartphones (51 percent of ad requests), feature phones (33 percent), and "other connected devices" (16 percent). The latter category is dominated by the Apple iPad tablet, which saw a whopping 76 percent month-to-month increase.
Despite this, Apple ad requests have remained relatively flat, says the study. This would suggest that the iPhone has lost share to Android, and to a lesser extent to RIM (BlackBerry), which saw a respectable 16 percent increase for the month thanks to sales of the BlackBerry Curve.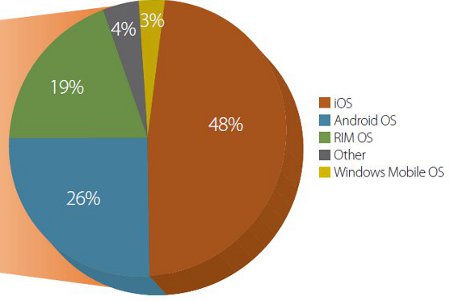 U.S. smartphone share by OS in mobile ad impressions (August 2010)
Source: Millennial Media
(Click to enlarge)
The study also released some figures that focus solely on smartphone usage (see chart above). Here, Millennial found that Android's overall U.S. smartphone share increased seven percentage points month-over-month to a 26 percent share. This still lags considerably behind Apple's iOS (48 percent), but bests third-place RIM, says the study.

Motorola, meanwhile, jumped ahead of RIM to become the third largest device manufacturer on the network (including all handsets and connected devices) for the first time since October 2009, says Millennial Media. This growth is said to be "largely tied to the popularity of the Motorola Droid," which moved up to the number two position in the August Top 20 Mobile Phones list with 9.44 percent impression share.
It is unclear whether the study covers only to the original Droid (pictured at left), or also includes the Motorola Droid 2, which debuted in early August, and the Droid X, which shipped in July.
The Droid was said to be a distant second behind the iPhone (27.67 percent), but ahead of RIM's BlackBerry Curve (6.03 percent). The sixth-place HTC Droid Incredible had the second highest traffic among Android phones at 2.66 percent, says the study.
IDC/Appcelerator: Developers see big things for Android
A joint survey of 2,363 mobile developers conducted by Appcelerator and market research firm IDC this month found that some 58.6 percent believe Android's long-term outlook is brighter than that of Apple's iOS. This is compared with 34.9 percent who rank iOS's prospects as greater than Android's, according to a Clint Boulton report in our sister publication, eWEEK.
The latest figures represent a ten percent shift in opinions in just three months, says the story. In June, Appcelerator was said to have conducted the same survey and found that 54 percent of mobile developers said Android's outlook was brightest, versus 40.4 percent picking iOS.
According to the survey, 72 percent of developers believe Android "is best positioned to power a large number and variety of connected devices in the future," compared with 25 percent for iOS.
Indeed, the developers are looking beyond the smartphone market, according to Appcelerator, which noted that respondents cited "Android's strategic advantage with developers in embedded devices, especially in emerging areas like connected TV."
About 44 percent of developers surveyed by Appcelerator said they were "very interested" in developing for the upcoming Android-based Google TV versus 40 percent who said they would prefer to build apps for the fledgling Apple TV, says eWEEK.


Logitech's Google TV-enabled Revue set-top box
Interest was also high in Android tablets, says the story. Some 62 percent expressed strong interest in Android tablets, revealing "similar enthusiasm to the iPad at an analogous point in time," according to the report. The iPad was said to have scored a 58 percent enthusiasm rating in January.
While these numbers point to the future, for the time being some 91 percent of developers said they were very interested in writing apps for the iPhone compared with only 82 percent for Android phones, says the story. This appears to be based partially on a perception that they can make more money writing iOS apps than writing Android apps, says eWEEK.
J.D. Power: Users lover their iPhones — and their Android phones
According to another eWEEK story, this time by Nathan Eddy, a J.D. Power and Associates study of U.S. smartphone users found that Apple continues to lead in customer satisfaction among smartphone vendors with a score of 800 on a 1,000-point scale. Apple and its iPhone were followed, however, by two vendors that have focused almost exclusively on Android in recent months: Motorola, with 791 points, and HTC with 781 points, says the story.
While Motorola's major Android phones are noted

farther above, HTC is known for high-end models such as Verizon's Droid Incredible and Sprint's HTC Evo 4G (pictured).
J.D. Power and Associates did not apparently reveal the actual OS share trends in terms of smartphone consumer satisfaction. However the study said that "Among operating systems measured, the Android operating platform (supported by Google); the Apple operating system used in iPhone devices; and Palm's Web OS platform perform particularly well."
The Linux-based WebOS has been acquired by HP along with Palm itself.
In feature phone consumer satisfaction, LG ranked highest, with a score of 731, followed by Sanyo, with 712 points, and Samsung followed with 709 points, says the story.
In other findings, the average reported length of time customers keep their cell phones has increased by 17 percent from 2009 to an average of 20.5 months, according to the study. J.D. Power and Associates pegged this trend to the impact of the recession, as well as to rising monthly charges, says the story.
Availability
The eWEEK story on Sony-Ericsson dropping Symbian may be found here, and the story on the Amazon.com Android rumors should be here.
The Millennial Media blog announcing its August 2010 Mobile Mix may be found here.
The eWEEK story on the IDC/Accelerator developer survey may be found here.
The eWEEK story on J.D. Power and Associates' study of U.S. smartphone satisfacation may be found here.
---
This article was originally published on LinuxDevices.com and has been donated to the open source community by QuinStreet Inc. Please visit LinuxToday.com for up-to-date news and articles about Linux and open source.