Dec 28, 2010 — by Eric Brown — from the LinuxDevices Archive — 4 views
A test build has been posted of a new music player that may appear in Android 3.0 ("Honeycomb"). In other year-end Android developments, Honeycomb is said to be coming in March, the open source VLC media player is heading for Android in early 2011, and a hacker has published a technique for forcing Android system updates.
On Dec. 24, "Johnnie93" posted test-build code, as well as a YouTube video (below), on XDA-Developers of a new Android music player app. The player is said to be a version of the one briefly shown at Google I/O back in May when Android 2.2 was announced.
As reported by Engadget yesterday, the app, which is available in .apk format, is "super buggy", but is likely to appear in the next Android release. This could be Android 3.0 or 2.4, depending on which rumor one believes.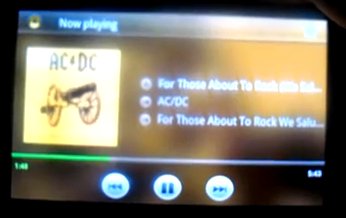 Upcoming Android music player in test build release
The video shows some new UI enhancements, which may well extend throughout Android 3.0, speculates
Engadget
's Paul Miller. These are said to include "blurred background images behind frosted glass widgets," as well as a new menu button in the top right that also appeared in Andy Rubin's brief
demo of an Android 3.0-based Motorola tablet
last month.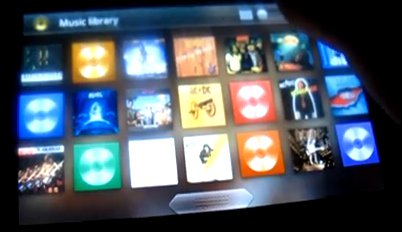 Music player with horizontal scrolling interface button on bottom
Other UI novelties include the ability to tap the application's icon in the top left to go to the app's home page. Similar icons were spotted in the Rubin demo, writes Miller.
New Android media player test build demonstrated on YouTube


Source: XDA-Developers; "Johnnie93"
(Click to play)
Android 3.0 coming in March, says report
Earlier this month, AndroidandMe posted a rumor suggesting that the tablet-ready "Honeycomb" release would be available in February, and that contrary to popular opinion, it would be Android 2.4, not Android 3.0. Now, Digitimes' Monica Chen casually mentions in the midst of a CES tablet preview that Android 3.0 will ship in March.
According to the story, MSI will show off an Nvidia Tegra 2-based Android tablet at CES next week, but the tablet will not ship until April or May "after Google releases Android 3.0 in March."
The tablet part of the rumor had already been confirmed by MSI earlier this month. MSI said the 10.1-inch Android tablet would be shown off at CES along with a Windows 7 tablet. However, it was not clear which version of Android it would run or when the tablet-optimized Honeycomb release might arrive.
VLC media player coming to Android, says report
Android's new music player will soon have a new video-oriented third-party complement, says GigaOM. The VideoLAN project's popular, open source VLC media player, the desktop version of which was upgraded to VLC 1.1 in June, will be released for Android in "a matter of weeks," according to the story, quoting lead VLC developer Jean-Baptiste Kempf.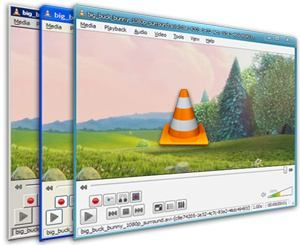 Desktop version of VLC 1.1
Available for Linux, Mac, Windows Vista, and Windows 7 desktop, computers, VLC was ported in September to Apple iOS, optimized for the iPad. Android will be its second mobile incarnation.
Progress on the Android port has been slowed by the fact that Android's multimedia output libraries are in Java, says GigaOM. Thanks to the release of an updated version of the Android NDK, with the Android 2.3 release earlier this month, the project has been accelerated, says the story. The NDK is said to make it easier to use native code for Android apps.
On the desktop, the small-footprint VLC media player is most notable for offering hardware accelerated GPU (graphics processing unit) decoding on all but the Mac platform. Version 1.1 added faster HD decoding, as well as support for the Google-sponsored WebM web media file format, which was released with Android 2.3. The royalty-free, HTML-ready WebM is based on the MKV (Matroska Video) media container, and works together with the VP8 video codec and the Vorbis audio codec.
VLC Android port progress may be tracked at the project's git page.
Quickie system updates

For those who continually find themselves clicking "Check for system updates" on their Android phones to see if the latest OTA release is available, Lifehacker may have the answer. The site posted dial-in code that is said to frequently push a phone to front of the line for an instant upgrade.
When one knows an upgrade is available, but the carrier insists the update is not ready, one can dial *#*#checkin#*#*, substituting the dial pad numbers for the letters, says the site. The trick is said to have worked with the recent Nexus S (pictured), as well as the Droid Eris and other Android phones. The technique does not always work, however, cautions the site.
For the record, Linuxdevices.com tried the trick on two different devices — a Samsung Intercept and a Motorola Droid. The former accessed only a recorded error message, while the latter successfully checked in (though no update was available).
---
This article was originally published on LinuxDevices.com and has been donated to the open source community by QuinStreet Inc. Please visit LinuxToday.com for up-to-date news and articles about Linux and open source.