May 20, 2010 — by LinuxDevices Staff — from the LinuxDevices Archive — views
[Updated, 11:00 a.m.] — As expected, Android 2.2 ("Froyo") was announced at this morning's Google I/O conference in San Francisco. Touted as including the "world's fastest mobile browser," the upgrade will include USB tethering with WiFi hotspot support, stream music from home PCs, and offer an improved online marketplace, the company says.
According to Google, Android 2.2 will be available "in the coming weeks." The first devices to be updated will reportedly be Google's own, HTC-manufactured Nexus One and Motorola's Droid, with an unspecified number of others to follow.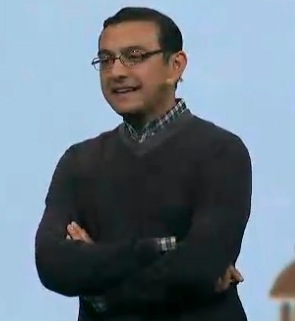 Google's Vic Gundotra announcing Android 2.2
Google Vice President of Engineering Vic Gundotra (above) told his audience that Android is now gaining 100,000 new users per day. He also announced that more than 50,000 Android apps are now available.
According to Gundotra, Froyo will include the "world's fastest mobile browser," with JavaScript performance that's two to three times faster than before. Users will be able to control their phone's cameras from within the web browser, which will also work with a device's accelerometer to provide views that shift with the angle of the phone, he added.
Gundotra also highlighted improved voice search plus support for Adobe's Flash and AIR applications framework. Citing a forthcoming beta of Adobe's Flash Player 10.1 and a related AIR upgrade, he added, "Being open means you're inclusive, not exclusive."
The collaboration with Adobe had been expected, particularly since it distinguishes Android devices from Apple's Flash-incapable iPhone OS. In late April, in an interview with The New York Times, Google VP of Engineering Andy Rubin revealed that the full desktop version of Adobe Flash 10.1 would be available on Android 2.2 later this year. Then a Google tablet prototype was demo'd at Web 2.0 running Flash on what appeared to be Android 2.2.
Improved music playback and marketplace
Google also announced what could become another key differentiator: It said Froyo will allow users to access music libraries stored on their home PC, from which they can be streamed wherever there is an Internet connection. Apparently compatible even with Apple's iTunes, the capability derives from Google's acquisition of Simplify Media earlier this year.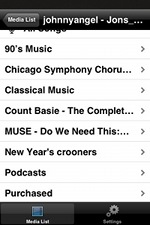 Media streaming of iTunes libraries was previously available to iPhone users via a Simplify Media app. No longer available on Apple's iTunes Store, the application still functions for those who already have it, as pictured at right.
Google also highlighted some significant improvements to the Android Market online store. Accessible from a desktop PC's web browser, the store will allow users to select their Android devices, then request OTA (over the air) downloads of new applications. No tethering will be required, according to Gundotra.
Gundotra added that updating applications will be much easier, thanks to a new one-step global update feature. And, he said, it will now be possible to install apps onto a SD card.
Faster performance
Judging from benchmarks published by AndroidPolice, faster performance may be even a bigger Froyo story than the Flash 10.1 inclusion. Running the Linpack test suite, which is specifically designed to test the performance of the Dalvik VM (virtual machine), which drives Android atop a specialized Linux kernel, the site tested a Nexus One running both Android 2.1 and then 2.2.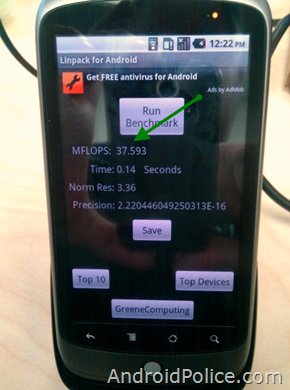 Linpack benchmark on Nexus One running Android 2.2
(Source: AndroidPolice)
The benchmarks found that the Android 2.2 configuration generated 37.593 MFLOPS, compared to about 6.5 to 7 MFLOPs for the Nexus One running Android 2.1, says the story (see image above).
AndroidPolice allowed that such 450 percent increases are not likely to be seen in most real-world benchmarks, and some apps may see a considerably smaller boost. This is because the speed increase is primarily due to the introduction of JIT (just in time) compilation into Android 2.2's Linux kernel, the website said.
The JIT compiler and Flash are the only Froyo enhancements that had been confirmed in advance by Google. Today, however, Gundotra confirmed that Android 2.2 will include USB tethering and WiFi hotspot support.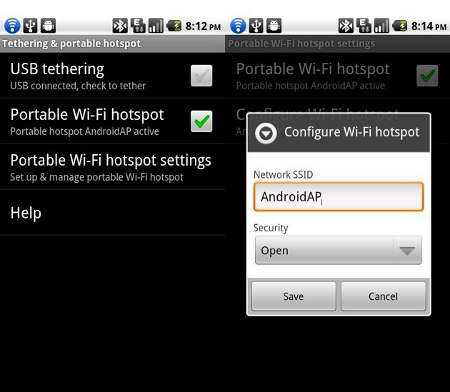 Android 2.2 screen showing USB tethering and WiFi hotspot support
(Source: TechCrunch)


Android 2.2
Source: Google
(click to play)
Availability
Live streaming of Google I/O events is available on YouTube, here. Google's Twitter feed is available here. Further information on Android 2.2 may be found on Google's website, here.
Additional reporting for this story was contributed by Eric Brown.
---
This article was originally published on LinuxDevices.com and has been donated to the open source community by QuinStreet Inc. Please visit LinuxToday.com for up-to-date news and articles about Linux and open source.