Dec 9, 2009 — by Eric Brown — from the LinuxDevices Archive — views
Android modder Cyanogen has exploited Motorola's Droid phone and gained root access, letting developers customize the smartphone with features such as multi-touch, says eWEEK. Meanwhile, Droid by Motorola was named Best Gadget of the year by Time, and Google released its Google Goggles visual search app for Android.
The Droid hack was performed by Android programmer Steve Kondik, more commonly known as "Cyanogen." The modder was recently in the news when Google's legal threats forced him to shut down his CyanogenMod project, which planned to develop modified open source Android versions of proprietary Google Apps applications.
By achieving root access on the popular Droid, users can "gain full rights to control the phone, taking the power away from the phone maker — Motorola — and its carrier Verizon Wireless," writes Clint Boulton in eWEEK.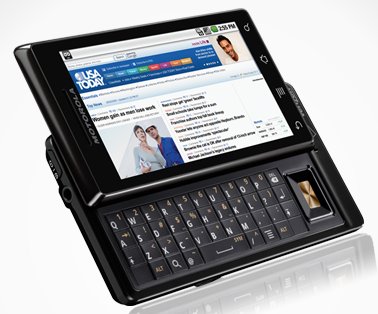 Droid by Motorola
As originally covered in
Wired
, Cyanogen tweeted his achievement and linked to the
AllDroid
message board, where hacker Zinx Verituse revealed how to perform the exploit. The process involves downloading the zip file, copying it to the SD card, powering off the Droid, and then powering it back on while holding the X key. "When you see a '/!' symbol, press both vol+ and camera. Use the onscreen menu to install update.zip. Once installed you will be able to run 'su' from your adb shell," writes Verituse.
Android developers may be able to use the hack to provide inherent multi-touch capabilities that Motorola, Google, or Verizon Wireless chose not to add to the device, writes Boulton. Some multi-touch features like pinch-to-zoom are available, however, on the lower-end Droid Eris from HTC, also provided by Verizon Wireless, says the story. Boulton adds that there are numerous risks involved with the procedure, and the process would probably void the Droid's warranty.
Droid awarded Best Gadget award
The Droid by Motorola was named Best Gadget of 2009 by Time, writes Michelle Maisto in another eWEEK story. Time explained its decision this way: "Everybody likes Android . . . But a smartphone operating system isn't all that satisfying without an actual kick-ass smartphone wrapped around it. Now Android has one."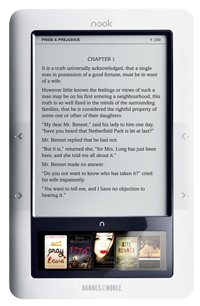 According to the story, second place on the list also went to another Android-based gadget: Barnes's & Noble's Nook e-reader device, pictured at right. Third place was said to have gone to the Air Multiplier from vacuum-maker Dyson, and fourth place was awarded to Apple's iPhone 3GS.
Google Goggles and What's Nearby? debuts
Shortly after tipping its Google Visual Search technology, also known as Google Goggles, to CNBC, Google formally released an early version of the technology as an Android app, writes Clint Boulton in another eWEEK story.
Google Goggles enables users to take a picture with an Android phone's camera and send it to Google's cloud computing data centers, where it is processed with computer-vision algorithms and compared with other known signatures in image-recognition databases, says the story. Goggles, capable of identifying landmarks, works of art, and "products," then returns search results for any matching items, the story adds.
The timing of the release was surprising considering the ambitious nature of the project. However, Google was said to have noted that this is an early version of the software.
Google also announced a new feature in an Android-ready app called Google Maps for Mobile 3.3. The app lets users hold their finger down on a Google map for a few seconds, then tap on the resulting bubble and select items from a "What's Nearby?" menu, eWEEK says. Google will return a list of the 10 closest places, including restaurants, shops and other points of interest. As with Google Goggles, the app is available now for Android 1.6 and higher on Android Market.
Availability
The AllDroid post on Cyanogen's Droid root technique may be found here, and the eWEEK story on the exploit should be here.
The eWEEK story on the Time best gadget winners may be found here.
The eWEEK story on the Google Goggles launch may be found here.
---
This article was originally published on LinuxDevices.com and has been donated to the open source community by QuinStreet Inc. Please visit LinuxToday.com for up-to-date news and articles about Linux and open source.