Aug 10, 2009 — by Eric Brown — from the LinuxDevices Archive — 2 views
Always Innovating says it is shipping a netbook based on the Texas Instruments (TI) OMAP3x ARM Cortex-A8 processor. The Touch Book uses a modified version of TI's open source BeagleBoard SBC, and offers a detachable, 8.9 inch, 1024 x 600 touchscreen, 802.11 b/g/n WiFi, Bluetooth, and accelerometers, says the company.
The Touch Book, which uses TI's OMAP3x system-on-chip (SoC), appears to be among the first of a wave of ARM-based netbooks and "smartbooks" due to arrive this year. The final version of the hardware is now said to be shipping to pre-order customers, but there's already a large backlog of orders, says Always Innovating, so it may take several weeks for new customers to receive systems.
Meanwhile, the Linux-based Touch Book OS software is still in beta, and is missing key pieces of the final release due later this year, including Adobe Flash, a Skype-compatible VoIP app, and OpenOffice 3.1. The final release will also offer iTunes sync, and "3D accelerometer-based iPhone games" (for more on the Apple connection, see farther below).
As reported back in March when the product was announced, the Touch Book incorporates an OMAP3530 SoC clocked to 600MHz, the high-end model in TI's OMAP35xx portfolio of processors based on ARM's superscalar Cortex-A8 core. The netbook ships with 256MB RAM and 256MB flash, as well as an 8GB SD card for storage. Moving from microSD to a full SD slot was one of the few hardware changes made since the original announcement.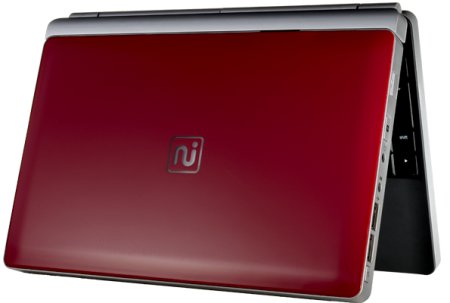 Always Innovating's Touch Book
(Click to enlarge)
As reported earlier, the Touch Book offers an 8.9-inch touchscreen with 1024 x 600 resolution, with support for 720p HD video in full screen. Not only is the screen detachable, but since it contains the system's SoC and memory, it can also be sold separately for $100 less than the full $400 price tag. The system also ships with an independent magnet system for mounting the tablet on a metal object like a refrigerator.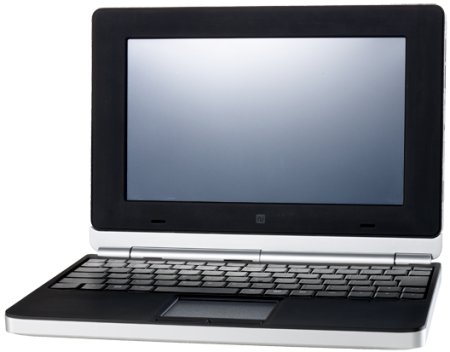 Touch Book
Other features include 802.11b/g/n WiFi, Bluetooth, accelerometers, and audio I/O, although there is no video out port to connect a monitor. The WiFi, Bluetooth, and keyboard components each occupy one of the four internal USB ports, and three external USB ports are also provided. The Touch Book has been designed for easy access to the internal USB components, says Always Innovating, which touts the internal USB approach as a way to avoid the hassles of external dongles.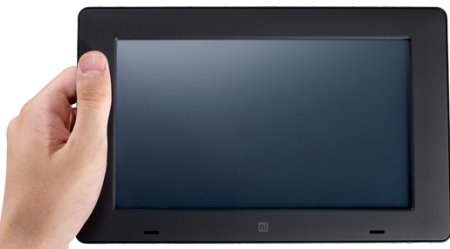 Touch Book tablet on its own
Always Innovating appears to have backed off some of its early open platform promises. Whereas it initially posted a PDF of schematics for the system, the company was apparently burned by that approach, and it now requires open source collaborators to establish a dialog with the company before it decides to share its design.
In a statement, the company said, "Always Innovating strongly believes and supports both the open source movement and the recent open hardware efforts. At the same time, we have also been a little bit disappointed by the behavior of some companies who fail to discern open source and one-way self service! The Touch Book brings a lot of innovation and we feel uncomfortable to just throw away all our efforts and let some companies just copy-paste our design for free."
After noting that most open source developers have been good open source partners, the statement added, "For software, we will continue to work closely with the various key open source projects and send back various patches and improvements as we have done it for the past few years. For hardware, we will select the parties to which we will give the hardware design of the Touch Book."

Keyboard, with tablet detached
Final specifications for the Touch Book, which the company says "are extremely close from what we initially announced back in March," include:
Processor — Texas Instruments OMAP3530 (600MHz); ARM-Cortex A8
Memory — 256MB (Micron)
Flash — 256MB NAND
Flash expansion — Standard SD slot with 8GB SD card
Display — 8.9 inches, 1024 x 600 detachable touchscreen
USB — 7 x USB ports (3 x external, 4 x internal); 3 x of internal ports may be reserved for WiFi, Bluetooth, and keyboard
WiFi — 802.11 b/g/n, USB-connected module powered by a Ralink 3070 chipset
Bluetooth — Internal USB Bluetooth 2.1
Input — QWERTY keyboard (about 95 percent full-size); Cirque touchpad
Audio — 2 x Owolff internal stereo speakers; mic and headphone jacks
Other features — 3D accelerometers; independent magnet system for refrigerator mounting
Power — 5V, 3.5A power adapter (FCC, CE, UL-certified)
Battery — 2 x batteries (6000 mAh and 12000 mAh); up to 10 hours battery life
Dimensions — 9.4 x 7.0 x 1.4 inches
Operating system — Touch Book OS (Linux)
Touch Book OS
The Touch Book OS is billed as an open source implementation built from the OpenEmbedded automated bitbake build system, and uses a variant of the Angstrom Linux distribution, says Always Innovating. Support for Android will be offered when the final version ships, says the company. The software stack is said to include a "3D touchscreen interface" that incorporates Mozilla's touchscreen oriented Fennec browser.
The current default beta Touch Book OS and software stack includes the following components, some of which may be modified or swapped out in the coming months, according to the company:
Linux 2.6.29, with all required drivers
Xfce 4.4 desktop environment
Firefox 3.0 and Fennec beta 2
3D interface based on Fennec for starting applications via finger
YouTube and Dailymotion support
Video and music player
Abiword and Gnumeric
Evince PDF reader
Pidgin chat manager
Mypaint 5.1
Fbreader e-book reader
Cups printer manager
Various accessories (Zip, picture viewer, dictionary, etc.)
Support for most standard USB accessories
Java support
The final release 1.0 of the Touch Book OS, due later this year, will add to this list with updated versions of all apps, as well as:
Skype compatible application
OpenOffice 3.1
Adobe Flash
iTunes sync
Google Maps-based app with GPS support (GPS USB add-on not included)
3D accelerometer-based "iPhone games"
Support for a Google Android image
The Touch Book, which shares its ARM Cortex-A8 core with the latest Apple iPhone 3G S, also offers iTunes synchronization, as well as a few iPhone-like games.
According to a FAQ statement from Gregoire Gentil, Always Innovating founder, and former CEO of pioneering netbook company Zonbu (with the Zonbook), "We will have at least a couple of best-selling iPhone games available at launch. It may be a full port or it may use another mechanism. However, I would discourage you from buying a Touch Book if your primary reason is to run a specific iPhone application. We cannot guarantee the position of all actors by the time we launch. We are not interested in picking a fight against a company we all respect. It is just that the Touch Book team believes in openness, open source, and will continue to create and advocate for open systems."
Availability
Always Innovating is now shipping the Touch Book to early pre-order customers and is taking orders from new customers, but the company notes that there is a fairly large backlog of orders. The Touch Book is available for $300 for the tablet-only version and $400 for the full netbook system with keyboard. More information may be found here.
---
This article was originally published on LinuxDevices.com and has been donated to the open source community by QuinStreet Inc. Please visit LinuxToday.com for up-to-date news and articles about Linux and open source.