Oct 12, 2010 — by Eric Brown — from the LinuxDevices Archive — views
Piper Jaffray analyst Gene Munster has projected that Android is likely to surpass Apple in a fast-growing tablet market that he says is "fundamentally shaking" the PC industry. The battle between Android tablets and Apple's iPad will be close, said Munster on BusinessInsider, with the iPad coming up big in a place where you'd least expect it — the enterprise.
Android is giving Apple's iPhone and RIM's BlackBerry a run for their money in the smartphone market, and is projected by many to dominate the category. The iPad is likely to be a more formidable challenge, but Gene Munster, a senior research analyst at Piper Jaffray, says Android is likely to eventually surpass Apple's tablet as well.
The iPad currently dominates the fledgling consumer media tablet market, but that share will soon start to slip, said Munster, speaking in a BusinessInsider video interview.
"Ultimately, we think that Apple won't have the majority of the (tablet) market share," said Munster. "It'll probably be with Android-based tablets."
That said, however, he also stated his belief that Apple will have "nearly 50 percent" of market share, so any edge Android might gain is likely to be slim.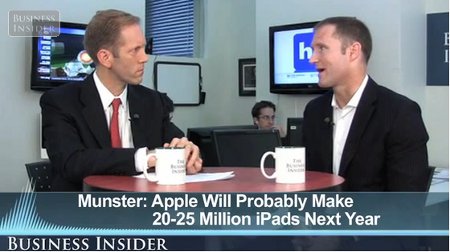 Piper Jaffray's Gene Munster (right)
Source: BusinessInsider
"I think it's going to play out very similar to how it played out with the iPhone," said Munster on the
BusinessInsider
show. For the first year or so it's going to be "advantage Apple," he said, but once Android has become optimized for tablets, some of the Android models should offer "stiff competition," he added.
Munster also suggested it would be be "really tough" for Microsoft to compete in the category. Microsoft's Windows operating systems will likely trail the third-place, Linux-based MeeGo in the early going, he added.
Android has had a relatively slow start in tablets because the operating system is not yet optimized for screen resolutions larger than about five inches. Google has yet to confirm details, but Android 3.0 ("Gingerbread"), due out later this year, is expected to support resolutions of up to 1280 by 760.
The display problems with Android 2.2 are not as apparent on seven-inch tablets, which is one reason why that format has been so popular in the first wave of tablets. However, with larger 10- and 11-inch tablets, applications often need to be individually optimized, which means a relatively small selection of supported apps are available.
As a result, debuts for most of these larger tablets have been postponed to the first quarter of 2011 when they'll be able to make use of Android 3.0.
Can the iPad really win in the enterprise?
Munster questioned estimates by Apple supply chain vendors in China and Taiwan that Apple will sell 45 million iPads next year. A total of 20 to 25 million units for 2011 is more likely, said Munster.
Still, Munster believes the iPad will continue to be popular, especially since the product has a growing presence in the enterprise world, as well as in consumer and educational markets.
"This is the first product that really has the potential to be an enterprise product for Apple," said Munster.
Tablets to supplant netbooks, notebooks
Munster noted that PC vendors were becoming very worried about the tablet phenomenon.
"The tablet is undeniably going to be the winning category in mobile computing over the next decade," said the analyst. "It is fundamentally shaking [the PC industry] at its foundations."
Several market reports have suggested in recent months that tablets are already starting to cut into the hot netbook market. Yet according to Munster, the increase in larger-screen, enterprise-focused tablets, sometimes referred to as slates, will also start impeding the growth of notebooks, a larger market with higher returns for PC vendors.
"This whole netbook and notebook market is really going to shift over to tablet computing," said Munster.
Further information
The BusinessInsider story and video clip of the Gene Munster interview may be found here.
---
This article was originally published on LinuxDevices.com and has been donated to the open source community by QuinStreet Inc. Please visit LinuxToday.com for up-to-date news and articles about Linux and open source.