Feb 16, 2011 — by LinuxDevices Staff — from the LinuxDevices Archive — 7 views
ST-Ericsson announced an ARM Cortex-A15 "Nova A9600" processor it says will be the first to offer Imagination Technologies' speedy "Rogue" graphics. The chipmaker also announced two Cortex-A9 application processors — the Nova A9540 and A9500 — plus three Cortex-A9-based "NovaThor" smartphone platforms, and an open source "Snowball" board and "Igloo" community based on the A9500.
ST-Ericsson is less well-known than other ARM licensees such as Nvidia, Qualcomm, Samsung, or Texas Instruments. But the company, a joint venture between Ericsson and STMicroelectronics, was apparently looking to change that via a salvo of new product introductions at Barcelona's Mobile World Congress.
The intros include three new application processors: the Nova A9600, A9540, and A9500. Also announced were three "complete, highly integrated smartphone platforms" — the NovaThor U9500, T5008 and U4500 — as well as two "next-generation" modems, the Thor M7400 and M7300.
Nova A9600
Of the new processors, the Nova A9600 hogs the limelight, since — like TI's recently announced OMAP 5 — it's one of the first SoCs (systems on chip) to step up to ARM's Cortex-A15. As we've previously reported, the A15 is backward-compatible with previous ARM cores, but includes: an out-of-order superscalar pipeline that can dispatch up to three instructions per cycle; an improved instruction set; hardware support for virtualization; and the ability to utilize up to 1TB of memory.
ST-Ericsson says the 28nm-fabbed A9600 will offer dual cores clocked at up to 2.5GHz, for performance in excess of 20K Dhrystone MIPS. As if that weren't enough, the company adds that the device will be the "first platform" to incorporate Imagination Technologies' Series6 graphics IP. (Code-named "Rogue," this architecture was announced by Imagination earlier this week.)
According to ST-Ericsson, Series6 will mean the A9600 offers up to twenty times the graphics performance of its current U8500 SoC (which has dual Cortex-A9 cores). The device will be able to play full HD video at 120 frames per second and support "professional camcorder-quality recording in 3D," the company says.
ST-Ericsson says the graphics performance of the A9600 will:
exceed 350 million "real" polygons per second
offer more than 5 gigapixels per second visible fill rate
via Powervr's deferred rendering architecture, deliver more than 13 gigapixels per second effective fill rate
The device will support all existing APIs — such as OpenGL, OpenGL ES 2.0/1.1, OpenVG and OpenCL — as well as the next generation of OpenGL ES (codenamed "Halti") and Microsoft DirectX, the company adds.
Nova A9540 and A9500
Though the A9600 tended to grab most attention, ST-Ericsson also announced two Cortex-A9 stablemates for it: the A9540 and the A9500. The company offered little information on either device but said they, too, are suitable for next-generation "premium smartphones and tablets," offering "immersive gaming and highly-responsive user interfaces."
According to ST-Ericsson, the Nova A9540 is a 32nm-fabbed processor that offers dual Cortex-A9 cores clocked at up to 1.8GHz. It will provide graphics performance up to four times that of the U8500, the company adds.
The Nova A9500, meanwhile, is a 45nm-fabbed device whose dual Cortex-A9 cores are clocked at up to 1.2GHz, says ST-Ericsson. The SoC will include Mali 400 graphics, full HD camcorder capabilities, and support for cameras up to 20 megapixels, according to the company.
NovaThor U9500, T5008, and U4500
In addition to the above "Nova" application processors, ST-Ericsson announced several "Thor" modems and three chipsets that include them — the latter, logically enough, using the "NovaThor" moniker.
The Thor M7400, for example, is described as a two-chip modem solution that can connect to 2G, 3G, TD-SCDMA, HSPA, HSPA+ dual carrier, and LTE FDD/TDD networks. It offers peak download speeds of up to 100Mbps on LTE networks, also supporting voice calls via fallback to circuit-switched networks or via the VoLTE (Voice over LTE) standard, the company says.
The Thor M7300, meanwhile, is another two-chip modem. This product provides HSPA+ access with 84Mbps downlink speeds and 11Mbps uplink speeds, according to ST-Ericsson.
First of the new NovaThor combos is the U9500. This combines a previously available Thor M7530 modem with the Nova A9500 applications processor mentioned earlier in this story (it's designated "DB9500" in the block diagram below).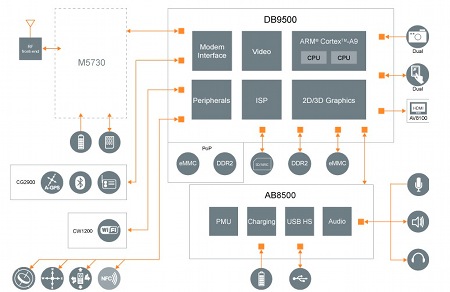 A block diagram of the NovaThor U9500
(Click to enlarge)
The NovaThor U9500 creates a GPS-enabled platform with 3D graphics, USB 2.0 and HDMI functionality, plus support for 1080p video and optional mobile TV receivers, according to ST-Ericsson. Cellular capabilities include 3GPP Rel 7, GSM/EDGE quad band, five-band WCDMA/HSPA+, HSDPA 21Mbps (cat 14), and HSUPA 5.76Mbps (cat 6), the company adds.
The second NovaThor combo is the T5008, which includes a dual-core Cortex-A9 application processor as well. The latter's designated on the block diagram (below) as the DB5008, though its listed capabilities make it sound pretty much the same as the Nova A9500.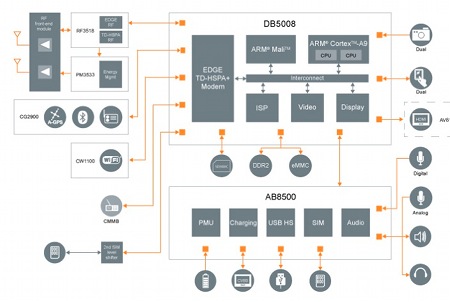 A block diagram of the NovaThor T5008
(Click to enlarge)
According to ST-Ericcson, the NovaThor T5008 offers high-performance 3D graphics, dual display support, and full HD video recording, as well as support for Wi-Fi, Bluetooth, and GPS. Cellular capabilities target the Chinese market, with a TD-HSPA+ modem that allows 28Mbps uploads and 2.2Mbps downloads, the company says.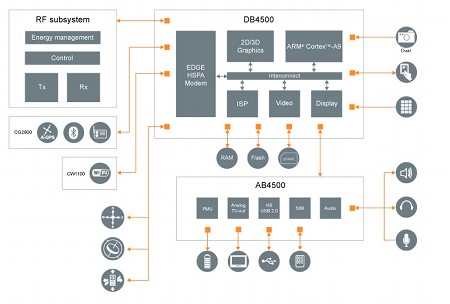 A block diagram of the NovaThor U4500
(Click to enlarge)
Finally, there's the NovaThor U4500, combining a single-core Cortex-A9 processor called the DB9500 (see block diagram above) with an HSPA+ modem. Again with Wi-Fi, Bluetooth, and GPS, this platform supports standard-definition video recording and cameras up to eight megapixels, says ST-Ericsson.
Open Source Snowball board adopts A9500
The devices covered in this story were all cited as being compatible with "major operating systems," which doubtless means that — like most other vendors — ST-Ericsson would be delighted to sup at the Android trough. The chipmaker has launched a development board, the Snowball, along with an Igloo open source community, designed to promote use of the Nova A9500 in Android, MeeGo, and Ubuntu Linux applications. (We hope to soon provide further coverage of Snowball and Igloo.)
ST-Ericsson chief executive Giles Delfassy told Reuters yesterday that his company would like to break the current Qualcomm monopoly on providing processors for Windows Phone 7 devices. He was quoted as saying, ""We believe that we will have Windows Phone and Windows Mobile operating systems running on our platforms. I will not give you a precise timing today, but I think it will be soon enough."
Delfassy reportedly told analysts meeting in Barcelona that ST-Ericsson would now break even on quarterly sales of around $770 million, up from the $750 million it had previously expected. Reuters also says the NovaThor platform has been chosen by Quanta to power forthcoming LTE tablets, though no word was provided regarding what company these will be manufactured for.

An ST-Ericsson promotional video for its Nova processors
(click to play)
Further information
ST-Ericsson says the Nova A9600 will be sampling sometime this year, the Nova A9540 will sample during the second half of the year, and the Nova A9500 is sampling now. The NovaThor U9500 is also sampling now, while the NovaThor U4500 will sample by this summer and the NovaThor T5008 will sample later in the year, the company adds.
More product information may be found on an overall Nova product page, the here, NovaThor U4500 page, and NovaThor T5008 page.
---
This article was originally published on LinuxDevices.com and has been donated to the open source community by QuinStreet Inc. Please visit LinuxToday.com for up-to-date news and articles about Linux and open source.