Mar 30, 2011 — by Eric Brown — from the LinuxDevices Archive — 28 views
Hercules announced the first two ARM members of its eCAFÉ netbook family, both running a custom Linux distro and featuring a dipswitch for flipping to other user-loaded Linux or Android operating systems. The eCAFÉ Slim HD and HDMI-enabled, 13-hour battery eCAFÉ EX HD are built on the 800MHz Freescale i.MX515 processor and offer up to 72GB flash storage, plus Wi-Fi, Ethernet, and USB connectivity.
Remember "smartbooks", the ARM-based mini-netbooks touted two years ago by Qualcomm and Freescale? The expected onslaught turned into a trickle, in large part due to the (mostly ARM-based) tablet frenzy. Yet, netbooks are still in demand by many, especially if the devices offer light weight, a long battery life, a slim profile, and low prices. The Linux-based eCAFÉ Slim HD ($229) and eCAFÉ EX HD ($269)can still meet those needs, according to Hercules, a division of Guillemot Corp.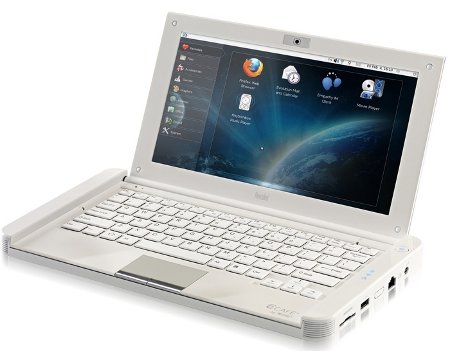 eCAFÉ Slim HD, showing fold-in design
Click to enlarge)
While avoiding the term "smartbook," Hercules nonetheless builds its two netbooks on one of the processors touted for the original smartbook wave: Freescale's ARM Cortex-A8-based
i.MX515
. Although clocked here at the usual modest 800MHz speed, multimedia performance is better than that would suggest, since the i.MX515 offers OpenGL 2D/3D graphics acceleration, as well as a video accelerator that enables Hercules to claim 720p video playback for both netbooks.
(Other i.MX515-based netbooks include Genesi's recently announced, Ubuntu-driven Efika MX Smartbook.)
Both the Slim HD and EX HD offer the company's Linux-based Hercules eCafe Netbook OS (see farther below). Hercules also supplies a hacker-friendly dipswitch that lets one switch to another user-loaded ARM Linux operating system. This is said to include Android, which the i.MX515 also supports.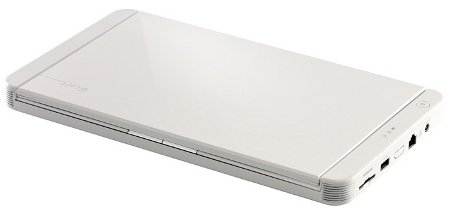 Slim HD, closed up tight
(Click to enlarge)
Hercules has launched previous Intel Atom-based, UMPC-like netbooks that also run Linux. These include the 8.9-inch, Intel Atom-based eCAFÉ EC-900/H60G-IA and eight-inch, AMD Geode LX 800-based eCAFÉ EC-800-H20G/S. While those earlier x86 models featured a standard clamshell look, the new HD netbooks offer an unusual design said to improve durability. The screen folds down into the keyboard base, rather than folding on top of it.

eCAFÉ EX HD
(Click to enlarge)
The drawback of the fold-in design is that the netbooks are wider, at 11.8 x 6.73 inches, than they might otherwise be. The netbooks make up for it, however, with very slim profiles: 0.826 inches for the Slim HD and 1.1 inches for the EX HD.
The EX HD's relative bulk is likely larger due to its 6800mAh battery, which is said to provide 13-plus hours of battery life under a mixed use scenario. The Slim HD's 2400mAh battery, meanwhile, is said to last about 4.5 hours.
Both netbooks are also quite light, weighing in at 1.9 pounds (Slim HD) and 2.4 pounds (EX HD), according to the company. Another ARM advantage is the claimed ability to wake from standby mode in just four seconds.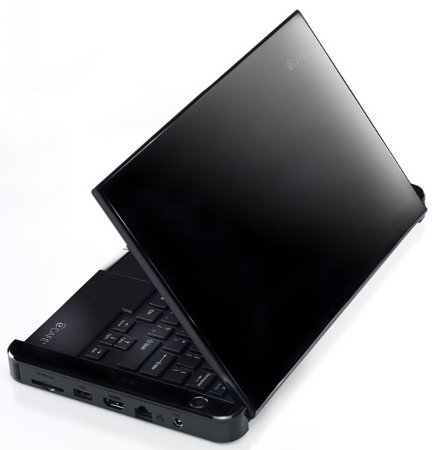 EX HD from an angle
(Click to enlarge)
Both netbooks ship with 512MB DDR2 RAM plus 8GB internal flash memory. There's also an external multi-card memory slot on both versions, but only the EX HD offers an 8GB card pre-installed there. Between the internal and external slots, each of the netbooks can be tricked out to a maximum of 72GB, not counting what might be added via the three USB 2.0 ports, says Hercules.
Those planning to add Android should consider that there's no touchscreen on the 10.1-inch LED display, but the netbook offers backlighting and 1024 x 600 resolution. Other features include an Ethernet port, 802.11b/g/n, a 0.3-megapixel webcam, a mini-USB port, and audio I/O, says Hercules. In addition, the EX model is said to offer an HDMI port.
Hercules' Linux-based eCafe Netbook OS groups applications by themes, including Internet, multimedia, games, and office software, with the latter offering the OpenOffice.org suite. Other software includes the Rhythmbox audio player with music management, as well as the Totem video player, which is compatible with formats including AVI, DIVX, MPEG2, XVID H.264, MKV, and MOV, according to Hercules. The Minitube player, meanwhile, is said to offer access to YouTube.
Additional software includes the Firefox web browser, plus the Empathy open source IM application, said to be compatible with Windows Live, Yahoo, AIM, and Google Talk. There's also the open source Gwibber app, which offers social networking support for Facebook, Twitter, and Flickr, among many others.
An eCAFÉ Sync application lets users sync with Windows, Linux, or Mac desktops via the included mini-USB cable, Hercules adds.
Features and specifications listed for the eCAFÉ Slim HD and eCAFÉ EX HD include:
Processor — Freescale i.MX515 (ARM Cortex-A8) @ 800MHz
Memory — 512MB DDR2 RAM
Flash expansion/storage:

1 x internal SD/SDHCs slot with 8GB
1 x external SD/MMC/SDHC slot with 8GB SDHC card (EX only)
Max. storage 72GB
50GB online storage

Display — 10.1-inch backlit LED display (1024 x 600)
Networking — 1 x 10/100 Ethernet port
Wi-Fi — 802.11b/g/n
Other I/O:

x 3 USB 2.0 ports
1 x mini-USB port
1 x headset jack
1 x HDMI port (EX only)

Camera — 0.3-megapixel webcam with microphone
Other features — QWERTY chiclet keyboard (88% normal size); dipswitch for changing OS; 4-second resume from standby
Battery — 2400 mAh (7.4V) for 4.5 hours (Slim HD); 6800mAh (7.4V) for 13 hours+ (Slim EX HD)
Dimensions — 11.8 x 6.73 x 0.826 inches (300 x 171 x 21mm) for Slim HD; EX HD 1.1-inch thick
Weight — 1.9 lbs (Slim HD); 2.4 lbs (EX HD)
Operating system — Hercules eCAFÉ Netbook Edition Operating System (Linux)
Availability
The eCAFÉ Slim HD and eCAFÉ EX HD will be available in April at suggested retail prices of $229 and $269 respectively, says Hercules. More information may be found at Hercules' eCAFÉ page.
---
This article was originally published on LinuxDevices.com and has been donated to the open source community by QuinStreet Inc. Please visit LinuxToday.com for up-to-date news and articles about Linux and open source.