Jan 4, 2010 — by Eric Brown — from the LinuxDevices Archive — 13 views
Freescale Semiconductor announced a "smartbook" tablet reference design that runs Linux or Android. The smartbook design is equipped with a Freescale i.MX515 SoC clocked at 1GHz, a seven-inch, 1024 x 600 touchscreen, plus WiFi, GPS, a three megapixel camera, optional 3G, and "all-day battery life."
Targeting under-$200 tablets that are expected to start shipping as early as next summer, the 7.9 x 5.0 x 0.6-inch reference design is one-third the size and volume of today's typical netbook, says Freescale. Available with both Android and Linux, the design is said to provide instant-on functionality, persistent connectivity, and 12-hour battery life.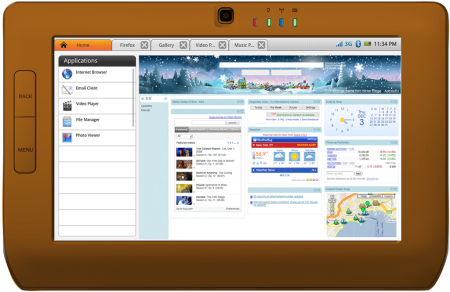 Freescale's smartbook tablet design
(Click to enlarge)
Freescale's previous i.MX515 netbook reference design was developed by Pegatron, but the tablet device combines in-house software with hardware developed in conjunction with Inventec Appliance Corporation (IAC), said Glen Burchers, director of global consumer segment marketing for Freescale, in an interview.
"We've spent more money on software by a factor of two this time," said Burchers. "Most of the value is in software. If this doesn't boot fast and operate intuitively, then it's not going to succeed." (See farther below for more of our interview with Burchers.)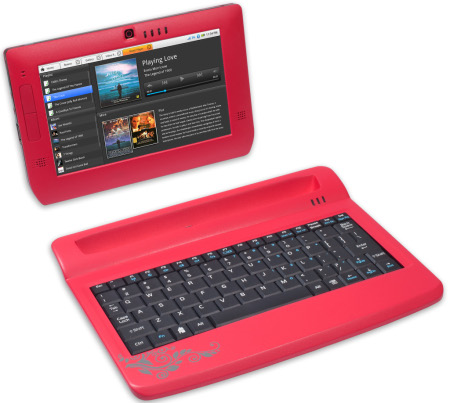 Tablet with keyboard docking station


(Click to enlarge)
The tablet design is based on Freescale's i.MX515 system-on-chip (SoC), the first member of the company's i.MX51 family of ARM Cortex-A8 SoCs, and the only i.MX51 SoC that has shipped in volume. (Last month, Freescale announced four new i.MX51 SoCs: the automotive-focused i.MX514 and i.MX516, as well as the i.MX512 and i.MX513, which target various industrial and consumer devices.)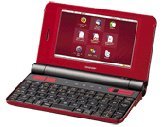 Originally targeting netbooks, the i.MX515 first appeared in the Sharp NetWalker PC-Z1clamshell UMPC (pictured at right), which runs Ubuntu Linux. While Sharp did not call its device a "smartbook," the NetWalker does indeed fall into that general category, said Burchers. Coined by Qualcomm for small netboooks and tablets based on its own Cortex-A8-like Snapdragon chipset, the smartbook moniker was adopted by Freescale for similar products based on its i.MX515 and future ARM Cortex SoCs.
So far, "smartbooks" based on either processor have been slow to market. However, it's expected that a number of primarily ARM Cortex-A8-based smartbooks — and similar hybrid devices that bridge the gap between MIDs and netbooks — will be unveiled at this week's CES show in Las Vegas.
Inside the Freescale smartbook
Clocked to 1GHz on the tablet design, the i.MX515 processor will be joined with Freescale's MC13892 power management IC, the company says. Up to 512MB of DDR2 memory is provided, as well as 4GB to 16GB of internal flash storage and a removable microSD card.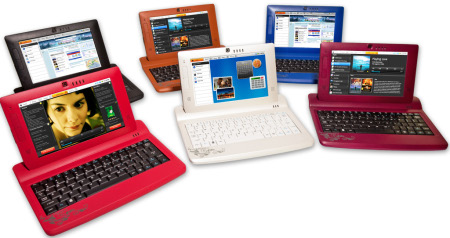 Freescale's smartbook tablets attached to keyboard docking stations


(Click to enlarge)

Presumably, external storage is supported via the available USB port. A separate USB mini port is used for charging the 1900mAh battery, which is said to offer up to 12 hours of battery life.
The design's seven-inch touchscreen offers 1024 x 600 resolution, says Freescale. A 3-axis accelerometer (Freescale MMA8450Q) and ambient light sensor are also provided, along with a three megapixel camera that offers video recording up to VGA quality at 30fps, says the company.
The device's audio is driven by Freescale's SGTL5000 audio codec, and a speaker, microphone, and audio I/O are also supplied. According to Burchers, the tablet will be offered later in 2010 with a docking station that offers a physical keyboard (see images below).

Keyboard docking station design for Freescale smartbook


(Click to enlarge)
The smartbook tablet design ships with 802.11n WiFi, Bluetooth, and GPS, and offers optional 3G cellular modems, which can be tailored for different technologies, depending on the carrier, says Freescale. The company also offers an option for
RF4CE
, based on the short-range wireless IEEE 802.15.4 standard and touted as an alternative to IR remote technology. RF4CE is said to avoid IR's problems with line-of-sight control, field of vision limitations, and limited interoperability.
Initially available with Android or either Ubuntu Linux or Thundersoft's Millos Linux, the tablet offers a "3D desktop framework" interface, which includes an onscreen QWERTY keyboard. The design also ships with sample smartbook platform applications, including a web browser with Adobe Flash support and multimedia plugins.
Other sample software components include PDF and image viewers, a media center, mail client, dRSS Reader, office suite, and handwriting utilities. The interface offers widgets for Twitter, Facebook, Flickr, Weather SMS, and other sites and applications, says Freescale.
Specifications listed for the Freescale smartbook tablet reference design include:
Processor — Freescale iMX515 (ARM Cortex-A8 core @ 1GHz) with OpenVG and OpenGL/ES graphics cores, and HD video decoder
Memory — 512MB DDR2 memory
Flash — 4-16GB internal flash storage; removable microSD
Display — 7-inch, 1024 x 600 touchscreen
Wireless:

802.11 b/g/n WiFi
Bluetooth 2.1
GPS
3G cellular (optional in various formats)
RF4CE (optional)

USB — USB 2.0 and USB mini ports
Camera — 3-megapixel with video recording up to VGA @ 30fps
Sensors — 3-axis accelerometer; ambient light sensor
Audio:

SGTL5000 audio codec
Audio in/out
Speaker
Microphone

Battery/power:

1900mAh battery
12-hour estimated battery life
USB charging
Freescale MC13892 power management IC
Keyboard docking station (optional; future)

Dimensions — 7.9 x 5.0 x 0.6 inches (200 x 128 x 14.9mm); no need for fan or heatsink
Operating systems - Android or Linux (Chrome OS in future)
Freescale's Glenn Burchers: moving beyond MIDs
Initially the Freescale smartbook design will offer Ubuntu Linux and ThunderSoft's Millos Linux for the Linux versions. Millos Linux is also being featured in an Inventec smartbook reference design featuring a Qualcomm Snapdragon processor. Beijing-based ThunderSoft has tweaked Millos Linux to demonstrate a one-second resume from suspend, and two-second browser launch, said Burchers.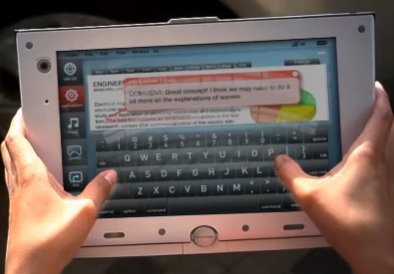 Snapdragon-based tablet "smartbook" prototype (Source: Qualcomm); Below, right is a slider smartbook prototype Freescale is considering
Freescale's smartbook design will also support Google's Chrome OS later in the year, said Burchers. He also noted that an automotive infotainment spin-off of the i.MX515-based tablet technology will be announced later in the year that will also support Windows CE.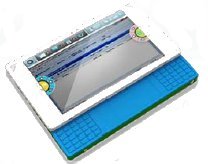 According to Burchers, future smartbook designs might also include keyboards, primarily via slider designs, but also possibly with clamshell formats. On the right is an earlier slider prototype design that Burchers said Freescale decided not to include in its debut smartbook reference platform. Note the split keyboard designed for use by the thumb generation.
"Our research shows there is equal preference for touchscreen-only and sliding keyboard designs," he said. "Smartbooks are mostly about consuming data, not creating, so there is no strong need for a full-sized keyboard." Burchers also noted that the design might expand to an eight- or nine-inch display, but he doubted its own designs would scale down to MID-like five-inch displays. "The industry is moving away from four or five inch display devices," he said.
And how would the design differ from other tablet and smartbook designs expected to debut at CES? According to Burchers, power management and battery life would set it apart, among other aspects. In addition, Freescale's design supports DDR2 memory, whereas most others only support MDDR (Mobile DDR), which saves vendors over $25 on manufacturing costs, said Burchers.
Freescale reaches out to the young and the restless
According to Burchers, the smartbook tablet design was influenced by Freescale's participation in a 10-week study performed in 2009 by Savannah College of Art and Design (SCAD), surveying technology use by subjects between the age of 12 to 25 in North America and China.
The research indicated that the differences in how younger people used and viewed technology was even greater than expected, he said. Some of the teenagers in the study spent up to 35 hours per week online, with YouTube and Facebook taking up much of their time. Surprisingly, despite the stereotype of the cellphone-addicted teen, only 30 minutes per day out of a much larger amount of online time per day was spent surfing the web on cellphones, primarily due to the limitations of the small screen.
At the same time, younger people are often more frustrated with PCs than older people, and even find laptops to be burdensome. "For the younger generation, PCs are not portable enough, and battery life is not ideal," said Burchers. "PCs are also seen as too expensive, too slow to boot up, and too slow to launch applications. So we believe strongly there is a category of device that fits between the phone and the PC that can be easier to use than either."
The SCAD research also reinforced Freescale's decision to offer a modular design that could be easily customized for different targeted users. SCAD found that its subjects were widely differentiated into a variety of identifiable socio-demographic cliques. In evaluating technology purchases, most of these groups, including segments dubbed by SCAD as the Scene Kid, the Social Butterfly, the Money Worshipper, and the Internet Worm, valued innovation, unique styling, a "wow factor," and other features that set their devices apart from the crowd.
"The smartbook will differentiate itself from the PC, so it won't be one size fits all," said Burchers. "There will be variety of shapes and sizes, from tablets to clamshells, and there will be different colors, features, and operating systems to fit different personalities."
According to Freescale's estimates, the typical consumer will use a smartbook 70 percent of the time for surfing the Web, with 15 percent on gaming, and 15 percent on video.
E-readers without the E Ink
Smartbooks will also gradually subsume the red-hot market for e-readers, according to Burchers. This is not entirely comfortable news for Freescale, whose ARM processors are said to be included in most of the top e-book readers, including Linux-based devices such as the Amazon Kindle, the Sony Reader, and the Irex iLiad.
"We are now courting some twenty different customers who want to enter the e-book reader market next year," said Burchers. Surprisingly, however, most of them are planning not to use the standard grayscale Vizplex electrophorescent display (EPD) technology from E Ink.
"Most of us are quite comfortable staring at an LCD screen several hours a day, especially younger people," said Burchers. "LCD technology may lack the contrast of an EPD display, but it is close enough, and it is much less expensive than an EPD display. It's also much more versatile, especially in the ability to display color and video."
The question of whether to go with an EPD display is clearly affected by generational expectations, said Burchers. Forrester Research has released a report indicating that the typical e-reader user is an older male who is tech-savvy and an avid reader, he said. Older readers not only tend to read more longer works such as books, but they are accustomed to the grayscale reading experience, especially in regard to reading news. This demographic is being rapidly replaced by people who have grown up staring at color displays.
"I question the strategy of FirstPaper and PlasticLogic, which are focusing on newspaper e-book readers," said Burchers. "Virtually no younger people are subscribing to newspapers. The younger generation is much more multimedia-centric."

When we asked whether the new Android-based, dual-screen e-readers such as the Barnes & Noble Nook (pictured at right) would appeal to younger people with their secondary color touchscreen displays for multimedia, Burchers suggested it was a niche market. The big problem with this hybrid format, he said was the extra cost.
"Most of our e-reader vendor customers are now looking at LCD-only devices," he said. "That way you can hit a $199 price-point, and you can offer more functionality." In short, said Burchers, while EPD-style e-readers will continue to be popular for several years, the format will rapidly morph into more flexible, multi-purpose smartbook devices.
Availability
The Freescale smartbook tablet reference design will be available for evaluation beginning in February, according to the company. Consumer products based on the design are expected by Freescale to start shipping by next summer, with prices expected to fall under $200.
For companies wishing to manage their projects internally, Freescale offers design aids including block diagram, schematic, list of materials, and a Linux board support package.
More information may be found here.
---
This article was originally published on LinuxDevices.com and has been donated to the open source community by QuinStreet Inc. Please visit LinuxToday.com for up-to-date news and articles about Linux and open source.