May 8, 2009 — by Eric Brown — from the LinuxDevices Archive — 40 views

Chinese portable media player (PMP) vendor SmartDevices is selling an ARM11-based mobile Internet device (MID) and larger 7-inch screen tablet device. Both the SmartQ 5 MID ($150) and SmartQ 7 ($190) devices run Ubuntu Linux, and offer WiFi and Bluetooth, according to Chinese retailer EWorld.
(Click for larger view of the SmartQ 7)
SmartDevices has formally announced the SmartQ 5 MID on its website, but has yet to tip the similar, but larger 7-inch MID, which is being sold along with the 5-inch version at EWorld. Like the recently announced Routon P730 and P760 MIDs from Chinese manufacturer Routon Electronic Co., the SmartQ devices are built around an ARM11-based Samsung S3C6410 system-on-chip (SoC) clocked to 677MHz.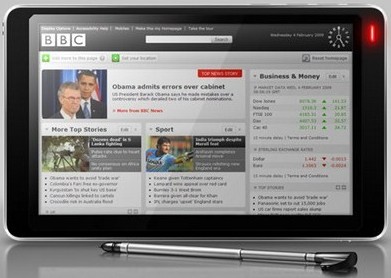 SmartQ 5
The two SmartDevices MIDs are identical in memory complement (128MB) and Flash (1GB), and each offers a microSD slot and USB port. While the screen size differs, along with dimensions, weight, and battery, they both provide 800 x 480 touchscreens. The identical connectivity options include WiFi, Bluetooth, and an option to plug in a USB-attached 3G cell phone for HSDPA connectivity. Keyboards, mice, SD cards, and USB adapters are optional. Both devices share the same Ubuntu Linux distribution, shown later in this story.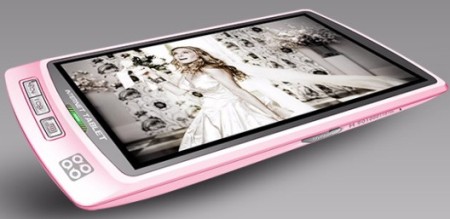 SmartQ 7 in pink
(Click to enlarge)
The Samsung S3C6410 SoC that powers the SmartQ and Routon MIDs was announced in February 2008. The S3C6410 is equipped with an ARM1176 core along with what Samsung refers to as "advanced hardware blocks for multimedia processing." A hardwired Multi-Format Codec (MFC) unit allows the S3C6410 to perform video capturing in MPEG4/H.263/H.264 formats, and play back video in MPEG4/H.263/H.264/VC1 formats, while still delivering long battery life, Samsung says. The SoC has been incorporated in a Samsung/Chumby reference design for digital picture frames.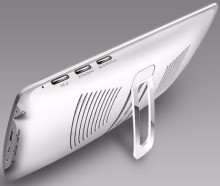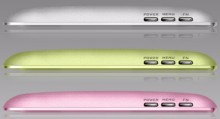 Rear and side views of the SmartQ 7
(Click on either to enlarge)
Specifications listed for the SmartQ 5 and SmartQ 7 MIDs include
Processor: Samsung S3C6410 (ARM11) @ 667MHz
Memory — 128MB DDR RAM
Flash — 1GB flash
Flash expansion — Memory-card slot for up to 32GB microSD cards
Display — 4.3-inch (SmartQ 5) or 7-inch (SmartQ 7) 800 X 480 touchscreen
WiFi — 802.11b/g
Bluetooth — type unspecified
3G — via optional USB-attached adapter for EDGE, HSDPA, or attached 3G mobile phone
USB — 1 x USB 2.0 Host port
Languages — Chinese, English, German, French, Portuguese
Dimensions — 4.7 x 2.9 x 0.6 inches (120 x 74 x 14mm) for SmartQ 5; SmartQ 7 dimensions not stated
Weight — 5.3 oz (150g) for SmartQ 5; 8.8 oz (250g) for SmartQ 7
Battery — 2000mAH (SmartQ 5); 4500mAH (SmartQ 7)
Operating System: Ubuntu Linux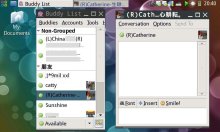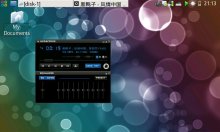 Ubuntu Linux screens for MSN and music controls on SmartQ 5
(Click on either to enlarge)
All in all, the SmartQ specs seem underpowered compared to the Routon MIDs, with lower RAM and flash allotments, and no GPS or built-in 3G modem. However, the prices look hard to beat, and low prices and power consumption appear to be the trump cards for ARM-based MIDs in their battle against Intel Atom-based models. (No battery life figures were offered for either the Routon or SmartQ models.)
The summer of the ARM MIDs?
While numerous MIDs have shipped based on the Intel Atom and Moblin Linux distribution, the SmartQ and Routon models could be among the first of a new wave of ARM-based MIDs, tablets, digital picture frames, and PMPs to arrive this year. Virtually all of the initial wave will run Linux, and many are likely to run the Linux-based Android stack. Meanwhile, Nokia is expected to soon unveil a new version of its ARM- and Maemo Linux-based Nokia N8xx Internet Tablet.
In the third quarter, Archos plans to ship a MID-like Archos Internet Media Tablet, which runs on an ARM Cortex-A8-based Texas Instruments (TI) OMAP3440. Around the same time GiiNii plans to ship an Android-based Movit Mini portable media player (PMP), followed by a larger portable Internet appliance tablet that can double as a DPF. The company did not say, however, which processor architecture the devices will use. HY Research, meanwhile, announced a Linux-based "Beagle MID" design powered by the TI-manufactured BeagleBoard and its ARM Cortex-A8 OMAP3530 SoC.
Availability
The SmartQ 5 and SmartQ 7 are on sale for $150 and $190 at EWorld, here, and industry reports seem to indicate that the SmartQ 5 version is now shipping in China. More information may be found at this translated SmartDevices page.
---

This article was originally published on LinuxDevices.com and has been donated to the open source community by QuinStreet Inc. Please visit LinuxToday.com for up-to-date news and articles about Linux and open source.