Apr 9, 2009 — by Eric Brown — from the LinuxDevices Archive — 9 views
HY Research announced what it calls the first mobile Internet Device (MID) based on the Texas Instruments BeagleBoard. Powered by the BeagleBoard's ARM Cortex-A8 OMAP3530 SoC, the Beagle MID prototype reference design offers a 4.3-inch, 480 x 272 pixel touchscreen, and Bluetooth support, the company says.
(Click for larger view of the Beagle MID)
The Beagle MID is "loosely modeled after the Nokia N800" Internet Tablet, says HY Research, a small embedded device firm that claims to have developed one of the first Linux-based appliances back in 1996. The Beagle MID project, including mechanical and electronics work, was said to have consumed about 80 people hours.
The current version of the MID appears to be a prototype, a proof of concept, and still something of a work in progress. However, judging by a YouTube video (farther below), the Linux-based design appears to be functional. It is also further proof of the versatility of TI's hobbyist BeagleBoard, as well as the OMAP35xx system-on-chip (SoC) that drives it (see farther below for more on the BeagleBoard).

Beagle MID top view, with SD slot and USB port on left, and button inputs on right
The Beagle MID is said to offer the following features:
Processor — BeagleBoard with TI OMAP3530 processor @ 600MHz
Memory — Not listed, but BeagleBoard offers 128MB of 166MHz DDR RAM and 256MB of NAND flash
Expansion — SD slot
Display — Sharp 4.3-inch 480×272 LCD touchscreen
Bluetooth — not installed, but provisions for attachment and power are part of the design
USB — EHCI host only USB port; USB OTG Mini-AB jack
Other I/O:

S-Video jack
HDMI jack
Audio I/O

Controls:

5-way input, a "joystick"
3-way input, a "slider"
Buttons
Blue LED

Power — 5V @ up to 600mA; 1.3mm jack for power input and charging; Li Ion battery
Operating system — Linux (undisclosed type)

Bottom view, showing audio I/O, S-Video, and HDMI jacks
The 3-inch square BeagleBoard's headers are populated for LCD and expansion signals, and link to HY's custom LCD interface board, says the company. There is also a custom expansion board that generates voltages, and includes level shifters, a battery charger, and the TI TSC2046 touchscreen controller. All button inputs are implemented by a direct connection to the GPIO inputs, and rely on internal, software-enabled "weak pull up," says the company.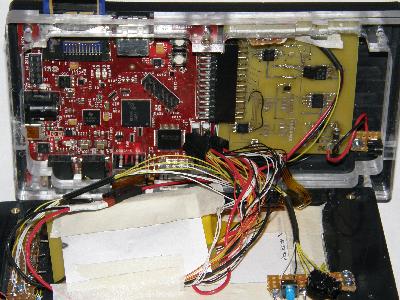 Inside view, with BeagleBoard in red. The ribbon cables are history in the next rev, promises HY
The prototype measures 6.25 x 3.25 x 1.25-inch, and the case is said to be custom CNC machined from ABS and acrylic. The thickness can easily be reduced to at least an inch by adjusting the machining, and can be trimmed further by rebuilding the LCD interface board, says HY Research.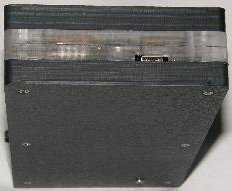 Beagle MID, left (with USB OTG Mini-AB jack) and right (power jack) side views
The power components generate 5V @ up to 600mA, using dual charge pumps, and 3.3V is said to be generated with a LDO against the 5V line. A future version will "run the LDO against the raw battery input for added efficiency," says the company.
Beagle-mania
TI employees began demonstrating the BeagleBoard in June of last year, and it shipped in July for $150, distributed by Digi-Key. Boasting an open hardware design and an open online community, the board follows in the spiritual mold of TI's OMAP5912 Starter Kits, which have long been popular with embedded hardware hobbyists and community developers.

TI's BeagleBoard
(Click for details)
The BeagleBoard is based on an OMAP3530, the fanciest model in TI's OMAP35xx portfolio of SoCs, and one of the first available SoCs based on ARM's Cortex-A8 processor core. Clocked at 600MHz, the A8 core is claimed to deliver 1200 DMIPS, putting it theoretically alongside Intel's Pentium III in performance. Unlike the PIII, though, the 3530 adds a powerful Imagination SGX 2D/3D graphics processor supporting dual independent displays, and a TMS320C64x DSP core clocked at 430MHz.
Board-specific Linux kernel support for the Beagle has been merged into the mainline Linux/OMAP git staging tree at source.mvista.com/git. There have been a number of hobbyist projects based on the BeagleBoard, including the BeagleBot robot, and the board will soon form the basis for one of the first ARM Linux netbooks. Due later this spring, Always Innovating's WiFi-enabled, Beagle-based Touch Book runs Angstrom Linux with OpenEmbedded extensions and Mozilla's Fennec browser, offers a detachable display for touchscreen panel use, and weighs less than two pounds.
Availability
The Beagle MID LCD interface and expansion board can be made available "if there is sufficient interest," says HY Research. In addition, the company says it is available for consulting and designs of custom expansion boards.
More information, including considerable detail on design decisions, may be found here.
---

This article was originally published on LinuxDevices.com and has been donated to the open source community by QuinStreet Inc. Please visit LinuxToday.com for up-to-date news and articles about Linux and open source.