Sep 8, 2009 — by Eric Brown — from the LinuxDevices Archive — 133 views
Cavium Networks announced a SoC family with single- and dual ARM11 cores and claimed power consumption of under a Watt. Aimed at home media gateways and network-attached storage devices, the Econa CNS3xxx offers 300MHz to 700MHz clock rates, over ten multimedia and networking acceleration engines, and a Linux SDK, Cavium says.
The Econa CNS3xxx is a more powerful version of Cavium's ARM9-based, single-core Econa CNS2135 system-on-chip (SoC), which was announced in June, and which primarily targets network-attached storage (NAS) devices (see farther below for more on the CNS2135 SoC). The Econa line, which also includes an earlier CNS1xxx model, derives from the company's acquisition of Taiwan-based Star Semiconductor in July 2008.
Cavium is primarily known for its high-end, multi-core Octeon, OcteonPro, and new Octeon II networking system-on-chips (SoCs), which are based on the MIPS architecture. The company also sells a line of Nitrox content-inspection coprocessors that are designed to work with Octeon-family SoCs.
The Econa CNS3xxx family will include multiple single- and dual-core models to meet the performance, features, price, and power requirements of different target markets, says the company. The Econa CNS3xxx targets applications including FTTH broadband gateways, NAS appliances, digital picture frames (DPFs), media and print servers, IP cameras, and wireless access points.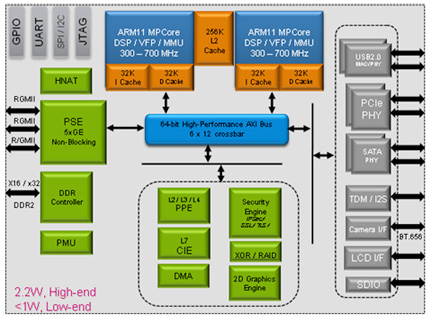 Econa CNS3xxx block diagram
The first two members of the Econa CNS3xxx family are the single-core CNS3410 and dual-core CNS3420, both of which are set to sample in the fourth quarter, says Cavium. Identical except for the number of cores, the CNS3410 and CNS3420 feature ARM11 cores with superscalar MPCore technology, operating at 300MHz, 500MHz or 700MHz, says the company.
Each core is said to offer 32KB I-cache, 32KB D-cache, and 256KB L2 cache, helping to provide over a claimed 1400 Dhrystone MIPS (DMIPS) in performance. Each core also offers instruction set extensions for digital signal processing (DSP) and media processing, supporting voice applications including support for wideband codecs, DECT, and advanced call control features like conferencing, says Cavium. The cores are also said to integrate Vector Floating Point (VFP) and Memory Management Unit (MMU) components, as well as ARM Jazelle technology for enhancing Java applet performance.

Econa CNS3xxx design concepts for residential gateway and 802.11n WiFi access point


(Click to enlarge)
The Econa CNS3xxx is said to be equipped with over 10 application acceleration engines, including:
Packet switch for wire-speed switching
Hardware-based NAT, QoS, Rate Limiting, and IPv4/IPv6 routing engines
TCP offload
Packet Processing Engine (PPE) for wire-speed packet processing
Content inspection engine for L7 application processing and filtering
RAID 5/6 XOR storage engine
2D graphics engine with an integrated LCD controller
Security engine for IPSec, SSL, intrusion prevention, and anti-virus processing
Acceleration for "popular standards-compliant video codecs"
The Econa CNS3xxx's interfaces are said to include:
x16/x32-bit, 800MHz DDR2 memory controller
3 x Ethernet MACs, supporting RGMII/GMII/ MII
Dual USB 2.0, SATA2, and PCIe interfaces, all with integrated PHYs
TDM/PCM
LCD
SDIO
Camera
GPIO, SPI, UART, I2S, and I2C
An integrated power management unit (PMU) enables six different power-saving modes, including wake-on-LAN support, dynamic control of CPU power per core, and automatic shut down of non-operational logic, says Cavium. On-chip voltage regulators are claimed to further help reduce power consumption to under one Watt for the single-core CNS3410, and less than 2.5 Watts for the dual-core CNS3420.
Linux SDK and Wind River platform
The Econa CNS3xxx Software Development Kit (SDK) builds upon the existing Octeon/Octeon Plus SDKs, and includes Linux SMP, GNU toolchain, and simple executive for fast path applications, says Cavium. Other SDK features are said to include performance tools, simulator, APIs for hardware acceleration, and reference applications. Production-ready software toolkits and multi-core software architecture and design consulting services are also available, says the company.
A number of software vendors have announced support for the Econa CNS3xxx, including D2, Sumitomo, TeamF1, and Tuxtera. In addition, Wind River announced it would develop and market Linux- and VxWorks-based platforms optimized on the SoC, targeting connected broadband home and small office CPE (customer premise equipment) devices. The target platforms will offer "dynamic IP-centric services, as well as support high-definition video and audio, Internet telephony, remote configuration, monitoring, and home automation, says Wind River.
Econa CNS21xx
Announced in June, the Econa CNS2135 is sampling now and will be available in production quantities in the third quarter, says Cavium. Aimed primarily at NAS and Internet streaming devices for the home, the SoC is based on a 200MHz ARM9 core, and is available as a stand-alone processor or in a network module form factor called the CNS2135-TK.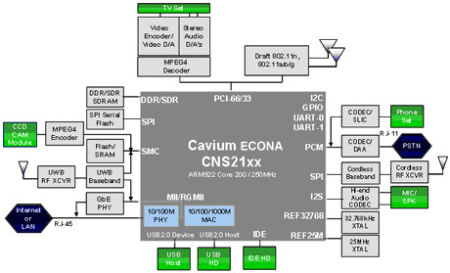 Econa CNS21xx block diagram
The network module dongle consists of a dual-layer PCB design with a 74 x 40 x 19mm form factor, says the company. The module combines the CNS2135 processor with 8MB SDRAM and 1MB serial NOR flash, and also includes an Ethernet port and a USB 2.0 host port. Network storage throughput is touted as up to 8MB (presumably per second), with four unique FTP users or four unique Samba users, with a total of 32 TCP simultaneous connections.
The CNS2135-TK module is said to ship with software including an FTP server, Samba server, Bit Torrent (BT) download, iTune server, uPNP AV, and print server. The application software supports Samba on Linux, XP, Vista, and Mac OS X platforms, as well as the FAT32 file system format for hard drives with up to 2TB capacity.
Stated Sandeep Vij, VP and GM of Broadband and Consumer Division at Cavium Networks, "The latest addition to the Econa family will enable our customers to drive the next wave of consumer and broadband applications in the digital home and connected office."
Stated Tomas Evensen, CTO, Wind River, "The emerging all IP-based next-generation network is enabling a magnitude of new broadband services for the connected home. By extending our long-standing relationship with Cavium and heritage in the telecommunications market, we will bring highly optimized and targeted device solutions to the connected home market."
Availability
The first two members of the Econa CNS3xxx family, the CNS3420 (dual-core) and CNS3410 (single-core) SoCs, will sample in the fourth quarter, says Cavium. Pricing info is said to be available upon request. Package options range from 27 x 27mm and 15 x 15mm Ball Grid Array (BGA) packages to low-cost Lead Quad Flat Pack (LQFP) formats, says the company.
More information on the Econa CNS3xxx, including links to press releases from supporting vendors, such as Wind River, may be found here. More on the earlier Econa CNS21xx SoC and network module may be found here.
---
This article was originally published on LinuxDevices.com and has been donated to the open source community by QuinStreet Inc. Please visit LinuxToday.com for up-to-date news and articles about Linux and open source.